---
This Sea to Summit Ember EbII Quilt is ultralight and ultra-compact, with a top-quality down fill, a versatile outdoor sleeping item built in 2 sizes and with 3 temperature ratings.
---
Key features
Top-quality down fill.
2 Sizes to choose from.
3 Temperature ratings.
Extra compact.
Ultra-lightweight.
IDFL tested.
RDS approved.
---
Where to buy
This Sea to Summit Ember EbII Quilt is available on Amazon. They operate globally and I have seen it on several of their global stores. So please follow the link and check the price and shipping conditions for your location.
---
What this is about
The size & temperature rating
This is an exceptional outdoor piece which they build in 2 different sizes (R & L) and also in 3 different temperature ratings 20, 30, and 40 F (-7, -1, 4 C). The temperature rating is closely related to the weight of the fill. So this all allows for choosing your right size and temperature rating to avoid unnecessary weight in the pack.
These features also affect the packed size which is exceptional, normal packed size is 13.8 x 5.9 inches (35 x 15 cm). But the picture below tells you how small it becomes when compressed, only 3.7 liters of volume.
Note that this is more a blanket than a quilt. There is no permanent foot box here, you have drawcord which you can use to create a foot box. There is yet another drawcord under the chest so you can use it to prevent cold drafts. I think this is what makes it very versatile, and also suitable for people who do not like to be constricted in any way when sleeping.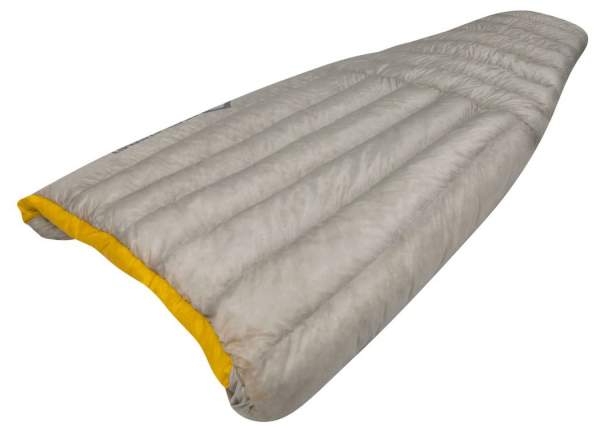 The quilt is a bit irregular in shape, you have more in the middle of the body. This increased sizing is for a bit more wrapping capability, see the picture below. I find it a bit too narrow in the feet area, so in most situations you will have to use the mentioned drawcord and to create a foot box.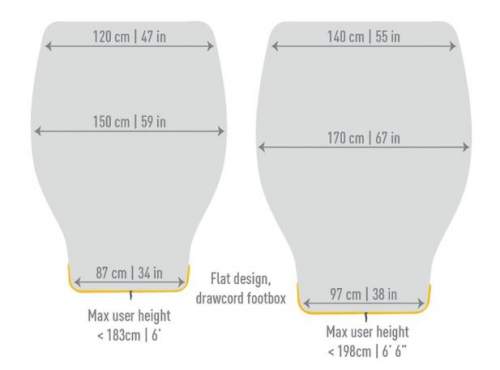 To increase the wrapping features, you have these hand pockets in the corners, see the picture below. This quilt/blanket can be combined with various solo sleeping pads, you have a strap and snap system with several straps and snaps to attach it to a pad and to keep it in place. One is shown below.
---
The materials
The fill
The insulation here is 850+ Loft Premium goose ULTRA-DRY down. This is a super warm and compressible treated down which is treated with a permanent nano-level water repellent polymer. This protects down from external moisture and condensation from inside the bag, and it virtually eliminates negative effects of moisture on down. You will see in the video below how it behaves when exposed to water.
If you are not familiar with the meaning of this number 850+ mentioned above, it indicates that 1 oz of down will re-expand to more than 850 cubic inches after compression. The higher the loft the better. This basically means that you need less down to achieve the same temperature rating.
They also claim that this mentioned loft and down quality and composition are independently tested by the International Down and Feather Laboratory (IDFL). When you order their bags, you get a copy of the certification.
But this is not all. All Sea to Summit sleeping bags use only down which is certified according to the Responsible Down Standard. This means that there is a third-party assessment of all aspects of animal rearing and handling throughout the entire supply chain.

The fabric
They use their lightest down-proof 10D shell and 7D lining fabrics, this is a 100% nylon. You have box baffles throughout, with vertical baffles strategically placed on the chest.
Please see a bit more about their treated down in this shorty video, it is incredible how it repels water:
---
Specifications
Sizes: R, L.
Weight:
– R: 1.32 lb (600 g).
– L: 1.5 lb (680 g).
Fill weight:
– R: 0.77 lb (350 g).
– L: 0.88 lb (400 g).
Fit:
– R: 72 in (183 cm).
– L: 78 in (198 cm).
Packed size: 13.8 x 5.9 in (35 x 15 cm).
Volume when packed:
– R: 3.7 l.
– L: 4.9 l.
Width (chest/hip/feet):
– R: 47.2/59/34.3 in (120/150/87 cm).
– L: 55.1/70/38.2 in (140/170/97 cm).
Compression sack & storage sack included.
---
Sea to Summit Ember EbII Quilt vs Therm-a-Rest Corus 32 Quilt
I have decided to show you this Ember EbII quilt side by side with yet another top-notch item of the same type. So as you see this Therm-a-Rest Corus quilt is with a very similar temperature rating, but it packs much better which is surprising in view of the inferior fill.
---
Final thoughts, rating, pros & cons
So this Sea to Summit Ember EbII Quilt is a great item for through-hikers, cycle tourers, and for any activity where the weight and packed size matter. This is a versatile product and built with the highest standards. I have added it to my list of best camping quilts and blankets.
In a warmer environment, you can use it as a blanket and have all the freedom for your feet and arms. At lower temperatures, use those two drawcords and cinch the quilt around your feet and the chest. This will keep the heat loss at a minimum. This is a 3-season item when used on its own, but you can also use it as an extra layer with some standard sleeping bag when it is extremely cold.
This is obviously a high-end product. The price of this quilt depends on its size and temperature rating, and you have 6 possible combinations. Please see how I rate it against my standard set of criteria used for all the items of this type here in the site:
If you need more options to consider, please check our page with sleeping bags, you will find top-notch products from all renown brands.
Note that this is not a sponsored text, and I am not paid by the manufacturer. Please use the comment box below in the case of questions or comments. I wish you a nice day.