---
This Therm-a-Rest Corus 32-Degree Down Backpacking and Camping Quilt is the new version of the well-known ultralight and ultra-packable quilt with 650 down fill. Read more below.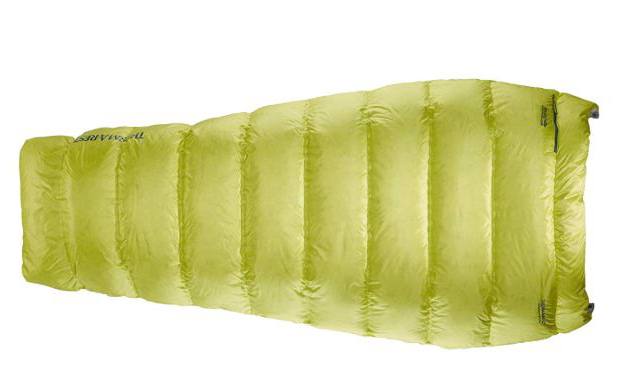 ---
Key features
Ultralight.
Nicely packable.
Versatile.
Down fill.
---
What this is about
This item is known also as Therm-a-Rest Corus 32 HD Quilt and it has been on the market for at least 4 years already. But it has been updated recently so what you have here is its 2019 version.
They build it in two sizes regular (R) and long (L) and you will see some numbers below. This is always good to know so that you can choose your best fit and avoid unnecessary weight in the pack.
Now, if you are not familiar with the quilt design, this is a piece which offers far more freedom of movement than any sleeping bag. You basically have a blanket with an addition of a foot box. Or if you wish, this is a sleeping bag without the bottom. This is a great option for people who feel claustrophobic in a sleeping bag, I am in this group myself.
But bear in mind that there is a reason why sleeping bags are built in the first place, this is about thermal efficiency. Such uncomfortable and narrow items like mummy sleeping bags will preserve warmth far better than a quilt. Yet as I said, this is also the matter of comfort. I myself always start nicely in the evening with my sleeping bag, but very quickly I unzip it and practically use as a quilt.
On the other hand, quilts cut down on the material. So they are generally lighter than sleeping bags. Therefore, if you want to shed the weight in the pack drastically, it is a quilt design to consider.
What is new
This new version is just a bit lighter than the previous 2018 version, some 2 ounces or so difference. The packed size is slightly different, and the foot box is reshaped, see the picture.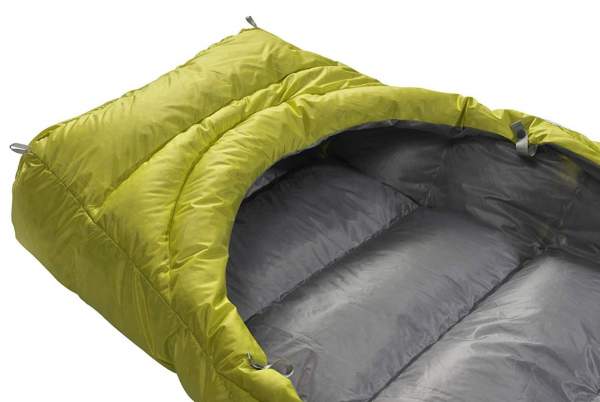 This foot box is such that it can wrap around a sleeping bag and insulate your feet from all the sides.
The fill
Here you have a quality and lightweight 650-fill Nikwax Hydrophobic Down, so this is behind such a nice packed size of 10 x 7 inches (25 x 18 cm) and the weight which is only 1 lb 4 oz (0.57 kg) for the size R.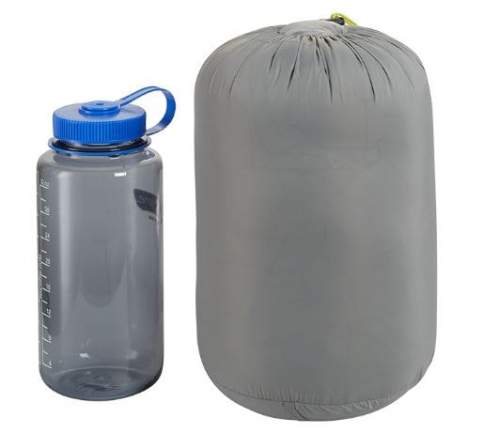 Such a treated down is far more water-resistant than an untreated down of the same type. They claim that it absorbs 90% less water and dries 3 times faster as compared with an untreated down. The manufacturing is without using dangerous PFCs. In practical terms, this means you can have a consistent warmth even in damp and wet situations. Such a material also dries faster when it becomes wet.
With such a fill you have 32 F (0 C) official temperature rating here. The Comfort rating is 45 F (7 C) and Limit rating is 35 F (2 C). So officially this is a 3-season backpacking and camping tool. But note that the feeling of cold is very individual and it is best to experiment with this quilt, perhaps in two seasons first, and only then you will know where and when you can use it.

Other features
The fabric is also made lightweight, so you have shell fabric which is 20D polyester DWR and liner fabric is 20D polyester taffeta.
ThermaCapture seams help retain radiant heat for added warmth. So these are basically tapes that cover seams and reflect the heat back to you.
Full-perimeter side baffles are available, see the picture below.
Elasticized foot box keeps feet warm and keeps your quilt in place.
Perimeter snap loops are included to combine this quilt with another Therm-a-Rest mattress, quilt, sleeping bag, blanket or sheet.
External snap pocket close to the top.
Stuff sack and compartmental storage sack are included.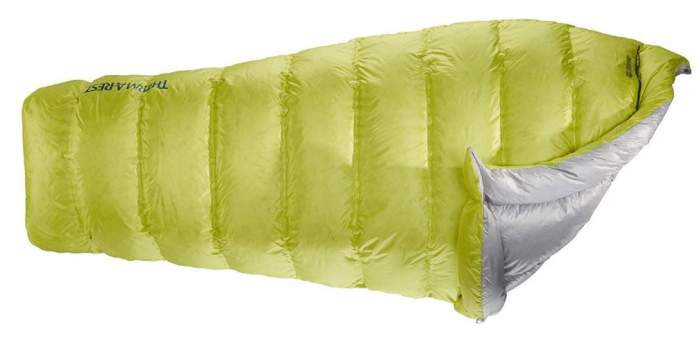 Warranty conditions
They offer a Limited Lifetime Warranty on all their products of this type.
They also have what they call Better Sleep Guarantee and here is what they write: "All Therm-a-Rest sleeping bags and quilts are also covered by our Better Sleep Guarantee. When you wake up on a Therm-a-Rest sleeping bag or quilt, we're confident you'll wake up feeling better than ever. If you are not completely satisfied, return it within three months with the original receipt of purchase and we will give you a full refund- no questions asked."
---
Specifications
Two sizes: R, L.
Weight:
– R: 1 lb 4 oz (0.57 kg).
– L: 1 lb 6 oz (0.62 kg).
Fill weight:
– R: 12 oz (0.34 kg).
– L: 13 oz (0.37 kg).
Packed dimension (L x D): 10 x 7 in (25 x 18 cm).
Fit:
– R: 72 in (183 cm).
– L: 78 in (198 cm).
Dimensions (L x W):
– R: 79 x 49.5 in (201 x 126 cm).
– L: 83 x 53 in (211 x 135 cm).
Girth (shoulder/hip/foot box):
– R: 49.5/47.5/48 in (126/121/122 cm).
– L: 53/51.5/58 in (135/131/143 cm).
Warranty: Limited Lifetime.
---
Therm-a-Rest Corus 32 HD Quilt vs Exped Versa Quilt
I thought it would be interesting to see how this Corus 32 Quilt stands when compared with yet another top-notch item, the Exped Versa Quilt. So here they are side by side with some basic parameters.
The fill is the same, but Corus packs better and it is much lighter as well. Its foot box adds to its thermal efficiency, and its temperature rating is better. But it costs more, please follow the links for more details.
---
Final thoughts, rating, pros & cons
So you have seen it, this Therm-a-Rest Corus 32-Degree Down Backpacking and Camping Quilt is ultralight and nicely packable, the given temperature rating and all these features make it very versatile. It comes at a price but I am sure it is worth the investment. Fully recommended. It is added it to my list of best camping quilts and blankets.
This quilt is expensive, but its features are truly excellent, and this is a top-brand in this industry. Please see how I rate it against my standard set of criteria:
Please check my page with sleeping bags if you want to see some more options, you will find them many. You might want to compare this quilt with yet another great product, the Sea to Summit Ember EbII Quilt.
Note that this is not a sponsored text, and I am not paid by the brand. Please use the comment box below in the case of questions or comments. I wish you a nice day.