---
This ALPS Mountaineering Pinnacle Quilt is ultralight and ultra-packable, with a quality down fill, suitable for backpackers and hikers and for 3-season adventures.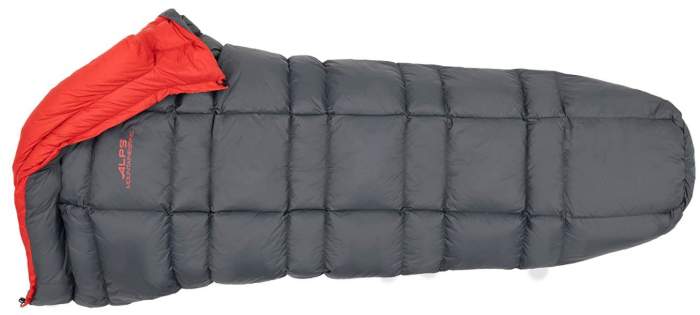 ---
Key features & benefits
Down fill.
Nylon fabric.
Footbox.
Removable retention system.
Ultralight.
Ultra-packable.
---
What this is about
Here is an item that is best suited for people who feel claustrophobic in a classic sleeping bag. As you see in the picture above, from the upper side it looks like a sleeping bag, but see below how its underside looks:

So as you realize, there is no bottom here, there is only a footbox that measures around 12 x 12 inches (30 x 30 cm). The idea is that you wrap the quilt around your body like a blanket, while still having an enclosed space for your feet. This is indeed a great concept that sheds the weight and the packed size.
Materials
The shell fabric is a thin 20D 380T nylon, and the inner insulation is a hydrophobic down. This means that it is treated to maintain its insulation properties in dump and wet conditions.
With such a design they claim the quilt is suitable for temperatures of around 35 F (2 C).
---
Who is it for
Regarding protection, you have seen its temperature rating, so I would say this is an outdoor sleeping item for 2-2.5 seasons in the warmer part of the year. I have included it in my list of best camping quilts.
The feeling of cold is individual and it is always best to test it in a controlled situation. The official rating cannot be reliable, it is based on some average person and this implies certain age and body size.
Note that there is a drawstring so that you can cinch it under the neck to prevent cold drafts. There is also a contoured chest baffle for comfort and heat retention. You can see both in the picture: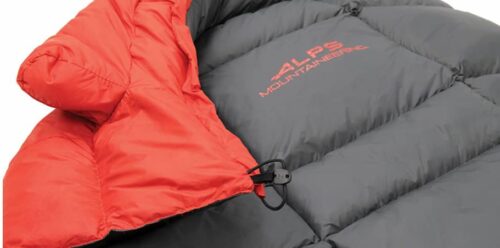 The picture below shows its removable retention system which you can use to attach the quilt to a sleeping pad. This reduces your movement and you will feel like in an ordinary bag, but this should reduce heat loss.

Regarding the weight, it is truly remarkable, but you have seen its structure so this is normal to expect because of its bottomless design. So it weighs 1 lb 8 oz (680 g) and this makes it a perfect item for ounce counters, backpackers, and hikers. When you compare it with yet another quilt from the same brand, the ALPS Mountaineering Radiance Quilt, you realize that this Pinnacle Quilt is indeed ultralight.
The packed size is also impressive due to the same design reasons, and also due to the fact that the fill is down. It measures only (L x D) 15 x 6.5 inches (38 x 17 cm). So you can indeed carry it in the pack or transport it on a bicycle and motorbike.
Regarding the dimensions, they write it is suitable for users up to 6'2 height (188 cm). So it is not particularly impressive in this sense, but note that the length is 75 inches (191 cm).
The quilt is trimmed so the widest part is at the shoulder area where you have 42 inches (107 cm). So it is narrower than this Sea to Summit Ember EbII Quilt and Therm-a-Rest Corus 32-Degree Down Backpacking and Camping Quilt.

Specifications
Weight: 1 lb 8 oz (680 g).
Dimensions: 75 x 42/12 in (191 x 107/30 cm).
Packed size (L x D): 15 x 6.5 in (38 x 17 cm).
Temperature rating: 35 F (2 C).
A compression stuff sack included.
---
Final thoughts, rating, pros & cons
To summarize this ALPS Mountaineering Pinnacle Quilt review, this is an ultralight and ultra-packable warm-weather outdoor sleeping item, pleasant and comfortable. If you are like me and feel uncomfortable in a classic sleeping bag, this is an option to consider. The size is not so impressive and I see it best suited for users of smaller body size. Other than that, fully recommended.
Please see how I rate this Pinnacle Quilt, the same criteria are used consistently for all products of this type here in the site so you can easily compare:

For more outdoor sleeping options, please check under the category Sleeping Bags. You might want to compare this quilt with this Paria Outdoor Products Thermodown 15 Degree Quilt and the Therm-a-Rest Vesper 45 Degree Quilt built in the same style.
I add texts here regularly, so bookmark this site and come again, this will keep you informed about the latest products in the outdoor industry. Thank you for reading and have a nice day.