---
If you need an ultralight and ultra-compact backpacking quilt for the trail, this Therm-a-Rest Vesper 45 Degree Quilt review is the text for you. Keep reading.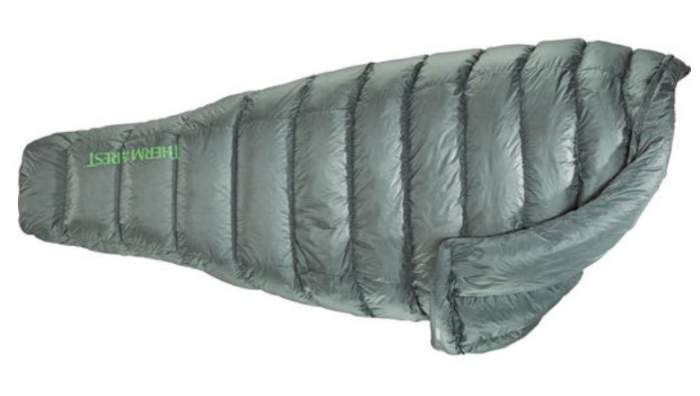 ---
Key features & benefits
Ultralight quilt.
Ultra-compact.
Two sizes, R & L.
Top-quality 900 down fill.
Peripheral baffle.
Cinch cord.
---
Overview
This Therm-a-Rest Vesper 45 Degree Quilt is impressive in several ways, but I would start with what you see in the picture below. So this is how small it can be compressed. What you see is the packed size of (L x D) 6 x 4.5 inches (15 x 11 cm), simply incredible.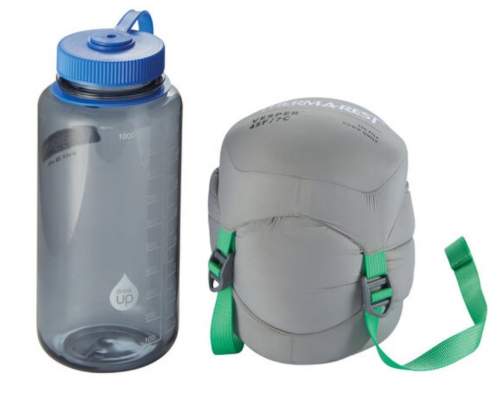 Such a great packed size is due to several reasons. The first reason is that you have a top-quality 900 fill goose Nikwax hydrophobic down which is RDS (Responsible Down Standard) certified. You will hardly find a higher value for the down fill in any sleeping bag. This is a treated down that should apparently absorb 90% less water and it should dry 3 times faster than an untreated down. 
The second reason is that they use incredibly thin fabric here. So you have a shell fabric that is a 10D nylon ripstop durably-water-repellent. The lining is also a 10D nylon ripstop.
The third reason for such a packed size is simply that this is a quilt, so you have far less material in this design than in any sleeping bag of the same temperature rating. But you have a deep foot box here, see it in the picture.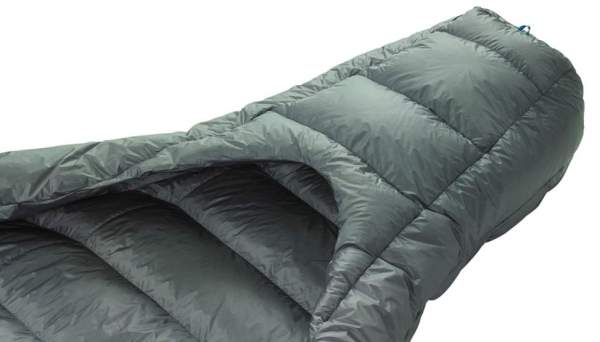 Temperature rating
The official temperature rating of this Vesper quilt is 45 F (7 C). Note that you have a sewn-through baffle design, this is fine for a bag designed for mild temperatures, and there are no cold spots here with such fluffy baffles. But note that this series includes also two quilts with a better temperature rating and with a different boxed baffling.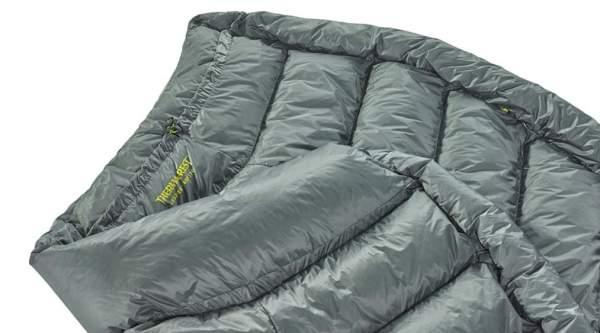 They have added several features here to make it warm. So you have a peripheral baffle (shown above) that should reduce cold drafts. There is also a snap button under the neck, plus a sinch cord and you can use them when it is chili in the camp.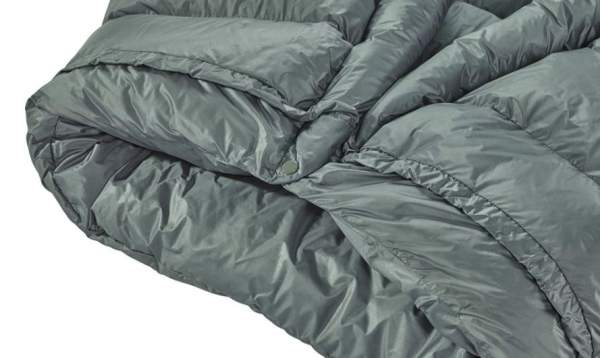 They have also added removable straps (the SynergyLink Connectors) that should keep the quilt fixed to the pad. This also reduced cold drafts, the picture below shows how it looks with a pad.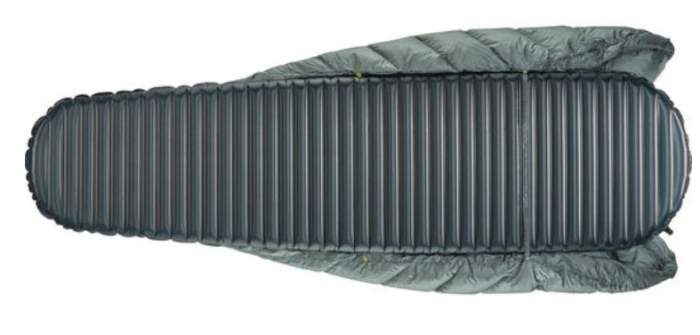 So with all this, the rating suggested by the manufacturer sounds realistic. But as always, it is best to test the quilt in controlled conditions.
Cleaning 
They advise spot-cleaning with a damp sponge. But if you have to wash this quilt, this can be done using 3 oz of Nikwax Down Wash Direct. For this, fasten the snap, select cold water, and a delicate cycle with two rinses and an additional spin cycle. 
Tumble dry in a large dryer on low heat. Check for overheating and manipulate the down to reduce clumping. You can also dry it in a well-ventilated, low-humidity environment, so hang it and undo the snaps and keep it for 48 hours.
They suggest no dry clean, no bleach, no iron, and also do not store compressed.
Warranty
They offer a limited lifetime warranty on all of their products. 
---
Who is it for
Regarding the size, they build this Vesper Quilt in two sizes, regular (R) and long (L), you will see the numbers below, so you have a limited choice to choose the size that fits your body best. 
Regarding the weight, the regular size weighs only 12 oz (340 g). With such a weight, it is suitable for any outdoor activity, it is ideal for backpacking and hiking, and for any other activity. So I have plenty of reasons to include this quilt on my list of best camping quilts and blankets.
Regarding the price, this is a top-quality product and this comes at a price. So it is not for people on a budget.

Here is a video they prepared when they launched their other two quilts from this Vesper series, have a look. 
---
Specifications
Two sizes, R and L.
Weight:
– R: 12 oz (340 g).
– L: 14 oz (390 g).
Temperature rating:
– Comfort: 52 F (11 C).
– Limit: 45 F (7 C).
Dimensions:
– R: 75 x 58 in (191 x 147 cm).
– L: 79 x 61 in (201 x 155 cm).
Fits height:
– R: 72 in (183 cm).
– L: 78 in (198 cm).
Packed size (L x D): 6 x 4.5 in (15 x 11 cm).
Girth (shoulder/hip/footbox):
– R: 58/51/37 in (147/130/94 cm).
– L: 61/54/40 in (155/137/102 cm).
Storage sack and compression stuff sack are included.
---
Final thoughts, rating, pros & cons
In the summary of this Therm-a-Rest Vesper 45 Degree Quilt review, I would again point out the incredible weight and packed size of this quilt. In spite of such weight and packed size, this is still a feature-rich product, you have seen this in the text above.
But bear in mind also its temperature rating, and add a few degrees to what they suggest. No matter their rating, this is a product for the warmer part of the year. If you can afford it, fully recommended.
Please see how I rate this Vesper quilt, as expected it scores great:
For more options, please check under the category Sleeping bags here in the site. In particular, check this ALPS Mountaineering Pinnacle Quilt that is constructed in the same style. 
Let me know if you have any comments and questions, there is a comment box below. Bookmark this site, this will keep you informed because I add here new texts regularly.