---
This ALPS Mountaineering Radiance Quilt is a camping item, wide and pleasant, with an enclosed footbox, and with a great price tag. Keep reading.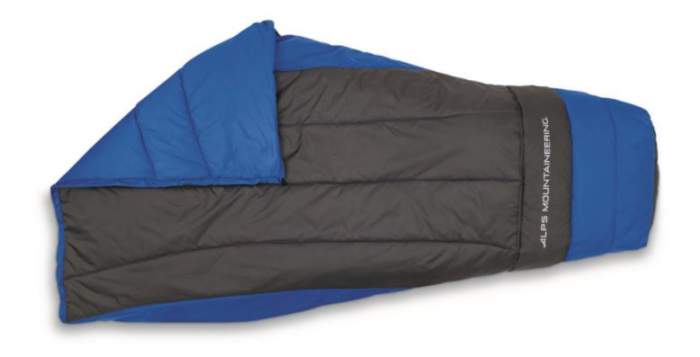 ---
Key features & benefits
Synthetic insulation.
Fully enclosed footbox.
Ripstop fabric.
Great price.
---
What this is about
So here you have a very typical camping quilt, and this means you have a bottomless structure with a fully enclosed footbox that measures around 16 x 12 inches (41 x 30 cm). The picture below shows how it looks from the underside: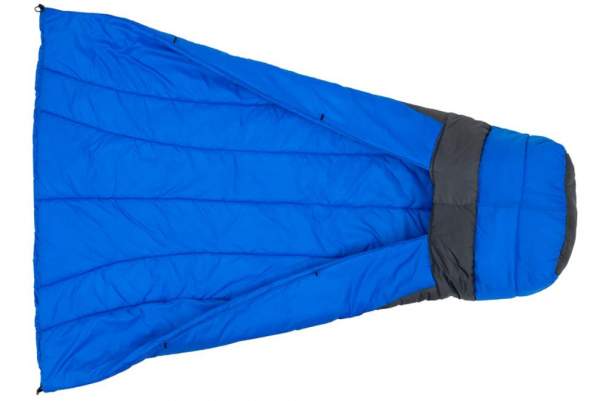 Note that it comes with cords shown below that allow you to close the quilt a bit and reduce drafts.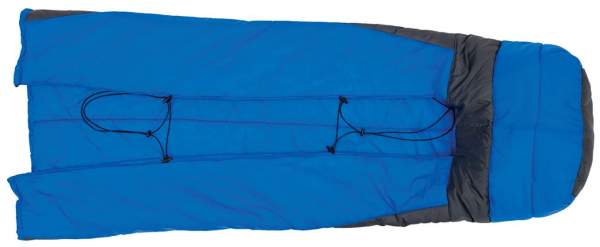 These cords can also be used to keep the quilt fixed to the sleeping pad as the picture below shows. This can be used if you feel really cold. Note that the pad can fit inside the footbox. But in my view, this makes no much sense, such cords will make you feel as constricted as in a sleeping bag.

Materials 
This is a synthetic quilt, so you have a ripstop nylon shell and what they call the TechLoft micro insulation inside. This is felt in its weight and packed size, and you can easily realize this if you compare it with their other quilt, the ALPS Mountaineering Pinnacle Quilt which is with down fill.
The insulation gives it a temperature rating of 35 F (1.7 C), at least according to what the manufacturer writes.
---
Who is it for
Regarding the weight, this quilt is moderately light, it weighs 2 lb 8 oz (1.13 kg). This is about twice the weight of their mentioned Pinnacle Quilt. No doubt this is mainly due to the difference in the insulation material.
The packed size is (L x D) 16 x 8 inches (41 x 20 cm). So this is not bad, but this is not for the trail. I see it best suited for activities where you would not have to carry it in the pack. You can transport it even on a bicycle. I have included it in my list of best camping quilts.
Regarding protection and seasons, you have seen its temperature rating above. If you add a few degrees to be sure, in my view this is a 2-season camping item, or for the warmer part of the year in general.  
Regarding the size, the quilt is 72 inches (183 cm) long, so this is perfect for me, but I wonder what would taller people do with it. The width on the chest area is great, you have 55 inches (140 cm) so this is just like a blanket I have at home.
Regarding the price, this is simply excellent, you will hardly find a better value/price combination.
Specifications
Weight: 2 lb 8 oz (1.13 kg).
Dimensions: 72 x 55 in (183 x 140 cm).
Footbox size: 16 x 12 in (41 x 30 cm).
Temperature rating: 35 F (1.7 C).
Packed size (L x D): 16 x 8 in (41 x 20 cm).
A compression sack is included.
---
Final thoughts, rating, pros & cons
So this ALPS Mountaineering Radiance Quilt is what you would expect from an outdoor sleeping quilt. It is built with a permanent footbox and it is very wide at the chest zone. This is a great option for people who feel claustrophobic in a classic sleeping bag. I am one of them, so I know. The price is simply amazing.
Please see how I rate this quilt, it stands pretty well against my usual rating criteria:
If you need more options for outdoor sleeping please see under the category Sleeping Bags here in the site, you will definitely find what you need.  
Bookmark this site and visit it occasionally, this will keep you informed because I add texts here on a regular basis. Let me know if you have questions or comments. Have a nice day.