---
This Paria Outdoor Products Thermodown 15 Degree Quilt is a versatile outdoor sleeping item suitable for 3 season camping and backpacking, nicely packable, and very pleasant.
---
Key features & benefits
Two sizes to choose from.
Versatile; quilt & blanket.
Down fill.
Storage sack.
Compression sack.
---
What this is about
Here you have an outdoor sleeping item that belongs to the group of quilts. They build it in two different sizes so you can choose what suits you best. This is an option that is between a sleeping bag and a blanket, you have them both in one product. The picture below shows how it looks when fully open, so you can use it as a blanket for sleeping or just to make you warm when you are sitting in the camp.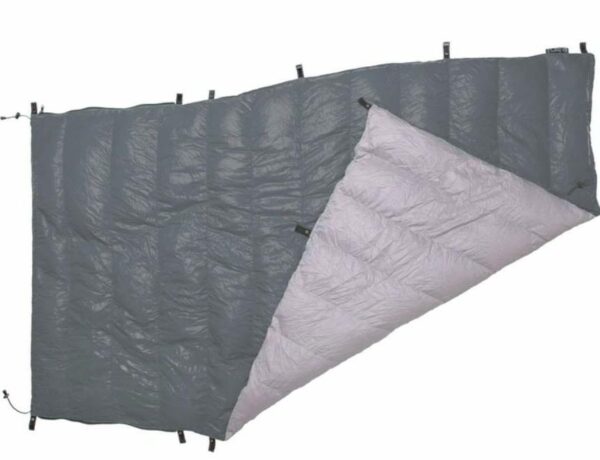 The pictures show the snap buttons on the sides, so this you can use to close the quilt all the way to the chin. In this case it looks like a mummy bag, see below how this looks.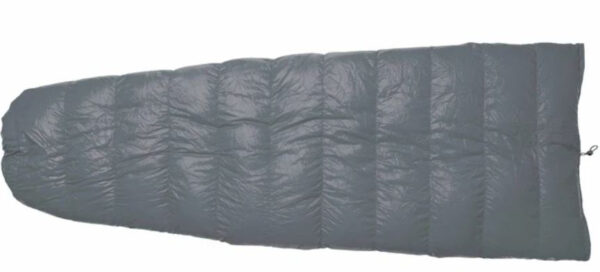 Using the quilt this way makes no much sense, if you need something like this then go for a mummy bag. But if you feel very cold you will do anything to protect yourself. Here is a close view of the snap buttons, as you realize there is a gap so this cannot replace a true sleeping bag in any case: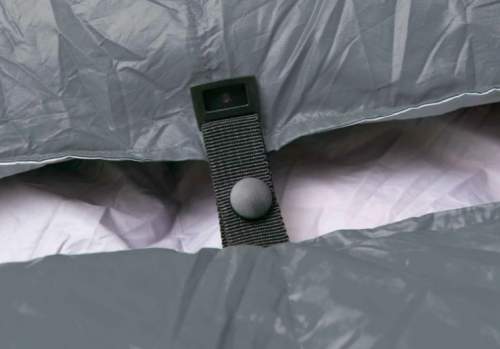 But the point of this design is to use it with a sleeping pad that will close the gap and insulate you. The quilt comes with several sleeping pad straps to secure it to the pad, see the picture below. This is supposed to keep you on your pad at night and also to prevent cold drafts while you sleep. 
Usually, you need more protection for your feet, and this is why it is good to have a more enclosed space for this part of the body. So you have a footbox here and this is the main purpose of a quilt design. 
It is also important to prevent drafts around the neck, and for this, they have added an adjustable drawcord on the top.  
Materials
The shell fabric is a 20D ripstop nylon, so it is thin but strong and with a silky feeling. This is partly behind its great weight. The inner liner is a 320T polyester pongee. The horizontal baffles are thick, lofty, and pleasant. 
The fill is a high-quality 700-fill power down, it is untreated just to know. Please see more about down fill vs synthetic fill in my separate text.
The official temperature rating provided by the manufacturer is 15 F (-10 C). Note that the manufacturer suggests adding 5-10 degrees to "provide a more reasonable rating."

Versatility features
You will see they write about the versatility of this quilt and they are right about it. Namely, the footbox is with a zipper and there is a drawstring on the bottom. So you unzip the footbox and release the drawstring and use this quilt as an ordinary blanket.
You can also keep the zipper closed and release the drawstring only partly and in this way you can release extra heat if you feel worm.
So far so good, but here are things that are no so great. The zipper is without any draft tube or just a fabric, so you will touch it and this is not so pleasant. It can also catch the hair from your legs and this too is not so cool.
Warranty
This is a US-based company and they claim that they offer a lifetime warranty on all gear.
---
Who is it for
Regarding protection and insulation, the manufacturer claims that these "quilts offer outstanding size to heat ratio, much better than synthetic insulation and even traditional down sleeping bags." So let's see if this is really so.
You have already seen its temperature rating and all ventilating options and ways of using it. But the temperature rating is not supported by some independent testing. Even in this case, the rating is always for some "average" user, and we are all different.
Bear in mind that there is no hood here, and the options to make it fully closed are limited, so this is less suitable for a very cold environment. It is best to test it yourself instead of relying on the temperature rating they give. This is a quilt for up to 3 seasons' use. 
However, no traditional sleeping bag is ever comfortable for me, so I would always go for such a quilt or an ordinary blanket. But there is a price for this, you are definitely less protected than in a sleeping bag. It is as simple as that.
Related to this is also the down fill. It is not treated and this is not the best thing in a wet environment. You have to keep this item completely dry.
Regarding the dimensions, you have two options, the numbers are given below. In my view, both look great, you can compare it with some other quilts here in the site.
Regarding the weight, it can be described as lightweight but not as an ultralight outdoor piece. You will see below the weight of the two options, both are around 1 kg of weight.
Regarding the packed size, it is really great, when packed in its bonus compression bag shown below, it measures (L x D) 10 x 7 inches (25 x 18 cm). Note that you have also a storage mesh sack to use when you store it at home for a longer period of time. 
---
Specifications
Two sizes: regular (R) & long (L).
Weight:
– R: 2 lb 3 oz (992 g).
– L: 2 lb 6 oz (1077 g).
Compression sack weight: 3 oz (85 g).
Size:
– R: 78 x 56 in (198 x 142 cm).
– L: 84 x 57 in (213 x 145 cm).
Packed size (L x D): 10 x 7 in (25 x 18 cm).
Temperature rating: 15 F (-10 C).
Fill: down.
---
Final thoughts, rating, pros & cons
In the summary of this Paria Outdoor Products Thermodown 15 Degree Quilt review, I would stress again that you should take the temperature rating they provide with a grain of salt. So test it yourself and see how it works for you. Other than that, this is a great product. Fully recommended. It is included in my list of best camping quilts and blankets.
Please see how I rate this quilt against my standard set of criteria:
Check under the category Sleeping Bags if you need more options. You might want to see this Therm-a-Rest Vesper 45 Degree Quilt built in the same style and also the ALPS Mountaineering Radiance Quilt.
Let me know if you have questions or comments, there is a comment box below. Subscribe to my weekly newsletter, there is a subscription form below, this will keep you informed, I add texts here on a regular basis. Thank you for reading.