---
The Sea to Summit Cinder CdI Down Quilt is an ultralight and ultra-compact backpacking and hiking quilt with quality materials suitable for warm weather use.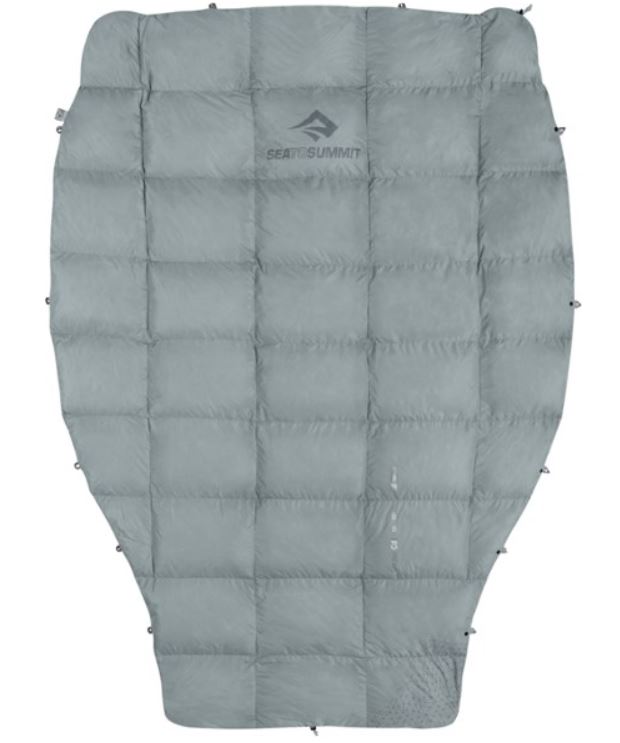 ---
Key features & benefits
Ultralight.
Incredibly compact.
Unisex.
Down fill.
Two sizes.
Waterproof & breathable shell.
---
Overview
As you realize from the name, this is a quilt which they build in two different sizes so you can choose what fits you best to avoid unnecessary weight. The pictures below show some numbers you will want to see before choosing one.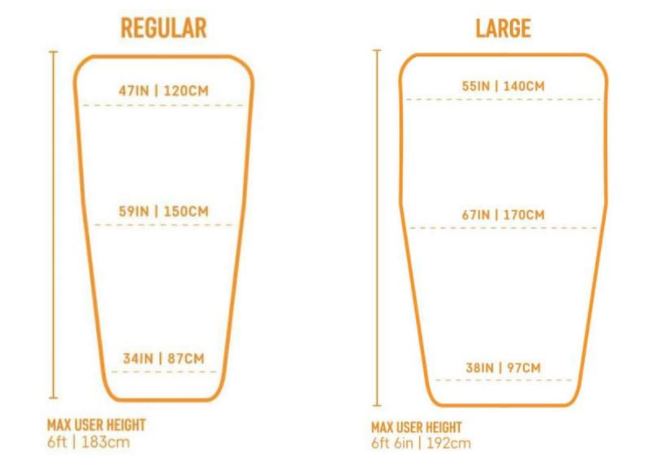 This is just a schematic representation, the quilt is a bit oval in the shape as the top picture above shows, so it is widest in the middle. It is built to wrap around a sleeping pad as shown in the picture, so it looks like a half-bag.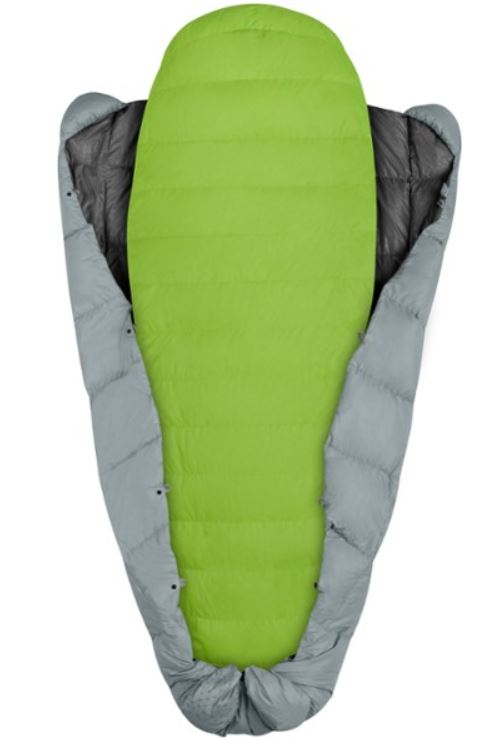 The quilt is incredibly compact, you can see its compressed size in the picture: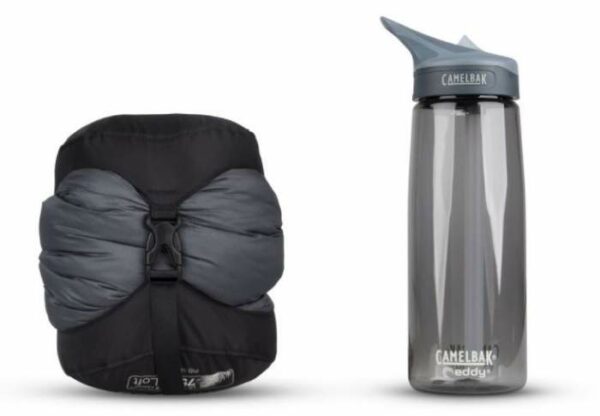 Although it is not a sleeping bag, it still has some features designed to keep you warm. So you have hand pockets to wrap the quilt around your body (the picture below), and a cinch cord on the bottom to attach it to the pad underneath you. This creates a warm feet box to protect you from the cold.
There is also a cord with a cord-lock on one corner of the head end, it is visible in the picture above, so you can draw the quilt in around your shoulders. 
You can even more prevent colds draft with the help of straps that you put underneath the pad and fix the quilt to it. There are 4 of these attachment straps, but there are 5 attachment points so you can move them at positions that suit you best, plus the bottom cinch cord.
Note also that the attachment straps have two possible lengths at which you can snap them to the quilt, so this allows for some extra space when needed. The quilt will match both mummy and square shaped pads.
The quit can be used also to increase warmth when you are in a sleeping bag, the picture below shows how you can attach it over a sleeping bag and keep in place. The quilt has two specific snaps on the top for this purpose, they correspond to the snaps of the sleeping bag that normally serves to secure the zipper.
This works with Sea to Summit sleeping bags built from 2021. This will add several degrees to the official rating of the bag and make you much warmer. 
Note also that you can connect two quilts together. For this you use the snaps on the edges. This creates a double-wide quilt but its practical use is really questionable. There is nothing to cover the gap between the two quilts.
Materials & temperature rating
They write that the Cinder quilt is built from a 20D waterproof and breathable NanoShell nylon fabric. They have a description of this material elsewhere, so it is supposed to have a water-shedding DWR finish on the exterior and a microporous PU coating on the interior. This is supposed to make it highly water-resistant but highly breathable.
The fill is a premium 750+ Loft down, super warm and compressible with the ULTRA-DRY water-repellent treatment that protects its loft from external moisture and condensation.
They claim that this ULTRA-DRY Down retains over 60% more loft and absorbs 30% less moisture than untreated down, and it also dries 60% faster. So this is a down with treated plumes at nano-level to reduce their susceptibility to moisture collapse. You will want to know also that it is RDS (Responsible Down Standard) certified.
The stitching is all the way through so this determines its temperature rating which is modest 50 F (10 C). This is different from their Ember quilt where the temperature rating is far better.
This brand is one of those that have their products quality/composition independently tested, so the loft and rating of the down used here is tested by the International Down and Feather Laboratory (IDFL) and they provide a copy of the certification with every Sea to Summit sleeping bag.
Please see more about its features in this video:
---
Who is the Sea to Summit Cinder CdI Down Quilt for
Regarding protection, in view of its official temperature rating, this is a quilt for warm weather. The manufacturer also writes the same. But as mentioned above, you can also use it as an extra layer with some cold weather sleeping bag. I have added it to my list of best camping quilts and blankets.
In view of the treated down and water-resistant shell, it should perform great in all weather conditions. But make sure you till keep it protected from the rain.
Regarding the weight, the R version weighs only 16.9 oz (480 g), and you have already seen its packed size, so this is a great option for warm weather backpacking and hiking.
Regarding the dimensions, it is the same as their Sea to Summit Ember EbII Quilt, so the R-size is for users up to 6 ft (183 cm), and the L-size is for users up to 6'6″ (192 cm).
---
Specifications
Best use: warm weather camping & backpacking.
Two sizes: R, L.
Temperature rating: 50 °F (10 °C).
Weight:
– R: 16.9 oz (480 g).
– L:  21.9 oz (620 g).
Fits height:
– R: 6 ft (183 cm).
– L: 6 ft 4 in (192 cm).
Packed size:
– R: 14  x 6 in (36 x 15 cm).
– L: 16 x 7 in (41 x 18 cm).
Stuff sack volume:
– R: 10 l.
– L: 14 l.
Compressed volume:
– R: 2.3 l.
– L: 3.5 l.
---
Final thoughts, rating, pros & cons
In summary, this Sea to Summit Cinder CdI Down Quilt is a perfect option for summer outdoor activities and for ounce counters who want to reduce weight and volume of their packs. It comes with a unique set of features that make it versatile and suitable to use with their sleeping bags and pads. Fully recommended. 
Please see how I rate this product against my standard set of criteria used for all of them here in the site and applied consistently so that you can easily compare:
If you still want more options please check under the category Sleeping Bags, you have find them many and from the best known outdoor brands. Note that they have a very similar synthetic products, the Sea to Summit Glow Gw1 Synthetic Quilt.
In the case of questions, use the comment box below. You might want to bookmark this site and visit it occasionally, you will find new texts added here regularly and this will keep you informed about the current situation on the outdoor market. Thank you for reading.