---
The Sea to Summit Glow Gw1 Synthetic Quilt is designed as a versatile summer quilt, easy to maintain, ultralight, and very compact.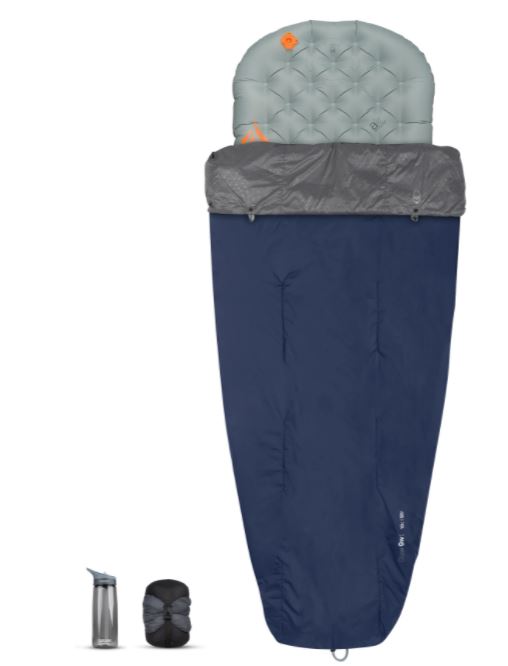 ---
Key features & benefits
Ultralight.
Very compact.
Unisex.
Synthetic fill.
Two sizes.
---
What this Sea to Summit Glow 50F Synthetic Quilt is about
So here you have typical outdoor quilt construction with the shape shown in the picture below. As you realize it is a bit oval and it is widest in the middle.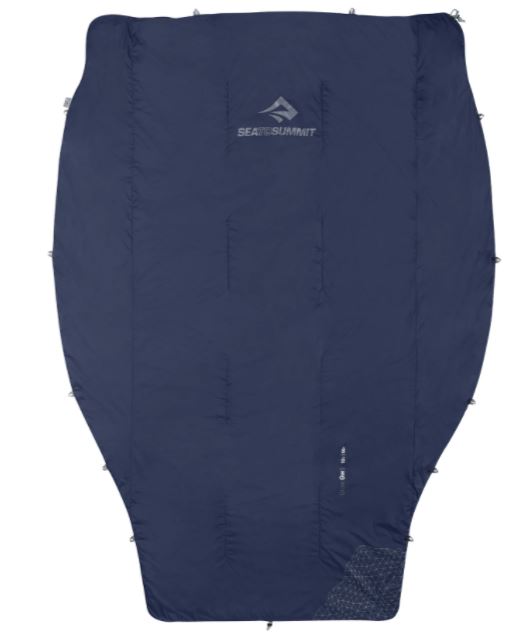 It is designed so that it can be wrapped around your body and also around the sleeping pad underneath you as the picture below shows. Observe 5 pairs of attachment points on its perimeter, this is to attach straps that go underneath the pad as shown below, there are 4 straps included with the quilt. This is there to keep the quilt in place and to reduce cold drafts.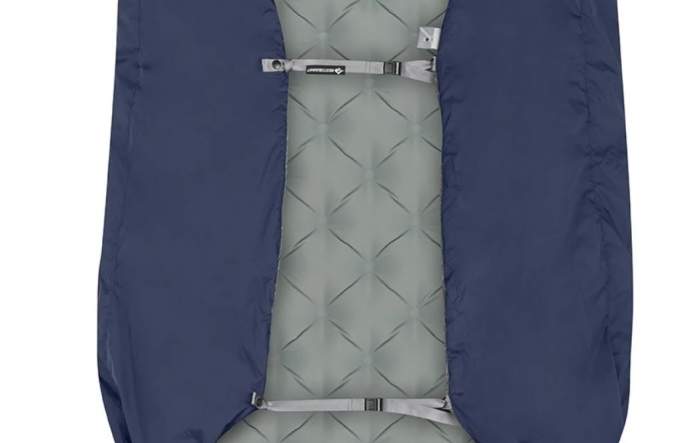 With such a quit you have far more freedom for your arms and feet, and you are less constricted than in a classic bag. As you realize from the picture below, there is a cinch cord in the feet area, so you can create a warm footbox and secure the quilt to the pad.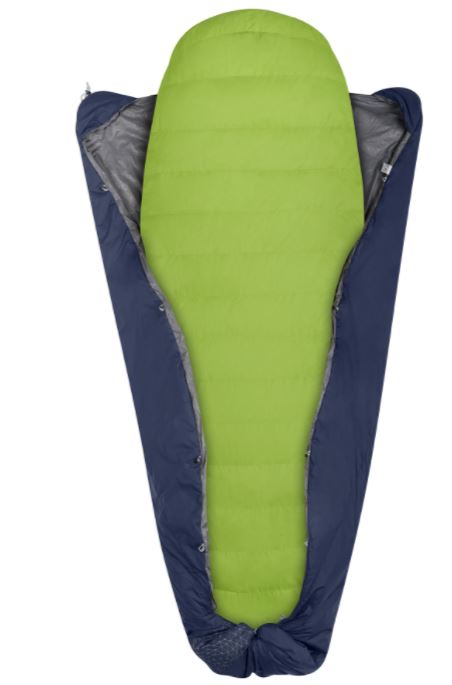 This foot box is shown also below, note that it allows some extra space for the feet.
In the corners of the top section you have a pair of gran pockets, one shown below. You use this to wrap the quilt around your neck. Observe also the cinch cord on the left, so this helps to even more close the space around the neck and to make you warmer.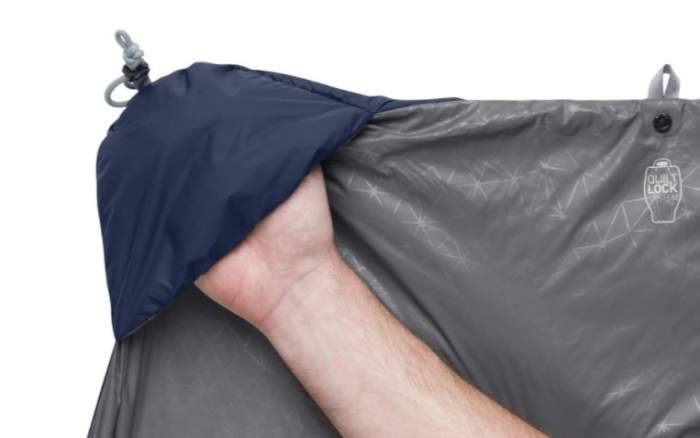 Yet another feature that you can see on the right in the picture above is what they call the QuiltLock system for extra versatility and warmth. You have two attachment spots in this area.
Namely, you have possibility to secure the quilt to any Sea to Summit sleeping bag for an extra layer of synthetic insulation. These locking buttons and the mentioned cinched foot box will keep the quilt in place on top of your regular sleeping bag. The picture below shows a bit more of how this is done.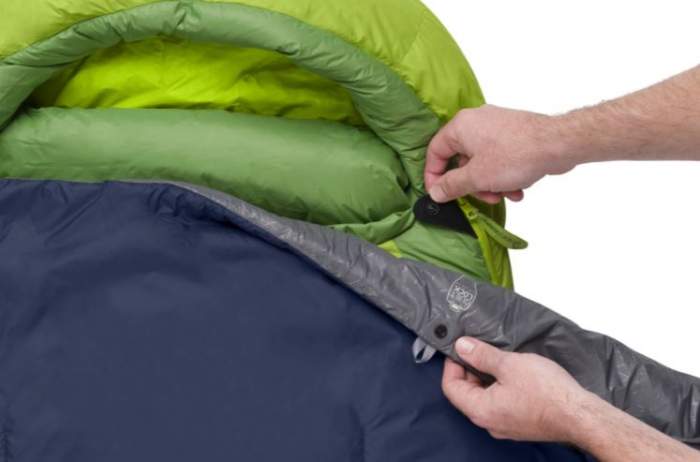 Materials
You have a synthetic insulation here and such materials excel in wet conditions. They use a filament insulation for excellent long-term thermal performance and durability. This material shows a superior recovery and loft after compression. The official temperature rating is 50 F (10 C).
On top of it you have a DWR treated 30D Nylon shell and 20D Nylon lining. These all materials are easy to maintain because they are machine washable.
Note also that you can connect two quilts together to make a double quilt, but there is nothing to seal the gap and I do not think this feature has any practical purpose. The package includes also a Sea to Summit Ultra-Sil Compression Sack. Please see more in this video:
---
Who is it for
Regarding protection & climate, this quilt is obviously for summer camping. But they have added features that make it versatile and you can combine it with a regular sleeping bag and use as an extra layer for warmth in extreme cold conditions. 
Being synthetic, it will perform great in wet conditions, and it will protect your down bag if you combine them. 
Regarding the size & gender, they build it in two sizes R and L, see the numbers below, so it can be used by anybody. I am not a tall person so both are fine, but I wonder what really tall people can do with such a quilt. Observe that something is wrong with the length numbers in the picture right, but this is an official info from the brand.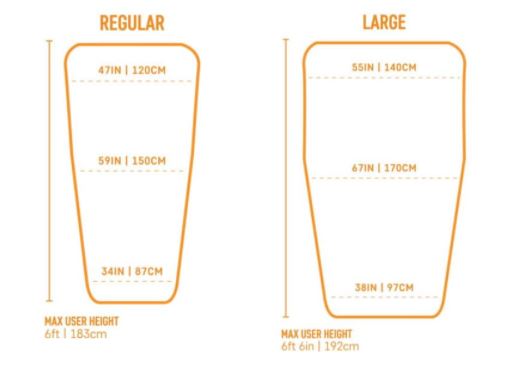 Regarding the weight, the R model weighs 1.43 lb (650 g), so the quilt is indeed ultralight. The packed size is also exceptionally good, it can be compressed to only (L x D) 18 x 15.5 cm.
---
Specifications
Best use: warm weather camping & backpacking.
Two sizes: R, L.
Temperature rating: 50 °F (10 °C).
Weight:
– R: 1.43 lb (650 g).
– L:  1.65 lb (750 g).
Fits height:
– R: 6 ft (183 cm).
– L: 6.5 ft (198 cm).
Packed size (L x D):
– R: 14 x 6 in (36 x 15 cm).
– L: 16 x 7 in (41 x 18 cm).
Stuff sack volume:
– R: 10 l.
– L: 14 l.
Compressed volume:
– R: 3.4 l.
– L: 4.6 l.
Internal chest/hip/foot circumference:
– R: 120/150/87 cm.
– L: 140/170/97 cm.
---
Final thoughts, rating, pros & cons
In summary, this Sea to Summit Glow Gw1 Synthetic Quilt is an ultralight and ultra-compact outdoor sleeping item for backcountry enthusiasts who do not like restrictive sleeping bags. It comes with some really unique combination of features that make it versatile and suitable for various environments.
But when used on its own, this is a quilt for summer use only, or perhaps for two seasons maximum. Fully recommended. I have included it in my list of best camping quilts and blankets.
Below is summarized my rating and some pros and cons. Note that I use the same rating criteria for all products of this type so you can easily compare.
For more options please check in the category Sleeping Bags. If you would rather have a down option, check their Summit Cinder CdI Down Quilt built in the same style.
Bookmark this site and come again, I add texts here regularly so this will keep you informed. Thank you for reading.