---
The Crua Culla 2 Person Insulated Air Tent is a unique dark rest air beam tent, designed to be used as an insulation layer in a 2-person or bigger tent or separately as an insulated tent.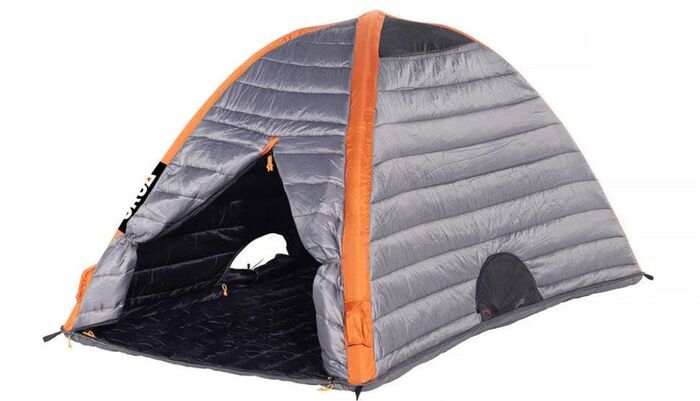 ---
Key features & benefits
Completely unique to this brand.
Insulated 4-season tent.
R-value 9.
Air beams instead of poles.
Breathable.
Dark rest or black-out design.
Sound insulation.
Nicely ventilated.
---
What this Crua Outdoors Culla 2 Person Insulated Tent is about
The Culla is a dome style insulated tent designed to be used:
On its own as an insulated but not waterproof tent. You can add a tarp above it in the case of rain.
As an insulation layer inside the Crua Duo tent. Note that this Crua Duo tent can be zipped to their Crua Clan structure which includes the central Crua Core dome tent and three Duo tents.
As an insulated tent inside any other 2-person shell tent, if it can fit.
As an insulated unit within any larger family camping tent, including their own mentioned Crua Core Dome tent. You will see this in the video below.
So they have developed a complete system which can be used in several different ways. But let's get back to the Culla Duo itself, this is something totally unique on the market (but this holds for all products from Crua) and there is nothing even remotely similar to it.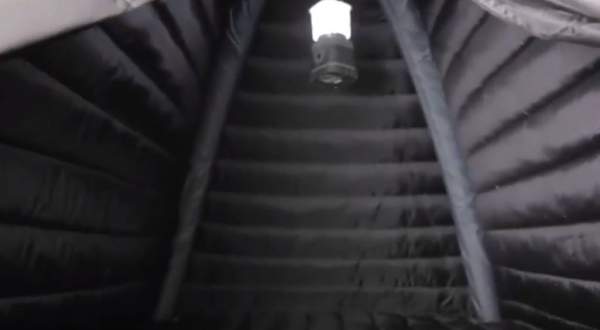 This is the only insulated tent currently on the market, at least of those known to me, apart from a couple of other tents from the same brand, the Crua Tri and Crua Loj tents. The picture above shows that it looks like a giant sleeping bag with all those baffles with insulation inside.
This is also an air beam tent or inflatable tent as some call such a type. This means there are no solid poles here, you have air beams instead and you raise this tent in just a few seconds.
So I would call it an instant tent as well. The picture below shows the process of pumping. Note, you do not pump the baffles, those are full of insulation material just like any insulated jacket.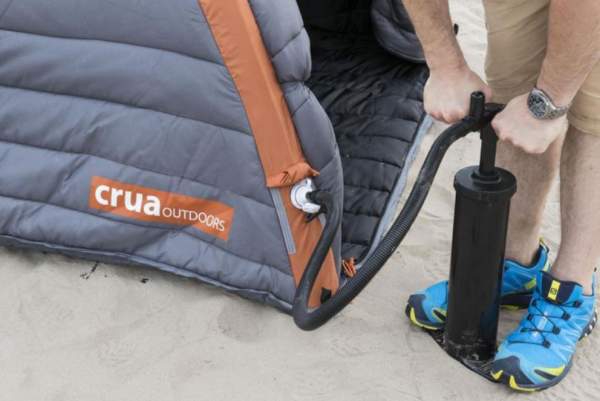 But this is not all, you have the dark rest or black-out design here, which means that the inner area is totally dark even during the day so if you use it in the areas with the northern light you will be able to sleep like in normal conditions. The same if you want to take a nap during the day, there is no glare inside.
The tent also offers a noticeable sound insulation, and if you have been in any crowded camping area you know this may be a really good feature to have.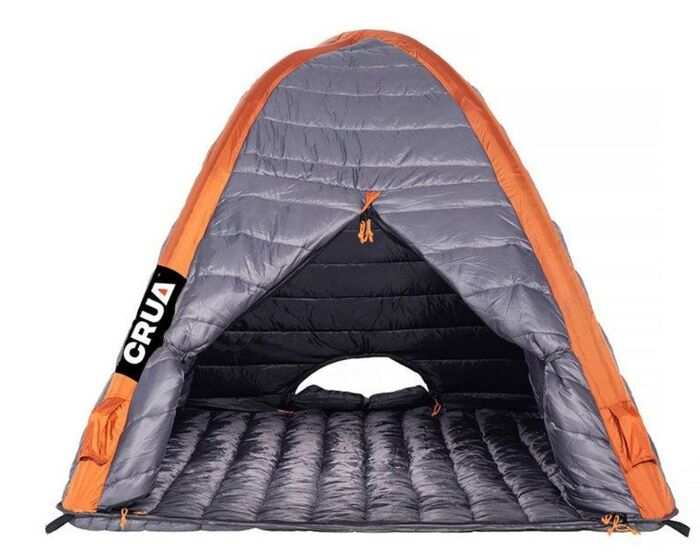 Ventilation
The tent has three floor vents on the three sides, they are visible in the pictures above, and two closable roof vents. The door is made double-layer, with a zippered mesh and an insulated zippered panel, see the picture below. So there is nothing to object here.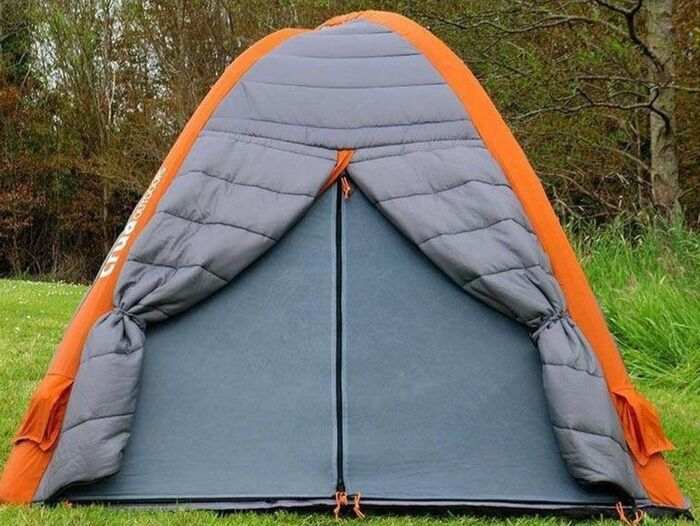 ---
Materials & construction
You have read already a lot about the construction in the text above. Here to add that the Culla is constructed with 2 layers of a fire retardant highly breathable polyester. Between them you have the insulation which is synthetic, 450 g/m², and its thermal conductivity is 0.03 W/(m.K), which is excellent to keep the proper temperature inside the tent.
The walls are fully breathable and there are also mesh sections on the roof, plus a mesh on the door. This all will prevent condensation. Note that the mesh is also with an insulated panel (flap) with a Velcro tab on it to close the vent when necessary.
There are no metal parts here, only 8 cm diameter air beams instead of poles. It is disappointing that they do not include a pump in the package. Please see a bit more about this structure in this video by the manufacturer:
---
Who is it for
Seasons-wise, as mentioned above, this is an insulated structure but it is also breathable. So they claim it is for 4 seasons, and this means it insulates you regardless of what conditions are outside, it works both ways. It keeps you warm when it's cold outside, and it keeps you cool when it's warm outside.
The effective R-value is 9 and yes you are reading correctly, the term R-value used here is what you normally use for sleeping bags and sleeping pads. This value is equivalent to temperatures below -40 F (-40 C). So this is in the class of the warmest winter sleeping bags.
Climate-wise, as they claim it is equally effective in keeping heat out of the tent if it is used in a warm area, and keeping it in if used in a cold environment. The structure is breathable and you should have no issues with condensation.
But this is not a waterproof tent so bear this in mind. In the case of wind, it can be staked to the ground but the stakes are not included in the package.
Size-wise, the declared capacity is 2 people. The area is 29.9 ft² (2.8 m²) and this means 15 ft² (1.4 m²) per person. If you use this tent as an insulated cocoon inside a large camping tent, then this area is more than enough because you would use it only to sleep.
If used in a 2-person shell tent, this is still good enough for two people, in particular if the shell tent is with vestibules, but it is also excellent as a solo tent.
Weight-wise, this is not designed to be carried long distances. It weighs 15 lb (6.8 kg) so you can use it at places with a motorized access, at high mountain passes or close to the road in general.
The packed size is 24 x 12 x 12 inches (61 x 30 x 30 cm), see the carry bag below, and this is excellent in view of its thick insulation and the mentioned R-value.
To get some idea, because there are no similar tents to compare, you can compare this with some double sleeping bags, and you will realize that the packed sizes are quite comparable. I find this amazing, this is a whole tent and also quite tall, no less than 4 ft (122 cm), so it contains lots of insulation in its walls and on the floor.
So all in all, it is suitable for climbing or mountaineering adventures, if you go to high altitudes say above 3000 meters, you know that even in summer you are in winter conditions, and you may need such a tent. But it is also suitable for hunting, fishing, base camp, festivals, safari, and glamping.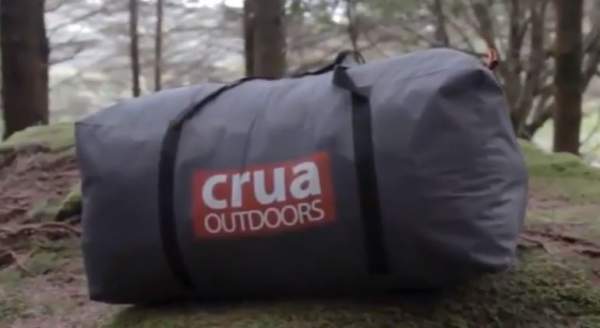 ---
Specifications
Capacity: 2 people.
Weight: 15 lb (6.8 kg).
Dimensions: 6.8 x 4.3 ft (203 x 132 cm).
Area: 29.9 ft² (2.8 m²).
Area per person: 15 ft² (1.4 m²).
Peak height: 4 ft (122 cm).
Packed size: 24 x 12 x 12 in (61 x 30 x 30 cm).
R-value: 9.
No pegs in the package.
---
How about competitors
Normally, I use to compare such items with competitors, but in this case this is not possible. There is nothing on the market even remotely similar to this tent. So if you want an insulated tent this is it.
---
Final thoughts, rating, pros & cons
So in summary, this Crua Culla 2 Person Insulated Air Tent is an impressive product. The person behind this and other tents of Crua has a great vision and they have already built a series of insulated tents. I have mentioned them above.
Bear in mind that this is not a tent for rain, so if you use it in such conditions you will need a tarp and a footprint, or their Crua Dome Duo or any larger tent.
The price may look high, but you cannot compare it with anything so it all comes to your needs and your budget. If you need an insulated structure, you will not find anything better now, and its properties are such that it will definitely insulate you regardless of where you use it.
As for the rating, I use the same criteria and formulas for all the tents here in the site to make comparison easy, but this structure is completely unique and those criteria cannot be fully applied.
This holds in particular to area/weight ratio and the packed size. Here you have thick insulation so this cannot possibly be compared to any standard tent around. The same is with protection, this tent is not designed for rain and you cannot compare it with other tents, but it is excellent regarding insulation.
In any case, see how I rate this tent, the only parameter where my standard formula applies is the area per person:
BEST PLACEs TO BUY
Note that they also have a solo version under the name Crua Culla Solo, very different in shape but with very similar essential features.
I am not paid by the brand or related in any sense, so this is NOT a sponsored text. I only give my unbiased view of the tent. Do you have any experience with this brand or with this tent? If so, please share it here, there is a comment box below. I wish you a nice day.