---
Big Agnes Blacktail Hotel 2 & 3 Tents are nicely ventilated shelters with huge storage space and aluminum poles, most suitable for a warmer climate and up to 2 seasons use.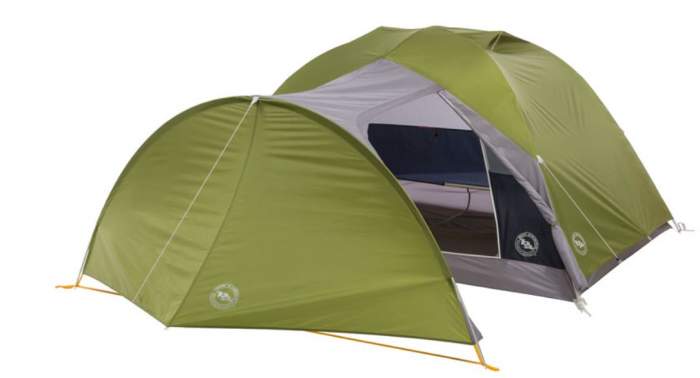 ---
Key features & benefits
Extended dome-type tent.
Huge storage space.
Aluminum poles.
2 Doors.
Very compact.
Lightweight.
---
What this is about
Big Agnes has several versions of tents in this Blacktail series. So you have them with the word Hotel in the name as the tents presented here in the text. Now, in this "Hotel" group they have the tents presented here and also Bikepack versions that are a bit heavier.
But they also have these Blacktail tents without "Hotel" in the name, and this means without the huge porch that you have here. So it is easy to get confused with so many options on the market.
Note also that they sell several of them at the same place on Amazon, and it is far from clear when you read reports from users which tents they describe. There are also some wrong pictures there, etc.
So let's now focus on these these Blacktail Hotel 2 & 3 Tents, and I use the data from Big Agnes directly. Both tents share the same basic features. So you have an inner dome-type tent with two doors (see the picture below), and a huge full-coverage fly that creates two asymmetric vestibules.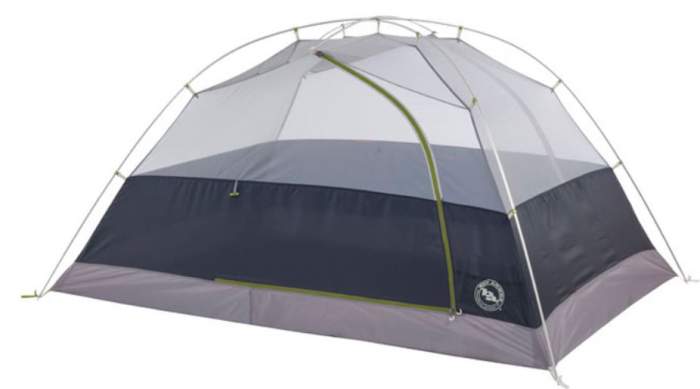 One of the vestibules is so enormous and supported by an extra loop, so that it is appropriate to call it a porch or even a garage. Because of this, the tents are not freestanding. 
Below I give the floor plans for both tents, and the most important dimensions. So you realize that the tents are low profile, and you get some idea about the large storage areas: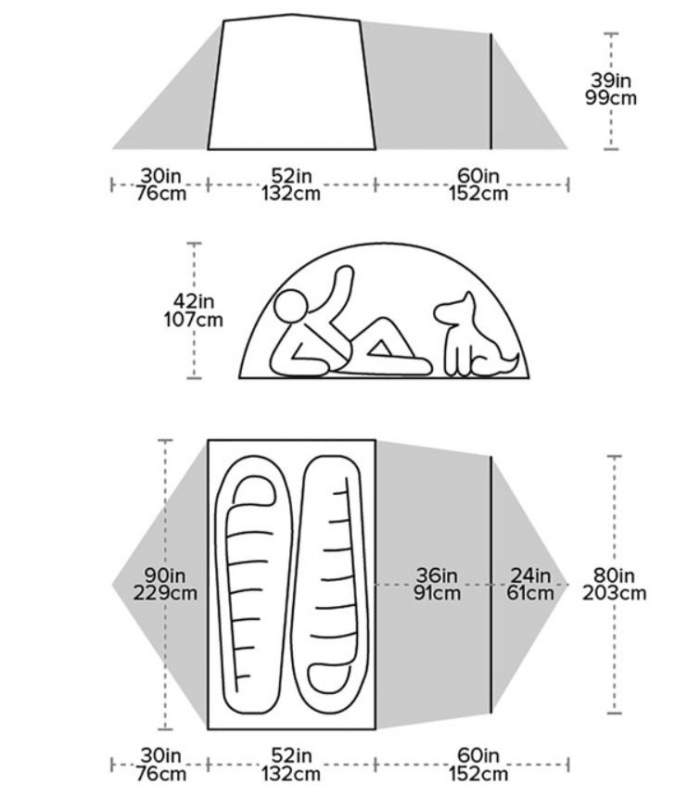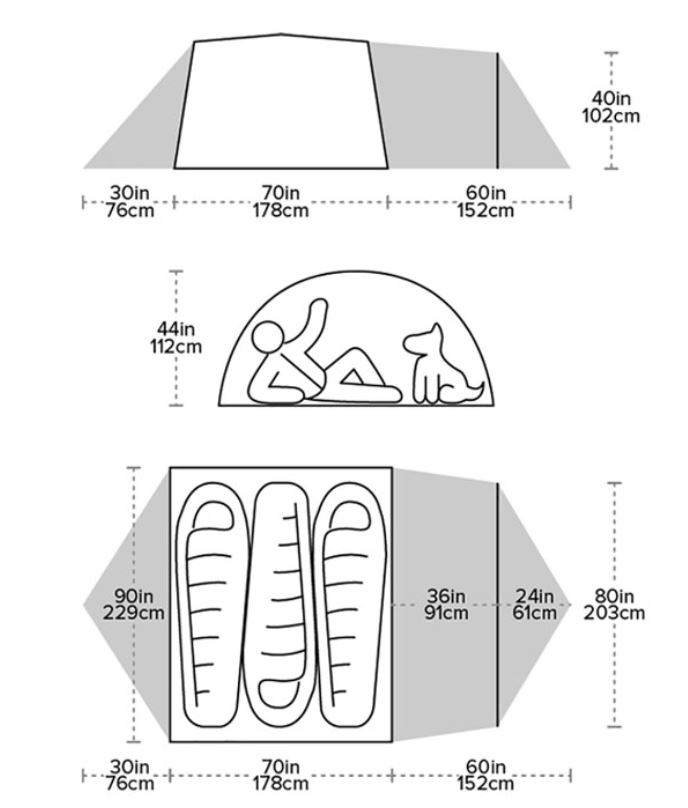 Materials
The fabric: The shell material (fly and floor) is a polyester with a PU coating that gives 1500 mm waterproof rating. The inner tent is a combination of a breathable polyester taffeta and mesh. All seams are factory taped.
The poles: You have them 3 long and 1 short, and this is a lightweight aluminum with pre-bent roof segments for a bit more inner volume. The short ridge pole also adds more volume as it makes the doors vertical. The poles attach to the tent with clips. 
Other features
4 Interior mesh pockets.
2 Media pockets.
8 Lightweight aluminum hook stakes.
Gear loft loops included.
Quick Stash door keeper on tent body door for stowing unzipped doors quick and easy.
Reflective guy lines and webbing on tent corners.
Fits the Large Trapezoid, Triangle, Large Wall, Wall & Square gear lofts. All sold separately.
Footprint available, it can be ordered separately.
Ventilation
The inner canopy is mostly mesh so vapor can easily escape. But the fly is gigantic, and this is why they have added two roof vents with stiffeners, see the picture. What I dislike here is the design, the vents are on the top, so if you have rain and side winds, you can get water inside.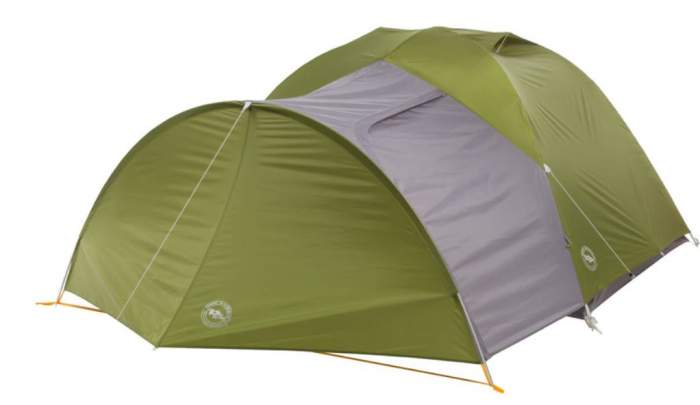 They also use what they call the Low Vent feature on the vestibule doors, see the picture above. This means that the fly is not completely on the ground, and this is good for more air flow while still providing vestibule coverage.
Please see more in this video:
---
Who are these Big Agnes Blacktail Hotel 2 & 3 Tents for
Regarding the weight, they give several options (packed weight, trail weight, and fast fly weight). I would say that these tents are indeed very light, the 3-person version weighs 6 lb 14 oz (3.12 kg).
But they are a bit heavy to carry on the the trail, so it is best to ignore the trail weight. On the other hand, the fast fly weight applies only if you order a footprint separately. 
So these are camping tents and not tents for hikers and backpackers. If this is what you need, please check my list of best 3 person backpacking tents. See in particular this Big Agnes Copper Hotel HV UL3 Tent which has the same design, but it weighs only 4 lb 9 oz (2.07 kg). You see the difference in the weight?
The packed size is really good, the 3-person version measures (L x D) 22 x 7 inches (56 x 18 cm). This is small enough to be transported even on a bicycle.
Regarding the dimensions & official capacity, the tents can in principle accommodate 2 and 3 sleeping pads, respectively, on their floors. But if you accept my comment about the weight, then you would use it as a camping tent. If so, then it is best to downgrade these tents by one user, so use them as solo and 2-person tents, respectively.
The two vestibules are really great, they offer 28 + 9 ft² (2.6 + 0.8 m²), this is the same for both tents. This is lots of space to store your gear, and even a bicycle. 
Regarding seasons & climate, the manufacturer describes them as 3-season tents. This may be so, but with so much mesh on the canopy, you will feel great in a cold environment. This is why I think these tents are for a warmer climate and for 2 seasons maximum, and this means late spring, summer, and early autumn.
With such a full fly, you and all your gear will be fully protected no matter the rain. With such a low profile, the tent is also a good option if you have to stay at windy places.
Regarding the price, it may look a bit steep, but you have the best materials here and aluminum poles, plus one of the best-know outdoor brands behind the product. So this is a fair price for what you have here.

---
Specifications
Big Agnes Blacktail Hotel 2 Tent
Weight: 6 lb 2 oz (2.78 kg).
Fast fly weight: 3 lb 15 oz (1.78 kg).
Dimensions: 142 x 90 in (360 x 229 cm).
Floor area: 33 ft² (3.1 m²).
Vestibules area: 28 + 9 ft² (2.6 + 0.8 m²).
Peak height: 42 in (107 cm).
Packed size (L x D): 21 x 7 in (53 x 18 cm).
Footprint weight: 8 oz (227 g), to order separately.
Big Agnes Blacktail Hotel 3 Tent
Weight: 6 lb 14 oz (3.12 kg).
Fast fly weight: 4 lb 15 oz (2.24 kg).
Dimensions: 160 x 90 in (406 x 229 cm).
Floor area: 44 ft² (4.1 m²).
Vestibules area: 28 + 9 ft² (2.6 + 0.8 m²).
Peak height: 44 in (112 cm).
Packed size: 22 x 7 in (56 x 18 cm).
---
Final thoughts, rating, pros & cons
So these Big Agnes Blacktail Hotel 2 & 3 Tents are light and very compact. They describe them as "light enough for the backcountry, and strong enough for the front country". One could agree with this, but I see them as camping tents. They are nicely built, ventilated, and with huge storage areas. They are perfect for people on motorbike or bicycle tours. 
I take the Blacktail Hotel 3 Person Tent and apply my standard rating criteria, see how it stands:
BEST PLACES TO BUY regarding shipping and price:
REI
Moosejaw
Backcountry
Amazon
For more options please check under the categories Tents for 2 People, and Tents for 3 People. You might want to bookmark this site and visit it again when you find time, I add texts here regularly so this will keep you informed. Thank you for reading.