---
Big Agnes Blacktail 3 with footprint is a very reliable freestanding 3-season tent which can accommodate up to three people. The tent is suitable for various outdoor activities like camping, hiking, mountaineering.
---
Key features & benefits
Included footprint.
Very reliable and high-quality tent.
Reliable brand behind the tent.
Two doors and two vestibules.

---
What type is it
The Blacktail 3 tent is one in the series which includes tents for 2, 3, and 4 people. They all share the same features. So this is a very simple freestanding tent for 3 seasons.
The meaning of the term freestanding is that you can pitch it on any terrain, so in principle, you do not have to fix it to the ground although this is advisable to do. This is a great feature and you will realize this if you find yourself on a frozen ground, on a rocky terrain, or simply on a gravel or sand. With a non-freestanding tent you would be in trouble in such places – take my word for it, I have been in such situations in the Alps.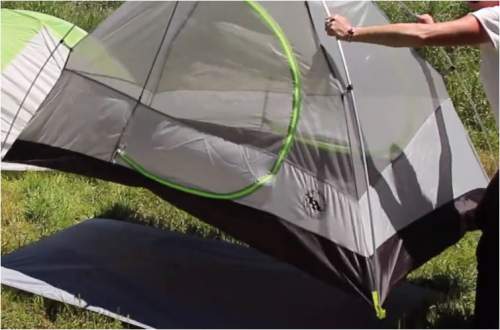 Here you have such a pole structure and grommets on all four corners, so that the tent is self-supportive and no need for stakes, and you can move it from place to place, see the picture above. But you will want to secure it in the case of wind, so no worry, 12 lightweight aluminum hook stakes are included in the package, and guylines are also available.
This is also a 3-season tent. If you are not familiar with the terminology, this simply implies that it is a normal tent which is not for harshest winter conditions. Winter tents are far more expensive as they have more poles (but not always), and stronger materials, you can read more about such tents in my separate text.
Being a 3-season tent, this is a 2-layer structure. So you have the usual inner tent with the floor, plus the rain fly as the second layer.
---
Who is it for
This is a relatively spacious tent as you will realize from the comparison table below, so it has enough sleeping area for 3 people. The two side doors are a bonus as they make the life easier for users.
But as usual, such tents are best if used for one person less, so I would say it is perfect for couples and for two people in general. See below its dimensions and the floor plan and you will get some idea of what it offers.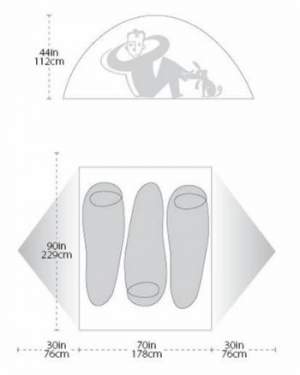 At Big Agnes' site, they describe it as an excellent value for the entry-level backpackers. I would say it is a bit heavy for such a purpose, in view of its 6 lb (2.72 kg). To realize what I mean, you might want to compare it with Marmot Tungsten UL 3P which is 4 lb 5.5 oz (1.97 kg), so this is far more appropriate for backpackers.
So the Blacktail 3 tent is more suitable for ordinary camping, fishing, open-air festivals, or even for shorter hiking and mountaineering tours.
A bit more about the construction and setup
The tent is with two main aluminum poles, plus a brow pole above the doors, which pulls the side walls up and makes them vertical. So this adds a lot of volume in the shoulder height in the tent.
The tent body is with a lot of breathable mesh, and it attaches to the poles through a system of clips. You have multiple mesh pockets inside for storage and organization, and the two side doors are large and D-shaped.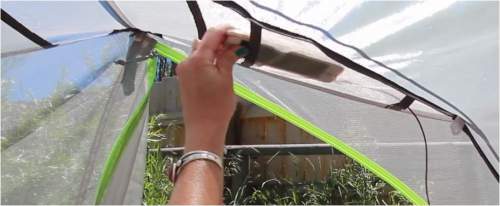 The footprint
The footprint is specifically designed for this tent. It is sized properly so that it remains tucked under the tent floor and it will not funnel the water under the tent, and it will protect it from sharp objects. Note that its weight is 10 oz (283 g), so if you want to shed the weight, you do not have to carry it with you. About general features of footprints, you can see in my separate text.

The setup
The setup is made easy due to such a simple design, and due to color coding. You start by spreading the footprint, but you do not have to use it. Then add the tent body and set the ends of the poles in the corners' grommets. After that add the brow pole, attach the inner tent to the poles and the basic structure is done.
In this stage the tent can be moved around as it is, you have seen this in the picture above; this is the advantage of its freestanding nature. You can add the fly by attaching it to the poles in the corners. The stakes are in the package so you can secure it to the ground.
This all can be done by one person in just a few minutes. The picture below shows how it looks like when the fly is on and vestibules are closed.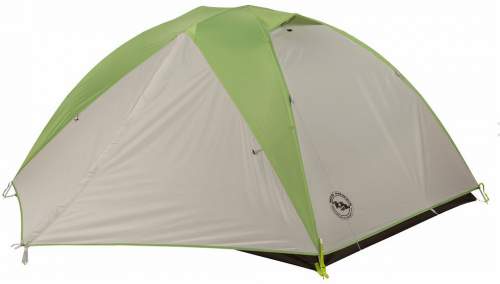 Fast fly variant
Usually, such freestanding tents with a footprint allow for the so-called fast-fly variant. This implies using only the fly, the poles, and the footprint. In this variant, you will have 4 lb 1 oz (1.84 kg) of weight. So you will be protected from the rain, but not from insects.
Packed weight and trail weight
This terminology may be confusing for some people, and you will see the numbers in the specifications below. This is described in my separate text so please have a look here.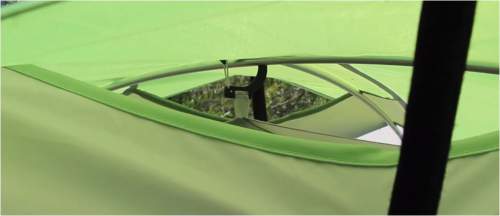 Waterproofness
You have 1500 mm rating for both the fly and the floor. This is quite typical, and the same numbers you can see in some winter tents, just to know if you think the numbers are small. All seams are taped, and the fly is full size, so it goes all the way to the ground and you have a full protection.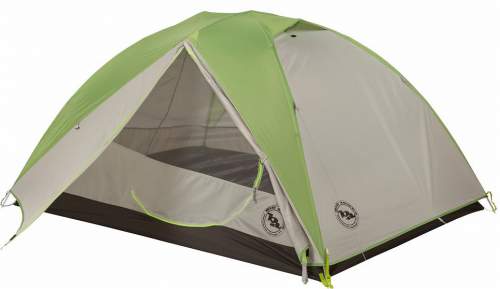 ---
Pros & Cons
My summary is as follows:
 

Good

 

Less good

Very reliable.
Versatile.
Simple setup.
Footprint.
Various variants of use.

On the heavy side.
A bit pricey.
The tent is a bit heavy, but if you plan to carry it long distances, share the pieces between the users, and you can also go without the footprint.
The price
At the moment of writing this text, the Amazon price for this tent is $280 (but see in the link below, this changes all the time). So this is far from cheap, but this is a quality tent. Do not be fooled with cheap tents on the market, they will not protect you and you may get in trouble, read about my experience with such a tent in my tour to Weissmies in Swiss Alps.
Note also this is Amazon Prime item, so you might save on shipping, check this link:


What users think
It is incredible to see that on Amazon, these tents have received a perfect score so far, 5.0/5. But I am not surprised with this. See my own rating:
My rating breakdown of the Big Agnes Blacktail 3 tent
Area per person -

8/10

Surface/weight ratio -

9.2/10

Packed size -

9.2/10

Reliability -

9.4/10

Ease of use & features -

9.6/10

Price -

8.7/10
---
Big Agnes Blacktail 3 specs 

& summary of features
Type: 3-season, freestanding.
Capacity: 3 people.
Trail weight: 5 lb 6 oz (2.44 kg).
Packed weight: 6 lb (2.72 kg).
Fast fly weight: 4 lb 1 oz (1.84 kg).
Footprint weight: 10 oz (283 g).
Floor area: 44 sq ft (4.1 sq m).
Vestibule area: 9 + 9 sq ft (0.8 + 0.8 sq m).
Packed size: 21 x 6 in (53 x 15 cm).
Peak height: 44 in (112 cm).
Footprint: included.
Materials:
– Fly and floor: polyester.
– Tent body: polyester breathable and polyester mesh.
– Lightweight aluminum pole system with press fit connectors.
– Plastic clips attach tent body to pole frame.
– 12 lightweight aluminum hook stakes.
Waterproofness: fly and floor 1500 mm, polyurethane coating.
Seams taped with waterproof, solvent-free polyurethane tape (No PVC or VOC's).
Two fly vents.
4 interior mesh pockets.
2 media pockets.
Reflective guylines and webbing on tent corners.
Velcro tabs connect fly to pole structure.
Symmetrical pole structure.
Storm flaps on vestibule zipper.
2 doors and 2 vestibules.
Quick Stash for the doors.
Pre-cut guylines and tensioners attached to the fly.
---
Big Agnes Blacktail 3 person tent vs competitors
See how this tent compares with two other top brands, all are for 3 people and 3-seasin tents, to see more please follow the links:
Big Agnes
Blacktail 3
Marmot
Tungsten 3P
Kelty
Trail Ridge 3
Weight (kg)
2.72
2.88
3.35
Surface (sq m)
4.1
3.8
4.27
Surface/Weight (sq m/kg)
1.51
1.32
1.27
Surface per person (sq m)
1.37
1.27
1.42
Vestibules surface (sq m)
1.6
1.7
1.8
Height (cm)

112

117
114
Footprint
yes
yes
yes
Gear loft

no

no
yes
So the Blacktail 3 tent has the best Surface/Weight ratio, and the Surface per person is in the middle. See the prices for the three tents at the moment of writing the text: $280, 250, 227.
---
Summary
In the conclusion of this Big Agnes Blacktail 3 with footprint tent review to stress again that this is a trustworthy tool from a renown brand. The included footprint adds value and it also adds extra protection to the floor and extends its lifetime. Although the price may look steep, if you can afford it, you will have a great tent which will serve you well and it will last long. I can fully recommend it. You might want to compare it with yet another tent from the same brand, the Big Agnes Van Camp SL 3 Tent.

If you still need something different, please check my page about tents and shelters, there are many great tools presented there, in particular this Sierra Designs Meteor 3 Tent.
With such a tent you will need some sleeping pads, so please have a look here. If you need a cot for camping, you will find the best options presented here.
Thank you for reading. If you have a question or comment, please use the comment box below. Have a nice day.


---