---
The Big Agnes Fly Creek 2 Platinum HV Tent is the lightest backpacking 2 person tent currently available on the market. This is a 3-season tent designed with ounce counters in mind.
---
Standout features & benefits
Incredibly lightweight. There is no lighter tent currently on the market.
Very easy setup with a single Y-shaped pole.
Freestanding.
---
Who is it for
Well, the weight says it all. This is a tent for those who really count ounces and who are willing to sacrifice durability for the (absence of) weight. So naturally, backpackers first come to mind, but also hikers and mountaineers.
In principle, the tent is for two people, but my guess is this can only work for couples, otherwise use it as a great solo tent. Note, with the packed weight of only 2 lb (907 g), this is still a very lightweight option for solo adventures, eventually with your dog only. I see it as a great tent for bike packing.
I see it as a great tent for bike packing, and in such a use you might consider adding an ultra-lightweight cot to avoid sleeping on the ground and to save on expensive sleeping pads.
I must say that the letters HV (which means 'high volume') look like a joke to me because this tent offers everything but high volume. But this is to distinguish it from the Big Agnes Fly Creek 2 Platinum because this 2017 HV 2 Platinum version is with a modified pole structure which gives it 20% higher volume.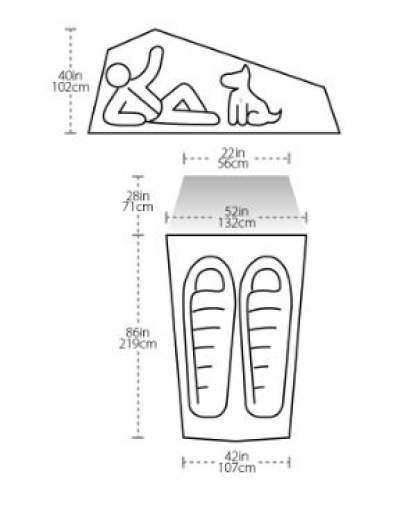 ---
Description
I do not think that there is any lighter tent on the market in 2017. There are a few types of tarp-type tents that are lighter, but this is a tent in the true sense, with the inner tent, a waterproof floor, and with the waterproof fly.
This is a very streamlined design and everything is done to shed weight, so the fabric is very thin. As you see from the picture above, the floor tapers to 42 in (107 cm) at the feet. So you can only use 50 cm pads here.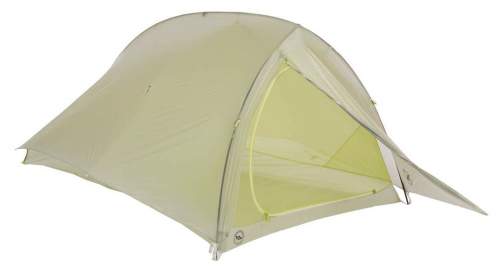 The total inner space is 28 square feet (2.6 square meters), so space is tight, and there is only one vestibule above the door which is on the tent's narrow side. The vestibule is with 7 square feet (0.7 square meters) of space, not much for two users.
You have several mesh pockets inside the tent so this gives some places to stash small items. Above the head, you will notice gear loft loops but which can be used with their Triangle Gear Loft but this is to be ordered extra.

Fast fly option
This is only if you order the footprint separately, it is not included. So this super lightweight variant allows you to use the fly with poles and the footprint and you will have a shelter with the weighs around 1 pound (454 g) only.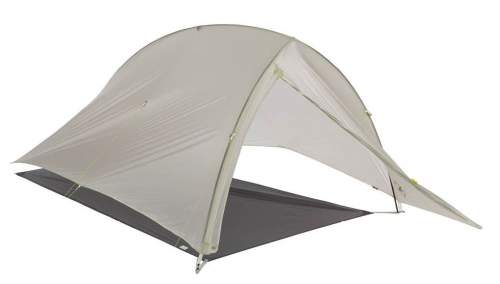 Materials
The inner tent walls are almost all mesh, and the same is with the large door, so ventilation is optimal. The floor are fly are silicone treated nylon rip-stop with 1200 mm waterproof polyurethane coating. All seams are taped with waterproof, solvent-free polyurethane tape.
They advise buying the footprint to bolster the floor of the tent against any sharp objects. The tent is with a single Y-shape lightweight and collapsible DAC Featherlite NFL pole. You have ultralight plastic clips to attach tent body to pole frame.
You have 11 superlight aluminum J stakes. But to make the tent even lighter, you can replace these with MSR carbon fiber stakes which are 0.2 oz only per piece, i.e., below 6 grams.
What is really new
They claim the volume is increased by 20%.
There is a new hub for the pole. This is a DAC Angle SF Hub which also allows for steeper walls. But the pole remains the same style, a single Y-shaped pole with three points on the ground. So the tent is truly freestanding.
The color is slightly different, not my favorite, but the same is with the previous Fly Creek 2 Platinum.
There is a change in the shape, the previous Fly Creek 2 Platinum was with the back top section which looked to me like a camelback. The new is sleeker.
All numbers appear to be the same; which means the floor size, weight, height, vestibule size.
---
Specifications & summary of features
Type: freestanding, 3-season, double-wall tent.
Capacity: 2 people.
Best use: hiking, backpacking, mountaineering, bikepacking, kayaking.
Packed weight: 2 lb (907 g).
Trail weight: 1 lb 10 oz (737 g).
Fast Fly weight: 1 lb (454 g, but the footprint is not included).
Packed size (L x D): 15.5 x 4.5 in (39 x 11 cm).
Floor area: 28 ft² (2.6 m²).
Vestibule area: 7 ft² (0.7 m²).
Footprint weight (if ordered separately): 5 oz (142 g).
Peak height: 40 in (102 cm).
Warranty: limited lifetime.
Fly and floor have a 1200 mm waterproof polyurethane coating.
Tent body: polyester mesh.
Doors: 1.
Interior storage pockets.
All seams taped with waterproof, solvent-free polyurethane tape (No PVC or VOC's).
DAC Featherlite NFL pole system with Angle SF Hub.
Pole: 8.7 mm.
Ultralight plastic clips to attach tent body to pole frame.
Reflective guylines and webbing on tent corners.
3 interior mesh pockets.
Included 11 superlight aluminum J stakes.
---
Summary, rating, pros & cons
So to conclude, in Big Agnes Fly Creek 2 Platinum HV Tent everything is about ounces. They managed to make it ultra-lightweight, but a few grams difference in comparison with its competitors does not look so great if you see other parameters, like the single vestibule and its small area, the single door, the width of the tent which is such that you can hardly put two sleeping pads next to each other, and above all the price.
On the other hand, the differences between this new HV version and the existing (previous) Fly Creek version are practically negligible. This is all about small changes in the pole structure. The point is, if you already have one of its previous versions, no need to run to buy the new one.
This tent is narrow, and I would not use it with a partner unless this is about a honeymoon (I am not joking, 30 years ago I was on a honeymoon but with a terribly heavy yet far bigger tent). Use it as a solo tent and you will have a great tool. Note, they have also the solo version of this tent, just follow the link below.
This ultra-lightweight tent comes at a price, so if you can afford this, and you need an ultra-lightweight tent, this is it. See my detailed rating of this tent:
Thank you for reading. I hope the text has been useful, and please use the comment box below, I love to hear from you. Have a nice day.