---
This Snugpak Ionosphere 1 person tent review is about a very popular lightweight 3 season, non-freestanding tent suitable for any sort of outdoor activity. 
Key benefits
Lots of space for you and equipment, no stolen stuff while you sleep.
Great surface to weight ratio.
Good price.
Best price & place to buy
The best place regarding the price and shipping conditions is usually Amazon.com.
Description
The Snugpak Ionosphere 1 is a two-layer tent. This implies that you have a mesh tent all around you and above you, which protects you from insects, and you also have a rain fly to use in order to protect you from elements. I already mentioned above, this is a 3-season tent, so it is not designed to be used in winter conditions. You can read more about 4-season tents in my another text in the site, but see first about this tent here.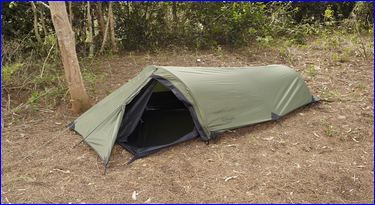 This tent is not freestanding. This implies that you need to anchor it to the ground in order to pitch it. This can be problematic in the case of a rocky terrain, gravel, or in the case of a frozen ground; this is one of the reasons why it is not intended for winter use.
The tent is of a bivy type, so it is rather low, but it offers a lot of useful space, measuring 2.4 m length and 0.9 m in width. This is more than many other tents of the similar type. So there is a lot of space for one person and backpack. The bottom is a waterproof sheet as you would expect.
The tent is with a 5000 mm PU coated fly. The meaning of this is that you have a thin film of polyurethane added to the fly fabric, creating what is known as polyurethane laminate. This is a very common way of making tents waterproof, though there are some with breathable flies available on the market. With all taped seams, you can be sure you have a proper protection from the rain.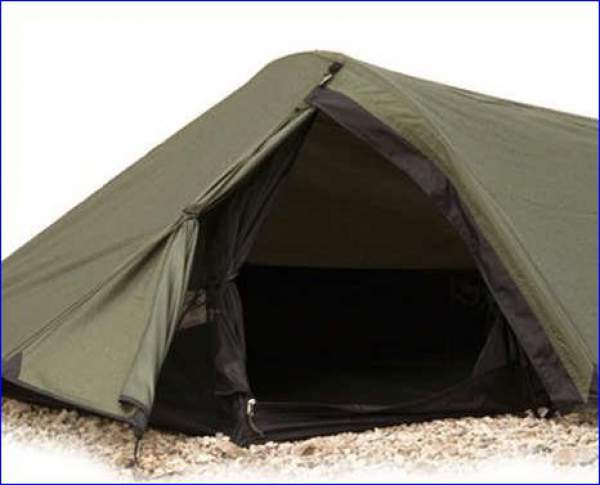 The fly is with velcro tabs for attachment to the poles, and it has several guy-lines around. There are no vents here, this may cause problems with condensation. This is why it is best to use the fly's guy lines and stake it out as this will create an air flow underneath the fly.
The entrance is side-type, as you see in the picture above, and it is at the higher section of the tent. The fly zipper is protected by a wide flap (visible above) which has a velcro to fix the flap in position in case of wind.
Poles
You have two of them, DAC TH72M anodized aluminum poles with pre-curved sections, press fit connectors, and color-coded for an easy setup. One is longer and the other is shorter, just to know in case you are setting the tent in the dark when you cannot distinguish the colors. They fit into the color-coded sleeves on the front and on the bottom.
You can see all the features of this tent in this video, please have a look:
Pros & cons
Here is my summary:
 Cons
 Pros

No footprint.
Not freestanding.
No vents in the fly.
The small door, bear in mind if you are a big person.

Easy setup.
Very spacious.
Very good price.
Great value for the money.
There are no vents in the fly, but its design is such that it will give you plenty of air flow from the ground all along the perimeter of the fly. But remember, I have mentioned that this is not a winter tent. In the case, of a lot of snow, you would have this air access closed, so ventilation would be a problem. So use it a 3-season tent and you will have a great tool.
The tent has received great ratings from Amazon customers. It is sold at several departments, and with a very respectable 4.7/5 average rate based on nearly one hundred reviews. See the breakdown of my rating:
Rating of Snugpak Ionosphere 1 Person Tent
Area -

9.2/10

Area/Weight ratio -

8.8/10

Packed size/Area ratio -

8.4/10

Reliability -

9.2/10

Ease of use and features -

7.5/10

Price -

8.7/10
Specifications
Weight: 1520 g.
Dimensions (L x W): 2.4 m x 0.9 m (94 x 44 in).
Height:
– front: 0.7 m,
– bottom: 0.4 m.
Packed size: 48 cm length, 14 cm width.
Poles: 2 DAC featherlite NSL anodized aluminum, press fit connections.
Lightweight 190t polyester mesh inner, with 50 D No-See-Um mesh mosquito net.
Lightweight 190t nylon 5000 mm waterproof PU floor.
Lightweight 210t ripstop fly with 5000 mm waterproof PU coating.
Taped seams.
Side door.
Stakes and pegs included.
Comparison with competitors
Here are a few basic features for several solo tents, so you can see where the Snugpak Ionosphere 1 person tent stands:
Kelty
Salida 1
Marmot
Eos 1
Snugpak
Ionosphere 1
Weight (kg)
1.76
1.26

1.52

Surface (sqm)
1.86
2.1

2.16

Height (cm)
97
91

70 front

Surface/weight ratio, sqm/kg
1.06
1.67

1.42

Freestanding
yes
yes

no

Footprint included
no
no

no

My rate
8.9/10
8.7/10

8.5/10
In the moment of writing this text, the prices of the tents in the table are respectively around $120, 260, and 144. So the Snugpak Ionosphere one man tent comes with a really reasonable price.
The surface per square kilogram ratio of the Snugpak Ionosphere 1 is second to the Marmot Eos tent, but compare the prices of the two tents. The Snugpak is nearly half the price of the Eos tent. However, it is not a freestanding tent, otherwise, I would rate it higher.
Conclusion
So to conclude this Snugpak Ionosphere 1 person tent review, it is a great low profile tent suitable for backpackers and for overnight hiking and mountaineering tours. Its surface to weight ratio is excellent, and the price is very reasonable. But bear in mind that it is not freestanding, this limits its use and you cannot pitch it everywhere. A freestanding tent is this
Catoma Badger solo tent
with a similar style, so have a look.

In case you need a tent with some different features, please see my another text with the list of 10 solo tents. Have you ever tried a bivy? See one here.
I hope this text has been useful to you, if this is so please share it with others. Thank you for reading. In the case of questions and comments, note that there is a comment box below. Have a nice day.
---