---
This Aqua Quest Bivy review is about a camping item which is also known as Aqua Quest Hooped Bivy Tent. This is an ultra-lightweight tool very suitable for overnight and weekend hiking and mountaineering tours.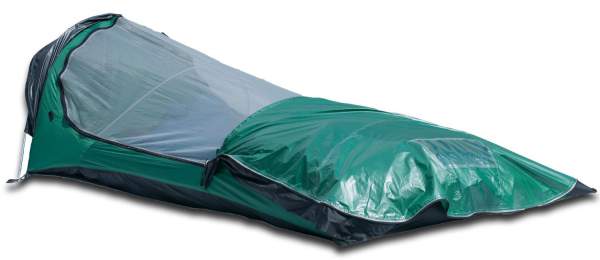 Key benefits
Lightweight.
Easy setup.
Good price.
Description
Aqua Quest Hooped Bivy Tent looks rather large, and some even claim it is large enough for two people. But I do not think I would ever use it that way, it is a solo tool. This is definitely a very compact and ultra-lightweight one person shelter. Its packed size is 15 x 5 in (38 x 13 cm), and when compressed 15 x 3 in (38 x 8 cm). The weight is 2.4 lbs (1.1 kg).
The bivy is built of a durable 70 D ripstop fabric. It comes with a PU coating and with all seams heat taped. So it offers a complete protection from elements.
Zippers are very long and high-quality YKK, and you have a wide flap all along the zipper for water protection. You also have extra velcro tabs to fix the flap against the wind.
Setup is fast and easy, you will have your shelter ready in less than 2 minutes. In dry conditions, you will unzip the front panel and you will sleep under a 'no-see-um' mesh, completely protected from annoying mosquitoes. The mesh has its separate lengthy zipper.
The bivy comes with a set of 5 stakes, those are really useful because the bivy becomes fixed and it will not roll and move with you as you sleep. The system is not freestanding so it is necessary to stake it out.
Note that you have a single pole in the head section, so the mesh is not on your face, as you can have in some other simple bivy without poles.  On the body of the top panel, you have two loops so that you can attach it to some trees around and elevate it considerably. This will give you a lot of more volume inside the bivy. This is good for overall comfort and ventilation.
In the case of rain you will close the top panel and yet you still have a TPU window above your head. This is good to have if you are claustrophobic. It is important to stress that with the closed panel, you have an air vent that is in the head section.
In the foot area, you have 'bat-wing' stiffeners which elevate the footbed in order to increase airflow and overall comfort.
As I said above, this is an unusually large bivy which offers far more comfort than other similar tools available on the market. So most certainly you will have some place for your backpack inside the bivy.
The company offers 2-year 'No Worries Warranty'.
Waterproofness and breathability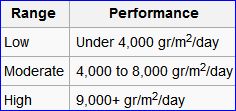 The waterproof rating for the fabric is 10000 mm. So it is in category 2 out of 5, where 5 implies more than 20000 mm. Hence, regarding this criterion, this is a quite reliable tool.
The breathability rating for the fabric is 3000 gr/m2/day, and according to Wikipedia this is not so great. It is in the low category as you can see from the table.
All the features of Aqua Quest Hooped Bivy Tent you can see in this video:
What is in the pack
Included in the pack are the following items:
the bivy,
1 lightweight collapsible shock cord pole,
5 lightweight aluminum pegs,
a storage sack.
Aqua Quest Bivy has a vent in the head section and this is essential. But the foot area is without any opening and there have been complaints about condensation. Pity they did not add a vent with a proper flap. This, together with the existing head vent, would cause airflow and it would change everything.
Ventilation should not be such a big issue for quick overnight and weekend tours, but for extended backpacking expeditions, this is an issue in particular if you use a down sleeping bag. Down is known to absorb moisture and becomes heavy in time.
Specifications
Weight: 2.4 lb (1.1 kg).
Capacity: 1 person.
Size (W x H x L): 35.43 x 27.56 x 90.55 in (90 x 70 x 230 cm).
Extra wide.
Waterproof rating: 10000 mm.
Breathability rating: 3000 gr/m2/day.
Packed size: 16 x 6 x 5 in (40 x 13 x 13 cm).
70 D ripstop fabric.
PU coating.
Heat taped seams.
No-see-um mesh.
Outer window.
Stiffeners to elevate footbed.
Air vent.
Warranty:

AQ's Two-Year 'No Worries Warranty'

.
Conclusion, rating, pros & cons
To conclude this Aqua Quest Bivy review, this is a great tool for short overnight and weekend hiking and mountaineering tours. It is very lightweight and it comes with a really great price tag. I can fully recommend it if used for such purposes. The mesh surface is huge, so in dry conditions, you will sleep without the fly and still be completely protected from insects.
But bear in mind the mentioned ventilation issues if you plan extended tours. Please see below how I rate it:
You might consider some other tools like this low profile Snugpak Ionosphere 1 person tent, which looks almost like a bivy, or the Catoma Badger 1 tent in the same style.
So I hope this text has been useful. It will be great to hear from you, there is a comment box below. Thank you for reading, and have a nice day.