---
The North Face Wawona 4 review which you have here is about a single-layer 3-season camping tent with 2 doors and 2 vestibules, with vents and windows, and quality aluminum poles.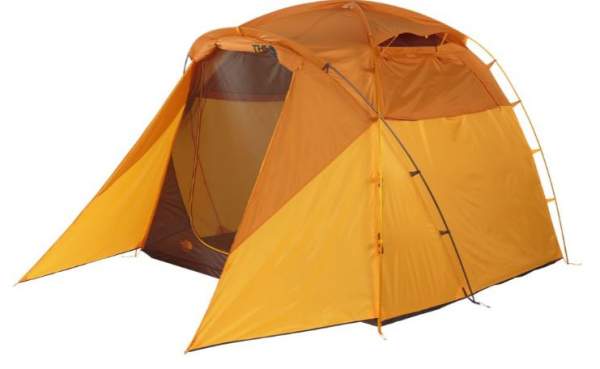 ---
Key features & benefits
Huge storage areas.
2 doors.
2 mesh windows.
Single-layer design.
Aluminum poles.
---
What type of tent is this
This Wavona 4 is a part of a series of two; the other tent is the Wavona 6. These are single-layer tents, and this design has both good and bad sides. The good is that the setup is quicker and you do not have to wrestle with the fly, this can be annoying in a windy situation. Also, when you set the tent in rain, the inner area will not get wet, it is covered all the time. The bad is related to condensation, the inner tent normally has its purpose with respect to this.
The tent is semi-freestanding, and by this I mean that the main structure is indeed self-supporting, but you have massive vestibules and you have to stake them down in order to use the tent. So this terminology freestanding and non-freestanding is quite obscure, more in my separate text.
When you read the specifications and description in their site, you realize that they have quite mixed it up with the Wavona 6. So they write about "full stand-up height" which holds for Wavona 6 with its 203 cm peak height, bit this is not so with the Wavona 4 with its 68 in (173 cm), unless you are a Hobbit. Nevertheless, this is a very tall tent for such a type, and you will realize this from the comparison table below.
---
Who is it for
Space-wise, the tent is with the declared capacity of 4 people. So let's see what you have. The inner area is only 58.13 ft² (5.4 m²) and this is far too small for 4 people. You have 14.5 ft² (1.35 m²) per person which is typical for backpacking tents but this is not such a tool. But there are two asymmetric vestibules which add 27.6 + 14.9 ft² (2.6 + 1.4 m²). So the total protected area is 100.6 ft² (9.4 m²), and this means 25.15 ft² (2.35 m²) per person.
From this perspective, this looks like a lot of space. Though I still think that for a real camping this tent is perfect for couples or for parents with a small kid.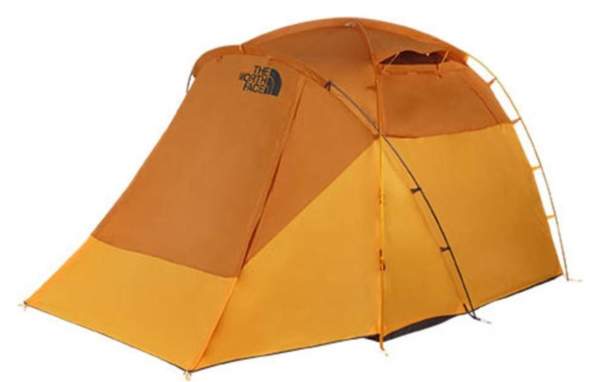 Seasons-wise, the tent looks built for 3-seasons regardless of the weather conditions. They use high-quality materials and the craftsmanship is at a level you would expect from such a renown brand. But they do not provide any official waterproof rating. I asked and got a reply that the fabric is double-side coated and fully waterproof. I would like to see some numbers. There is nothing fully waterproof out there.
Climate-wise, this is a single-layer tent so you do not have the usual mesh on the ceiling under the fly. But there is a lot of mesh on the inner doors, and the tent is with large vents on the roof. So because of its single-layer structure perhaps it is not the best option for a very warm environment, but it should be OK.
On the other hand, the mesh on the inner doors cannot be closed, there are no panels, so I would not use it in a cold environment either, this is not a winter tent. Frankly speaking, it is in between, you cannot fit it properly anywhere.
Weight-wise, with 13 lb (5.9 kg) of weight, this is a camping tent. If you need something to carry on the trail, there are many far lighter options. This Big Agnes Copper Spur HV UL4 is only 2.55 kg, so compare.
But the packed size is good; with 27 x 10 inches (68.6 x 25.4 cm) it can be transported even on a bicycle.

Please see more in this promotion video by The North Face; both tents are presented here:
---
Materials & construction
The poles
There are three of them, heavy-duty aluminum shock-corded poles with 12 mm in diameter. They are pre-bent and this adds some extra volume. Observe that they create 3 intersections which is a sign of a sturdy structure. This you have in the tents built for very harsh conditions like in winter tents where there can be tens of intersections, the more the better.
Note that you add the poles from outside, and this is particularly great when you are forced to pitch the tent in the rain; this means that the inner area will remain dry while you are raising the tent. This is not so with two-layer designs.
The fabric
I already mentioned above, they do not provide an official waterproofness rating, and I find this disappointing. They do not provide any info about the fabric used in the construction. But it appears that the fly is 68D polyester and the floor is 75D polyester. Assuming that these numbers are correct, the former is fine for a fly, but the latter is far from very durable for a camping tent. Note that they sell the footprint separately, you can see it here.
Ventilation
Being a single-layer in its bigger part, this tent relies on large vents which you have close to the top. This combined with the inner door mesh will create enough air circulation in most conditions even if you have to keep the vestibules closed. So the issues with condensation should be minimal.
When the sky is clear you can keep the windows with mesh only, and those windows are very large so you will have an optimal ventilation.
Other features
A duffel-bag-style carry bag is included, the picture below.
There are several mesh pockets around for small items.
You also have an internal dry line that runs along the roof.
There are hang loops and a Velcro lantern loop.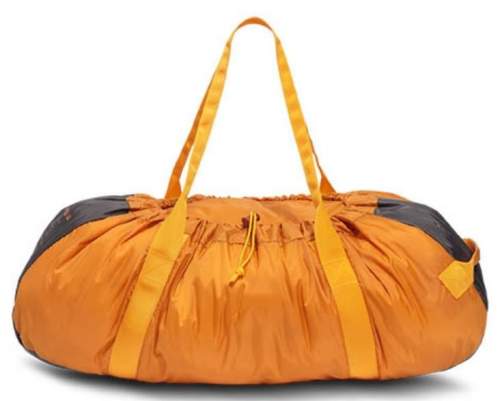 ---
Specifications
Type: extended dome semi-freestanding.
Capacity: 4 people.
Best use: camping.
Weight: 13 lb (5.9 kg).
Trail weight: 11 lb 11 oz (5.3 kg).
Dimensions (L x W): 95 x 87 in (241 x 221 cm).
Inner area: 58.13 ft² (5.4 m²).
Inner area per person: 14.5 ft² (1.35 m²).
Peak height: 68 in (173 cm).
Packed size (L x D): 27 x 10 in (68.6 x 25.4 cm).
Doors: 2.
Vestibules: 2.
Vestibules area: 27.6 + 14.9 ft² (2.6 + 1.4 m²).
Total protected area: 100.6 ft² (9.4 m²).
Total area per person: 25.15 ft² (2.35 m²).
---
The North Face Wawona 4 Tent vs Competitors
Here I give the Wavona 4 side by side with two top-notch 4-person tents from renown brands. See how it stands. It is a bit lighter but it offers less inner area. Please follow the links for more details and to check the prices.
---
Final thoughts, rating, pros & cons
In the summary of this The North Face Wawona 4 tent review, I think it is easy to get impressed with such a tent. It looks cool and it includes so many useful details which you need. The price is realistic for what you have here, you have seen its competitors from the top brands, this is the same price range.
I am disappointed with the lack of data, they are a big company and something is missing in their organization. In any case, if you need a bigger tent from this series, check their Wawona 6 tent which has some extra features.
There are only a few reports on Amazon and the tent has scored an incredible rating. See how I rate it:
Thank you for reading. Please check my page with tents if you need something different, there are many great models in the same size range described in detail. You might want to check this MSR Elixir 4-Person tent which is a bit lighter.
Please use the comment box below in the case of questions and comments. Have a nice day.