---
The MSR Elixir 4-Person Lightweight Backpacking Tent presented here is the improved version of the freestanding 3-season quality tent which offers a full protection from elements.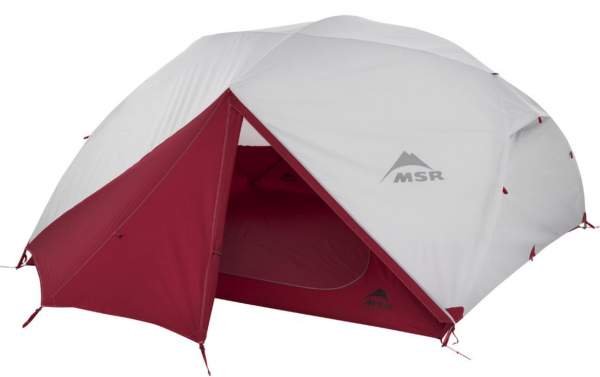 ---
Key features & benefits
Footprint included.
Gear loft included.
Great packed size.
Good waterproof rating.

---
What is in the name
This is a new 2018 version of the tent. So what they have done? Here are some of the most important changes.
The vestibules are a bit larger, so you have 24.5 ft² (2.3 m²) under the two of them, as compared to 18 ft² (1.7 m²) in the version 2017.
The vestibules are now color-coded, so you have red color on the doors for an easier setup. This is how you can easily recognize this 2018 version; the previous model (which is still available on the market) is with the same color on the vestibules as in the rest of the fly.
The tent comes with a gear loft.
Zipper pulls are now glow-in-the-dark.
There is a small difference in the weight. Now the tent weighs 9 lb 6 oz (4.26 kg), while the version 2017 weighs 9 lb 3 oz (4.17 kg). My guess is this is only due to the larger vestibules.
They claim that these tents are "the most livable in the class". I would say this is a far too strong statement. To see what I mean please check this text with best 4-person backpacking tents. You will realize that all of them are lighter and almost all of them offer more protected space.
The tent is freestanding so you can pitch it anywhere and the fly clips to the frame in the corners. But as usual, the vestibules have to be staked down to be fully functional.
---
Who is it for
Capacity-wise, the tent is for 4 people according to the official statement. They even write about the "optimized floor area that sleeps four comfortably". But the actual floor area is 54 ft² (5 m²) which gives 13.5 ft² (1.25 m²) per person. There are two vestibules and they add some protected space for the gear, in total 24.5 ft² (2.3 m²). So the total protected area per person is 19.6 ft² (1.8 m²). In my view this is far from "optimized" and I see this tent much more suitable for 3 users or even for 2, but this would make it a very heavy option for backpacking.
The picture below shows the floor plan and the dimensions, and what they suggest about the using of the space. This is the optimal way because the structure is square and users have the best access to the two doors.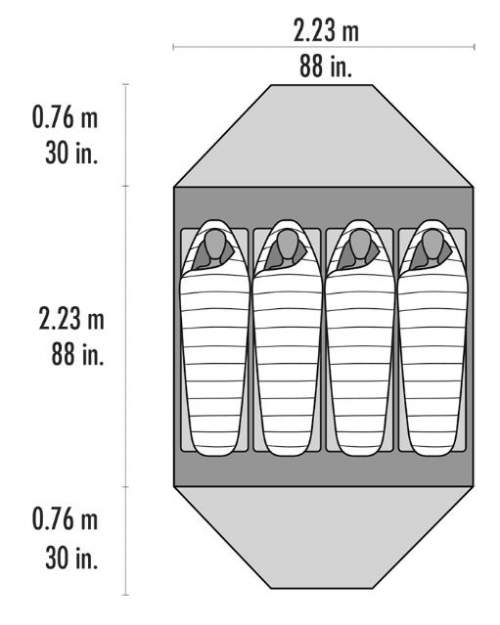 Weight-wise, in spite of the word lightweight in the title (I am using it because it is used by the manufacturer), with its 9 lb 6 oz (4.26 kg), the tent does not look so lightweight to me. To see how lightweight backpacking tents may be, please check my text with best 4-person backpacking tents. So I see this tent better suited for car camping than for carrying it in the backpack, but in such a case, it is best to be used by a maximum of two people.
Note that they give the packed weight and the minimum weight, see in the specifications below. The latter is the weight of the tent body, rainfly, and tent poles; so this does not include tent stakes, guy cords, stuff sack.
But since you have the footprint, you can use the fast-fly variant and the weight in this case is around 5 lb 12 0z (2.6 kg). This is the weight of the footprint, the fly, and the poles, see it in the picture.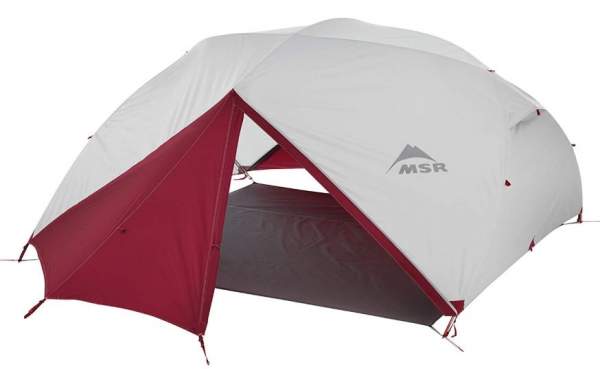 But the packed size is simply excellent, it is only (L x D) 22 x 7 inches (56 x 18 cm). For such a 4-person tent this looks quite incredible.
Seasons-wise and climate-wise, the inner tent is a combination of a mesh and panels so this is a decent 3-season structure. Note that there is not much mesh in the construction, just to know if you plan to camp in a very warm area. The fly is with one vent only and it is a full coverage type,so the tent provides a full protection from the rain. The included footprint adds some extra protection and functionality, you have seen the fast-fly variant above.
The tent is a dome-structure, relatively low and very aerodynamic so I am convinced it can withstand a lot of pressure from any side.
All in all, regarding the size and weight it is not so impressive, this is too heavy for the trail and too small for 4 users, but the packed size is excellent and this is a reliable tent for practically any conditions in a 3-season use.
---
Materials & construction
The poles
You have them 3 and all are shock-corded, the two main poles are a double-hubbed design and they are color-coded for an easy setup. This is aluminum 7000 series. There is an extra brow pole which ads lots of headroom, see the picture.
The fabric
The floor is 70D taffeta nylon with 3000 mm polyurethane coating and this is a reasonably durable DWR material. The fly is 68D ripstop polyester and here you have 1500 mm PU coating and DWR finish. The inner tent is 40D ripstop nylon, DWR mesh and 20D nylon micro-mesh.
Other features
There are several nice storage elements plus the mentioned gear loft.
The fly is with one vent only, pity.
Color coding is throughout the tent's design.
Please see more in this short video by the manufacturer:
---
Good and less good features & rating
Here is my short summary:

Great packed size.
Very reliable.
Quality materials and workmanship.
Bonus footprint.
Bonus gear loft.
Plenty of storage elements.

Small area for the declared capacity.
Expensive.
Only one vent.
The price & rating
As of the moment of writing this text, the price on Amazon for this tent is roughly $400, so this is an expensive item. But this is one of the top brands in this industry and you know what you are buying. On their site they write "We Believe in What We Build", and they claim that they stand behind their products. I trust what they say, this is a reliable brand. Please see how I rate this tent for several criteria used also for all other tents here in the site:
My rating of the MSR Elixir 4-Person Tent:
Area per person -

8/10

Area/Weight ratio -

8.5/10

Packed size -

9.4/10

Reliability & protection -

9.4/10

Ease of use & features -

8.9/10

Price -

7.8/10
---
Specifications
Capacity: 4 people.
Packed weight: 9 lb 6 oz (4.26 kg).
Minimum weight: 7 lb 15 oz (3.6 kg).
Dimensions: 88 x 88 in (2.23 x 2.23 m).
Inner floor area: 54 ft² (5 m²).
Inner floor area per person: 13.5 ft² (1.25 m²).
Vestibules area: 24.5 ft² (2.3 m²).
Total area per person: 19.6 ft² (1.8 m²).
Packed size: 22 x 7 in (56 x 18 cm).
Peak height: 48 in (121 cm).
---
MSR Elixir 4-Person Lightweight Backpacking Tent vs Competitors
I have decided to show you a couple of 4-person tents in the same size and weight range so you can get some feeling and idea about the parameters of this MSR tent. So here you have the Exio 4 tent, my own tent which I just used in the Alps last week. It is large but I used it solo for car camping. The other is the very popular Mountainsmit EVO 4 tent. So all of them are top-class items and please follow the links to read more, there are big differences in the prices.
Mountainsmith
Morrison EVO 4
---
Final thoughts
In conclusion, I would say if you already have the previous version of this MSR Elixir 4-Person Tent, there is no need to buy this new 2018 version, the changes are not substantial. But if you need a quality tent then this is an item to consider. However, bear in mind its weight and the actual size, and disregard the official capacity; this tent is not the lightest option for the trail and it is also a bit small for 4 users. Note also that MSR has the solo tent from this series, the Elixir 1 tent.

If you need more options to consider, please check my list with 4-person backpacking tents and also 4-person car camping tents. Otherwise, just visit my page with tents, you will find them in sizes 1 – 5 people, only the most reliable brands on the market. You might want to compare this tent with the new Kelty Dirt Motel 4.
It will be great to hear from you if you have any experience with this MSR tent, so please use the comment box below. I wish you a nice day.

---