---
The Sea to Summit Alto TR2 Tent and TR2 Plus Tent are unique, ventilated, built from high-quality materials, and with full coverage fly for protection from elements.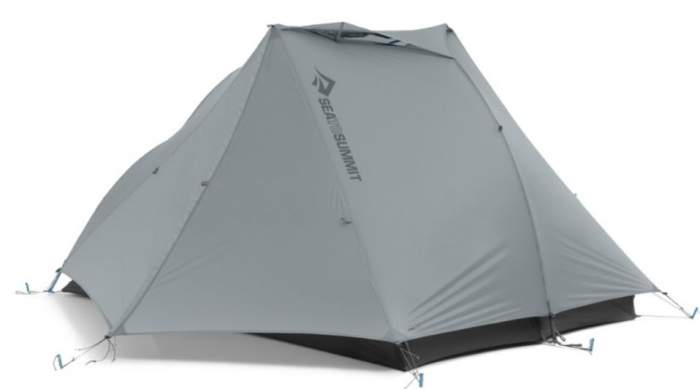 ---
Key features & benefits
2 Doors & 2 vestibules.
Semi-freestanding.
2 Different versions.
Ventilated tent.
Unique storage features.
Top-quality materials.
---
What this is about
If you are here, this probably means that you know the big news, Sea to Summit brand has started making tents. So they launched two separate series Telos and Alto, with 8 tents in total.
Here you have presented their larger tent in the Alto series that includes Alto TR1 and Alto TR2 tents. But note that they build them in two versions, so you have also Alto TR1 Plus and Alto TR2 Plus tents.
The focus here is on the 2-person tent(s), and I think it is best to point out the differences between the TR2 and TR2 Plus tents to avoid confusion. The TR2 Plus (and this holds also for TR1 Plus) is a 4-season version. In fact, they use the word Plus to stress that this is a 3-season-plus tent, but I see it as a true 4-season shelter. 
So the Plus version has a taffeta inner tent as compared to the mesh canopy used in the TR2 tent. Both a double-wall type but there is a big difference regarding protection from cold. See them both below:
There are differences in the floor waterproof rating.
The weight is different due to the mentioned difference in the fabric.
This is practically all, you will see some numbers below. Both versions come with the same unique features, so let me present them one by one. The base is not rectangular, the floor plan is shown in the picture: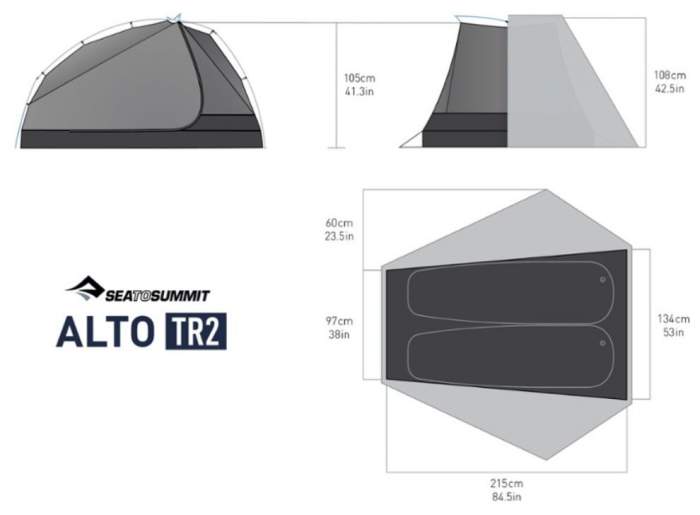 As you realize, the tent is low profile and aerodynamic. You have two symmetric vestibules and two doors shown below.
Tension ridge pole
There are many tents on the market with a ridge pole that is introduced to pull the side walls up and to make the doors vertical. But they have done something totally unique here.
The ridge pole shown below is inverted, this means curved upward and V-shaped, so when you attach the tent to it, it is tensioned. This adds more volume and shoulder space than in any other structure with a ridge pole.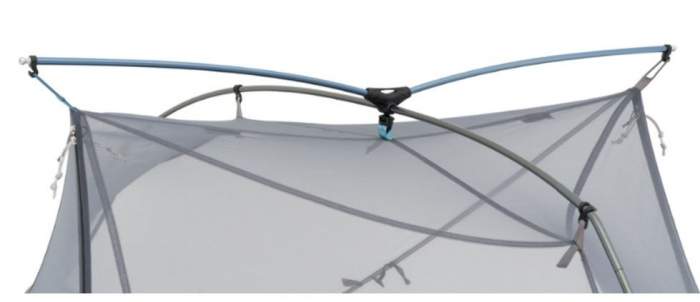 Even more important is that the door is higher than in other tents of this size and shape, so getting in and out is easier. Below you can see all these details pointed out.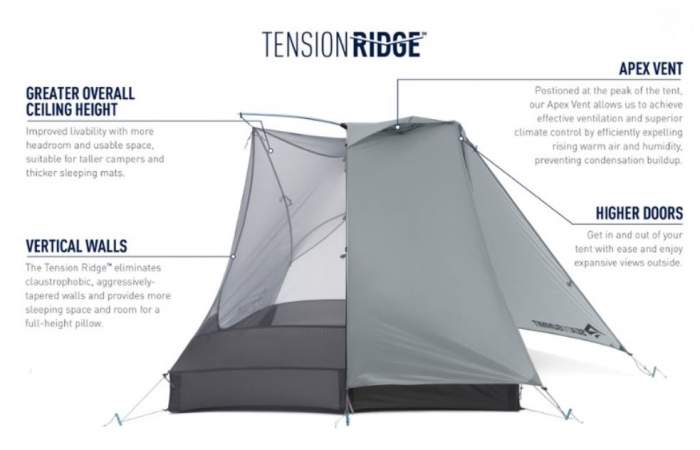 The 3-piece modular FairShare storage sack system
This is yet another unique detail. The picture below shows how the tent looks when packed, but you realize that this implies three separate sacks.
All three of them can be used inside of the tent. The two shorter you attach in the corners and they double as wall pockets. You can see one in the picture below.
The pole bag doubles as the Lightbar, you attach it at the tent peak and slide in a headlamp. It is built as a semi-rigid translucent piece and it delivers soft illumination to the whole tent. This looks great but there are two issues here, it is a bit tricky to attach it, and also you have seen how low the tent is. So when you attach the Lightbar, you will touch it with the head if you are a taller person.
The fly is full cover and it attaches to the tent's base as shown in the picture above. It comes with machined aluminum clips, this is what they call the Quick Connect Foot.
You can create various configurations with the fly. The picture below shows one of the vestibule's flaps rolled to the side.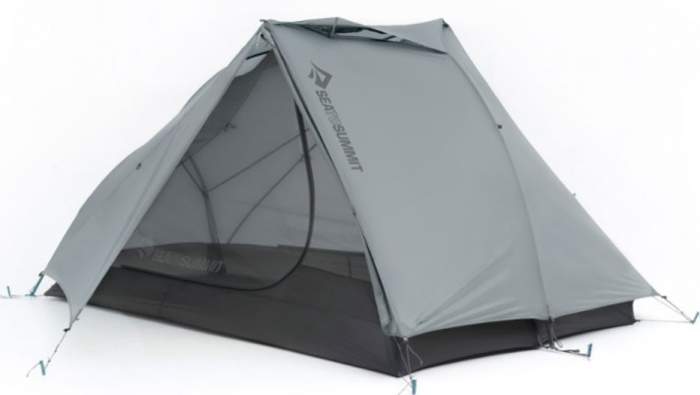 You can also roll it from both sides and fix to the ridge pole, so you have a great stargazing configuration. It can easily be deployed if the weather changes. Note that in wet conditions you can set up the rainfly first to keep the inner tent and your gear dry.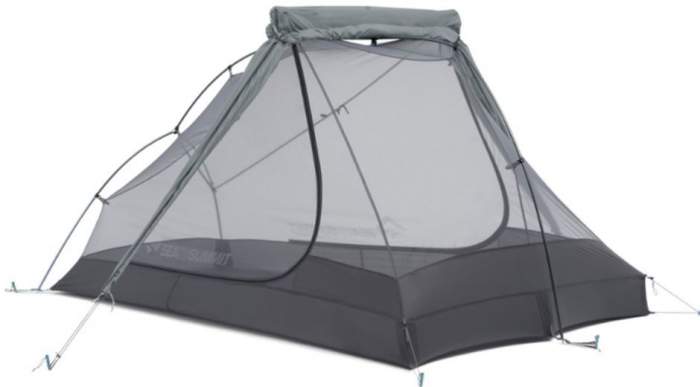 Ventilation
The fly is with an oversize Apex Vent that is positioned at the highest point of the tent, see the picture below. This is great to efficiently expel warm air and to prevent condensation, and it can be zipped closed from inside the tent. But you would not want to pitch the tent with such a vent facing the wind direction, you will get water in the tent. 
You can also adjust the fly at the base of the tent and this will allow you to control airflow and to manage humidity and condensation.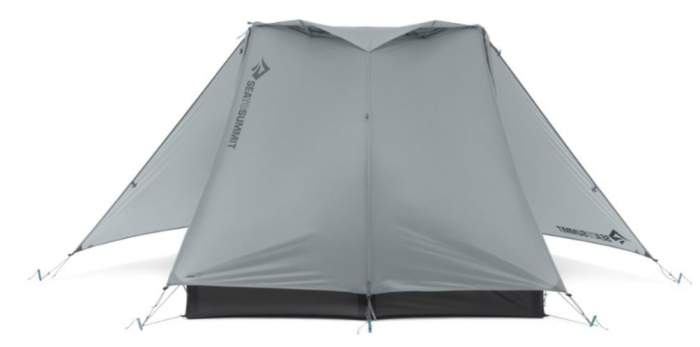 Materials
The poles: You have a combination of DAC Featherlite NSL and Pressfit anodized aluminum TH72M pole segments with varying diameters 8.7 mm, 9.5 mm & 9.8 mm, that maximize strength while minimizing weight. This is among the best stuff you can have for tent poles.
The tent comes with 9 ground control light stakes made from 7075-T6 hardened aluminum, they have a multi-notch design that helps you to attach the tent close to the ground, even in hard terrain.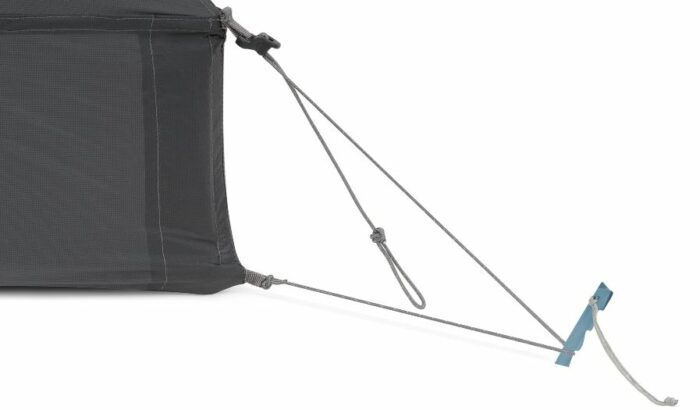 The fabric: The inner tent is a 15D polyester mesh and the floor is a 6 inches deep 15D ripstop nylon tub-type construction with a 1200 mm hydrostatic head. The fly is also 15D ultralight, waterproof, and durable ripstop nylon. You have silicone/polyurethane coating.
However, as mentioned above, the Alto TR2 Plus tent is with a 20D Sil-PeU coated nylon ripstop that has 2500 mm waterproof rating. Its canopy is 20D ripstop nylon. The fly is 15D ripstop nylon.
Optional accessories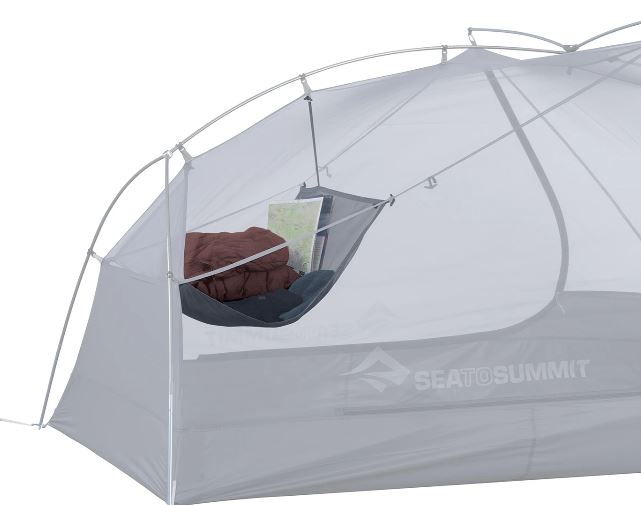 Please see more in this video:
---
Who is this Alto TR2 tent for
Regarding seasons & climate, you have two versions, so TR2 Plus is suitable for cold weather camping and I would describe it as a 4-season tent. It has plenty of options for ventilation to use it throughout the year.
But the TR2 tent is for the warmer part of the year, although they describe it as a 3-season tent. I do not think it is suitable for a cold environment.
Regarding the capacity, the tent is officially for 2 people. You have an area of 27 ft² (2.5 m²) and this means 13.5 ft² (1.25 m²) per person. Two vestibules add 18 ft² (1.67 m²) so the total protected area is 45 ft² (4.17 m²).
This looks a lot, but with such a tapered base the tent is very narrow and I would never use it with somebody. However, you have seen how the poles are designed, so the tent offers lots of volume in spite of such a relatively small floor space.
Regarding the weight, if you would use it as a 2-person tent, then it can be described as ultralight with its 2 lb 15.7 oz (1.35 kg) weight. This is why I have included it in my list of best lightweight 2 person backpacking tents. But I see it best suited for solo use, and in this case it is very suitable for bicycle tours but it is backpack portable as well.
Regarding the packed size, the tent can be described as very compact in view of its packed dimensions (L x D) 20.5 x 4.7 inches (52 x 12 cm).
---
Specifications
Alto TR2 Tent
Official capacity: 2 people.
Weight: 2 lb 15.7 oz (1.35 kg).
Minimum weight: 2 lb 9.4 oz (1.17 kg).
Dimensions: 84.5 x 53/38 in (215 x 135/96 cm).
Area: 27 ft² (2.5 m²)
Area per person: 13.5 ft² (1.25 m²).
Vestibules area: 18 ft² (1.67 m²).
Total protected area: 45 ft² (4.17 m²).
Peak height: 42.5 in (108 cm).
Packed size (L x D): 20.5 x 4.7 in (52 x 12 cm).
Alto TR2 Plus Tent
I give only the numbers that are different from Alto TR2:
Weight: 3 lb 3.4 oz (1.46 kg).
Minimum weight: 2 lb 12.9 oz (1.27 kg).
---
Final thoughts, rating, pros & cons
So with this Sea to Summit Alto TR2 Tent & TR2 Plus Tent, this brand has set standards high. Being the first tents of this brand, these products are indeed remarkable and with plenty of unique and innovative features. They have re-invented backpacking tents.
But this all comes at a price. It is fair to say that there are more affordable options on the market. Yet if you can afford this tent, I can fully recommend it.
Please see how this tent stands against my standard set of criteria:
BEST PLACES TO BUY:
Sea to Summit
REI
Backcountry
Did you know that Klymit also started building tents? See their Klymit Maxfield 2 tent and compare it with the tent presented above.
Let me know if you have questions, there is a comment box below. Bookmark this site and stay informed, I add texts here on a regular basis, so this will keep you informed. Thank you for reading.