---
Here you have my thoughts about single wall vs double wall tent issue with some pros and cons for both types. It is hard to say which type is better, read here why this is so.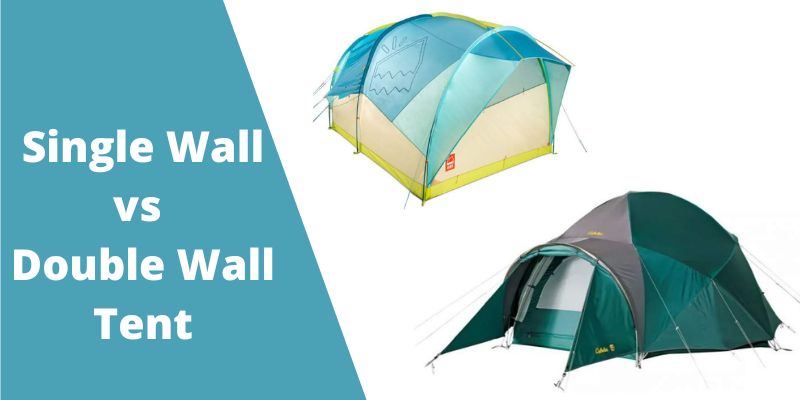 First thing first, what is a single wall tent
The meaning of this phrase should be as follows. This is a shelter with a single layer of fabric between you and the outer space and elements.
With this I have in mind the upper part of the tent, its canopy and not its floor. This is what people have in mind when they speak about single wall tents. There are no essential differences when it comes to the floor of tents.
But even in single wall tents you can expect to have double-layer construction on windows and on the doors. This means a mesh against insects, plus a panel. Therefore, it is not always easy to make a clear distinction between a single wall and a double wall tent.
Take the tent below as an example, this is the famous Coleman Instant 4 Person Camping Tent. All its openings have double layers, so more of its surface is double layer than single layer but the roof is a single layer. Is this a single-layer or a double-layer tent? Hard to say, isn't it?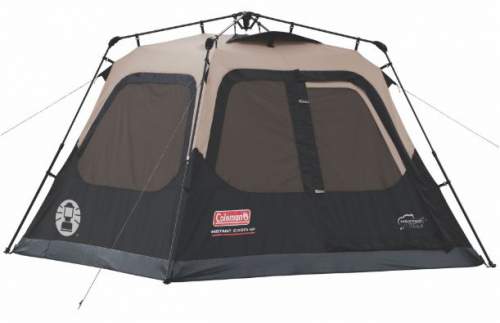 But there are examples where you have it more obvious what a single-wall term means, see this Big Agnes Scout 2 Platinum as a typical case: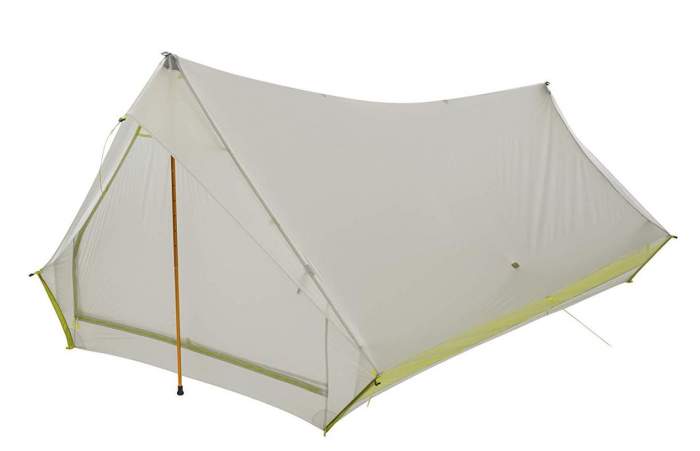 Are single wall tents waterproof?
In principle, there is no difference between single wall and double wall tents regarding rain protection and waterproof rating. Tents normally have only one more or less waterproof shell, but there are some great exceptions.
In single wall tents the shell is the only layer so it is supposed to be waterproof. Most of brands give the rating in specifications. But the point is, waterproofness typically has nothing to do with the number of layers.
Single wall tent condensation
Condensation happens because of the temperature difference inside and outside of the tent. You can have it in any tent. This is a normal physical effect, your body produces heat in the tent, your breath and sweat produces moisture, this gest in contact with the walls and you have droplets everywhere.
But in a single wall tent, condensation is on its only layer and this means you can get in contact with it. Condensation can also drip down on you and your gear. This is the main difference with respect to double wall tents, and this is why people rather have a double wall design.
Are single wall tents bad?
Not necessarily. There can be no general statements here, this is always about specific particular tents. So a single layer tent can be as reliable as a double layer tent, and it can be better as well.
Single wall tents can also be nicely ventilated. In fact, they can be better ventilated than double wall tents. It is important that you focus on floor vents and fly/roof vents when you buy a tent. A double-wall construction is not at all a guarantee that the tent is nicely ventilated.
So in principle, there is no difference in this respect when compared with double wall tents. I have seen some totally wrong statements around regarding this issue. The bottom line is: ventilation has nothing to do with single vs. double wall issue.
What is a double layer tent or a double wall tent?
It should be obvious, this means you have a canopy plus a rain fly. The canopy is normally sewn-in to the floor while the rain fly attaches to the tent.
From this it follows that every full-coverage fly tent is indeed a two-layer or a double-wall tent. Now, the inner layer (canopy) can be just a mesh, see the tent below, so this is not really much of a layer but this counts as well.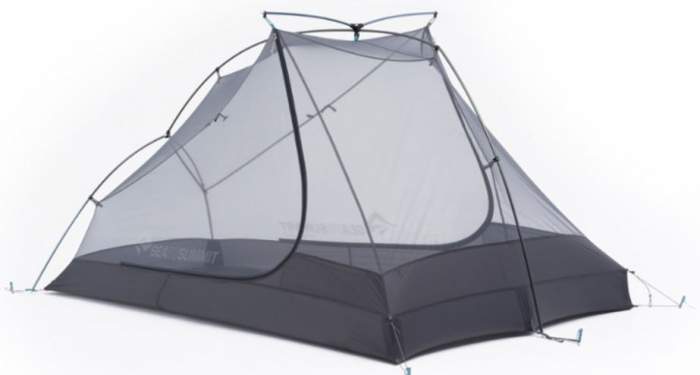 I have seen statements that the inner layer makes the tent breathable. So this clearly makes no sense. The only breathability that counts is what you have on the shell/fly. Most of the tents on the market are not breathable at all.
However, if this is what you want, you should go for a cotton canvas or a polycotton tent, see one great example below. But these are heavy, bulky, and expensive. For the trail, you can have a Gore-Tex tent, and these are expensive.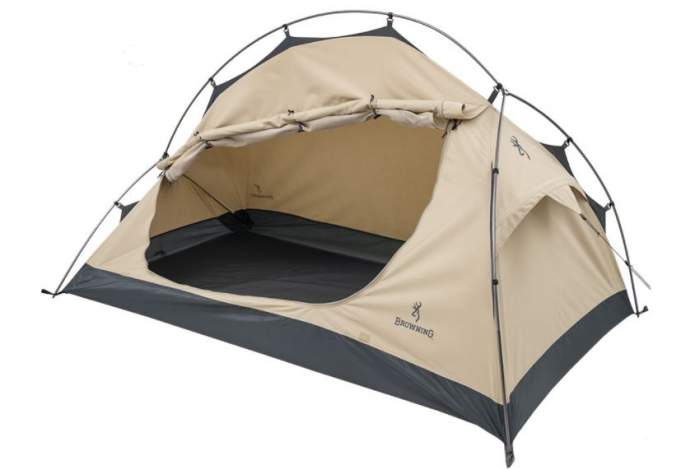 In double wall tents designed for winter conditions and cold weather, the inner layer (canopy) can be a taffeta, and it is usually breathable.
This creates a gap between the inner tent and the outer shell, so here you can have air circulation that may reduce condensation (assuming that there are vents), and the tent can be warmer. This also implies that vapor generated inside can pass through the canopy, and it will eventually condense on the shell/fly.
So effectively, you have a barrier between you and the wet shell. Even if there are droplets coming down, they will be stopped on the canopy and they will eventually evaporate. The Snow Peak Minute Dome Pro. Air 1 Tent shown below is a great example of a true double-wall tent.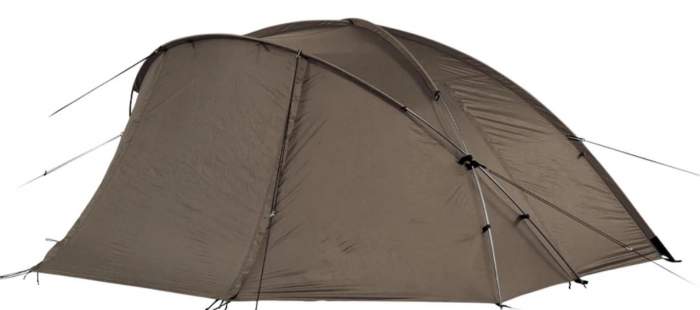 But this should not be mixed with actual ventilation. Ventilation only depends on the presence/absence of floor vents and shell vents and it has nothing to do with the number of layers.
Are double wall tents warmer?
This can be, but here again I wish to stress this is not so for just any double wall tent. If you have an inner mesh canopy and a fly, then you can expect cold drafts from everywhere, so there is no way you would feel more comfortable in such a tent than in a solid single-wall and fully closable tent.
Only true double-wall tents with an inner taffeta plus shell can be warmer than single wall tents.
Single wall vs double wall tent – comparison summary
Here is how I would summarize this comparison based on a few parameters and features that I find important. These should also be understood as pros and cons.
Note that none of these conclusions applies to every single wall and every double wall tent. When I give + or – to one or another type, this is not a strict rule and it does not apply to each and every tent in these two groups.
Here are a few words on why I give advantage to one or another type.
Regarding the weight, you would expect less fabric in a single wall tent, and this affects the overall weight.
But there are no two identical tents regarding the shell, one without canopy and another with canopy. So such a comparison cannot really be applied to any actual situation, and it should be taken with a grain of salt.
Regarding the packed size, the reason for giving + to a single wall tent is the same as above for the weight. There is less fabric and the tent should in principle be more compact.
The same argument holds for ease of use, it should be easier to deal with a single layer tent. If you have ever pitched a tent in windy conditions, then you know what I am talking about.
Regarding comfort, this term is quite vague, and I give advantage to double-wall tents because of condensation issues discussed previously. When you have an extra inner layer, you have less chance to touch wet shell.
Also, if you are in a cool environment, you may feel more comfortable if you have two layers. This is also related to protection, and by this I primarily mean cold and perhaps winds. This does not necessarily apply to rain protection, there is no principal difference with regards to this.
But what about a warm environment? I do not think you would feel more comfortable if you use a true double-layer tent. This is why there are no true 4-season synthetic tents, but cotton canvas tents can be described as suitable for year round use.
The issue of storage is related to the fact that two-layer tents with a massive fly can have vestibules for storage of the gear. In most cases this is a true advantage of such tents and perhaps the most obvious one.
So I hope you get my point, there can be no clear winner here. Single and double layer tents are built for certain purpose. Comparing them in general terms makes no much sense.
If you are really in search of a tent, make a list of features that are essential for you, and only after that inspect tents which you like and which you have shortlisted. You might come to conclusion that the number of layers is completely immaterial.
In summary, it may make sense to make such a single wall vs double wall tent comparison, but I would say that making any statement about which is better would not make sense.
Thank you for reading. Let me know if you think that I missed to mention something important, there is a comment box below.