---
Coleman 3-Person Connectable Tent is a unique cabin style freestanding tent with two doors and two windows, and it can be connected with other tents from this series.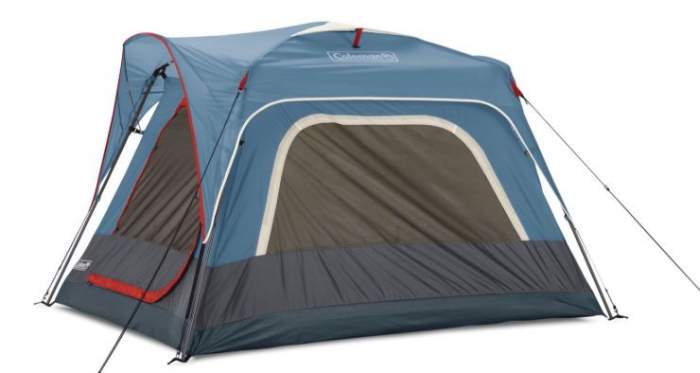 ---
Key features
Cabin style tent.
Freestanding.
Connectable to their 6-person tent from the same series.
Easy to use Fast Pitch system.
2 Doors + 2 windows.
Great price.
---
Where to buy
This is a completely new tent on the market and since recently it is available on Amazon. So follow the link and check their shipping conditions, they operate globally.
---
What type of tent is this
This Coleman 3-Person Connectable Tent is from a new series they launched for the season 2019. This is a rectangular cabin style tent with steep walls and a partial coverage fly, fully freestanding and very easy to use. When you raise the tent, you can still move it around and rotate even when the fly is on. This is because the fly attaches to the frame at the 4 legs poles. The picture below shows the tent without the fly.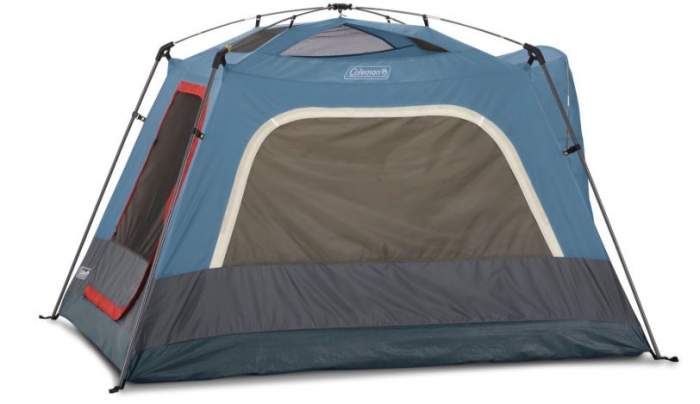 There are two doors and two separate windows on the sides, so the openings are on all sides. Note that the doors are double layer type with mesh and panels, so they provide two windows as well. Both doors have small brims created by short poles.
The tent is quite tall, the peak height is 57.6 inches (146 cm), plenty of headroom but this is not a stand-up structure, you would not expect this form such a relatively small tent.
This is also what they call the Fast Pitch design, but this should not be mixed with instant tents. Here you have the roof poles that are shock-corded and pre-attached to the top hub element. Such a system you have in many tents on the market, it is just that manufacturers do not use any specific name for it. Most of the time you will see the term hubbed design used for such a construction. You can see it also in this Eureka Summer Pass 2 Tent.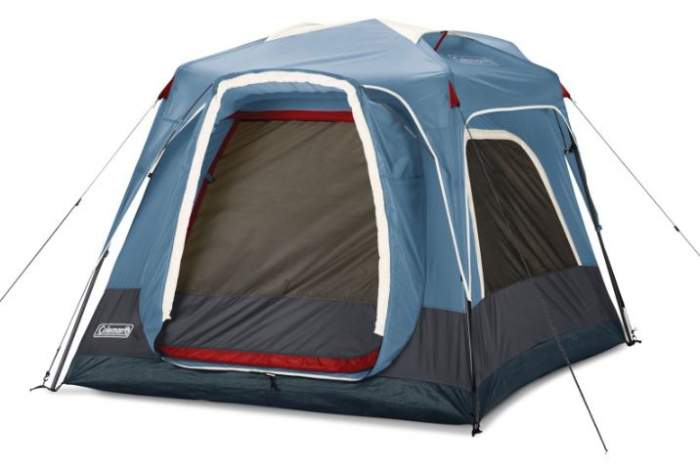 Connectable tent – what is this?
This feature makes this tent completely unique on the market. The rear door which you can see in the picture above is equipped with an extra zipper and some extra fabric which creates an extension, so you can zip it to their 6-person connectable tent.
In fact, you can connect three 3-person tents to the bigger tent, but the system allows much more combinations. It is best that you see this in the video:
Ventilation
As mentioned above, there are mesh openings on all 4 sides, and the ceiling is all mesh. In addition to this, the fly has two vents on the top. The picture below shows the top view, so you can see the tent's rectangular shape and the two vents, they are under the white triangular sections on the fly. Observe the two brims above the doors which are on the left and on the right in the picture: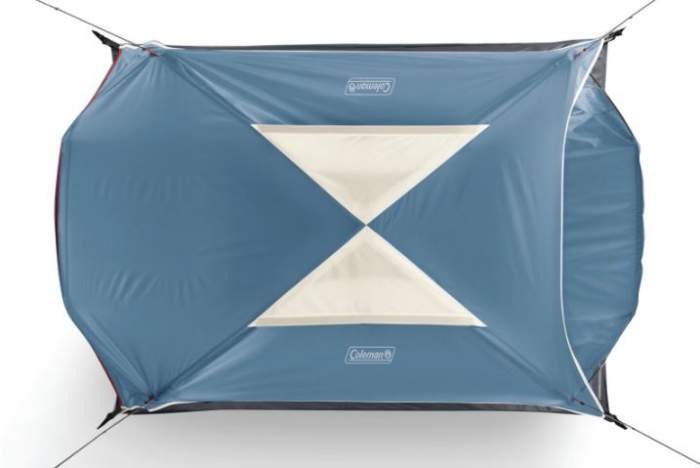 ---
Who is it for
Capacity: The declared capacity is 3 people and the dimensions are such that you can indeed put three 60-cm pads on the floor, and the length is more than enough; see the numbers in the specifications below. But if you use it on its own, this is a perfect tent for couples.
Seasons & climate: This tent has plenty of mesh on the ceiling and this is great if you use it for summer camping. All the other openings can be closed, but not the ceiling. So I would say it is best suited for late spring, summer, and early autumn.
The legs poles are thick steel, but the roof is supported by fiberglass poles, this is all rather stable and sturdy. They claim it is tested for winds of 35+ mph.
Weight-wise, with 15 lb (6.8 kg) the tent is heavy but I do not see this as an issue, this is a camping tent for places with a car access.
---
Materials
The poles & stakes
I already mentioned, this is a combination of steel and fiberglass, see the picture. The latter is not particularly durable and it needs a bit care in handling, but even far more expensive and much bigger tents on the market come with all fiberglass poles, so this is completely fine here.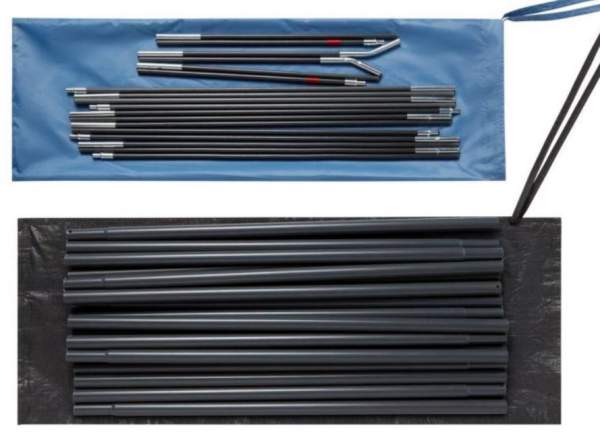 There are also 8 simple steel stakes included, so do not miss to stake the tent down although it is so freestanding; the guylines are all in place.
The fabric
The fly and the tent's body are polyester and the floor is polyethylene with welded seams. They do not provide any info about the waterproof rating. There is only a statement that this is Coleman's Weather Tec system with inverted seams and some PU coating.
---
Good and less good features
Here is my short summary:

Incredibly affordable.
Unique design.
Connectable tent.
Easy setup.

The price & rating
This tent is on the market with the price tag around $130 and I find this incredible for such a great tent. On Amazon, they sell it together with its 6-person cousin so the rating which you see there is for both of them, as well as for the bundle which you have. So it is not clear which rating is for which tent, but the average rating is exceptionally high 4.6/5. Please see how I rate this tent, I use my standard set of criteria and apply them to all the tents here in the site:
My rating of the Coleman 3-Person Connectable Tent:
Area per person -

7.5/10

Area/Weight ratio -

7.3/10

Packed size -

7.7/10

Reliability & protection -

8/10

Ease of use & features -

9.3/10

Price -

9.9/10
---
Specifications
Type: cabin style freestanding tent.
Declared capacity: 3 people.
Weight: 15 lb (6.8 kg)
Dimensions: 8 x 6 ft (244 x 183 cm).
Area: 48 ft² (4.46 m²).
Area per person: 16 ft² (1.5 m²).
Peak height: 57.6 in (146 cm).
Poles: steel & fiberglass.
---
Final thoughts
So this Coleman 3-Person Connectable Tent is both incredibly innovative and incredibly affordable. It looks cool and this is a nice tent for car camping when used on its own. But its connectable design makes it a nice addition to the bigger tent in the series, so you can combine it and use as a set of tents for family camping with kids.
It is new on the market but something tells me that this will become a very popular tent. I have included it in my list of best 3-person tents for car camping.

If you need more options for tents in the range 1-4 people, please check our page with tents, you will find the top brands' tents presented in detail. Note that there is yet another connectable tent presented here in the site, but with a different design, the RhinoWolf All-In-One Tent.
Please note that I have no business relationship with this brand, and this is not a sponsored text. What do you think about this tent and its features? Please share your thoughts, there is a comment box below. 

---