---
This Coleman Waterproof Tasman Unisex Outdoor Tunnel Tent 3 Person Plus is a 3-season tent with a huge waterproof rating and enormous space for 3 users.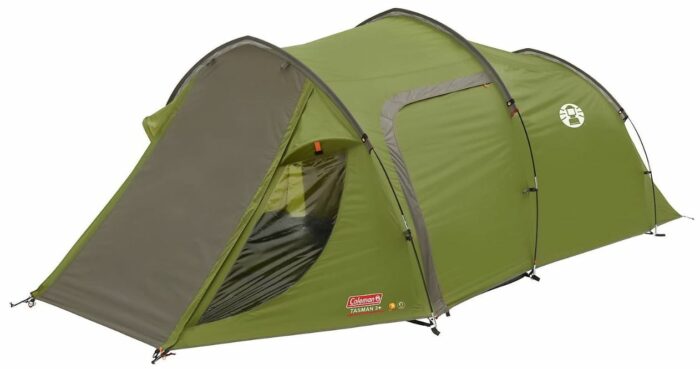 ---
Key features & benefits
Tunnel type tent.
3 Doors.
2 Rooms.
Solid windows.
Huge waterproof rating.
---
What this is about
I would stress first that there are two versions of this tent on the market. The focus here is on the tent with the word Plus in the name, it has a few more features and it is bigger. But there is yet another 3-person tent, they are selling them at the same place on Amazon.
This is a tent built originally for the EU market and it has some features that are common for the tents of this brand on this market, you will see them below.
The tents have been on the market for many years, so there is a mess in numbers regarding the weight and the size, and the manufacturer did not really help to clear the mess.
The tent is tunnel-type, supported by three externally positioned loop poles. This has some advantages when you are forced to pitch the tent in rain. It allows for dry setup, and this means that everything inside will remain dry as you raise the tent.
How many rooms?
I would describe it as a 2-room tent although you will see that the manufacturer describes it as one room plus porch. In any case, you have an inner tent that is fully sealed, plus a front area under the fly/shell, the floor plan is shown below. In this front area you have a removable bathtub floor. This adds to the versatility of this tent, you can roll it to the side when you do cooking or when you use camping chairs, they can fit in this area.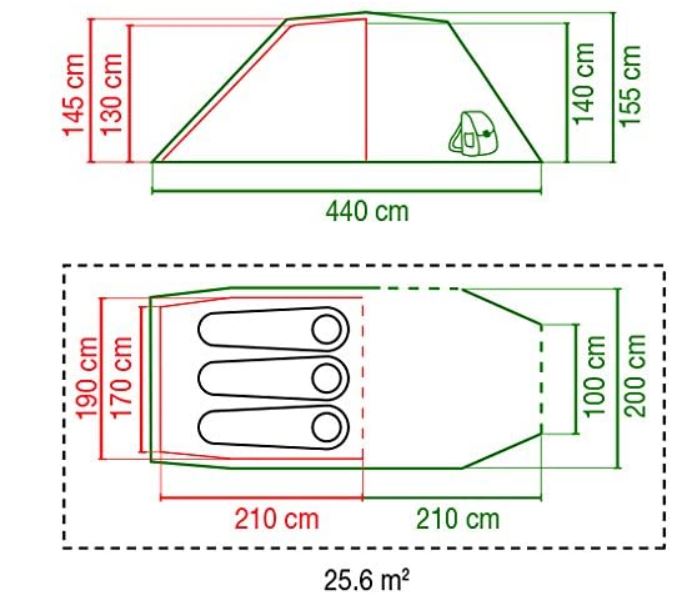 Note also that the front area is with two solid windows so this space is quite enclosed and protected, much more than in any ordinary porch. This is why I describe it as a tent with two rooms.
How many doors?
The floor plan above shows two doors, perhaps this was so in the past, but the tent in the pictures here has them 3. Below you can see how it looks with all the doors open. The inner tent is with its huge door that has a mesh section in the upper part.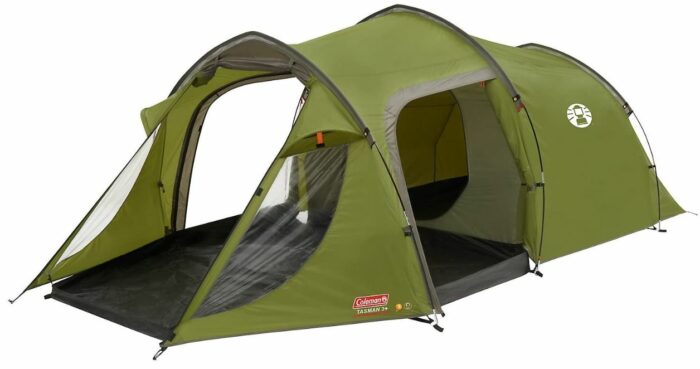 Ventilation
The inner tent is built of a breathable fabric, and the door has a mesh section. There is enough space between the fly and the canopy for air circulation.
There are several roof vents here, two on the front and one on the back. Because the front room's floor is not sewn in, there is always enough draft from the ground. This all is properly done and there is nothing to object to.
---
The materials
The three loops are fiberglass and this material is not particularly durable so it needs some care. But this is a budget-friendly tent and such poles are expected. Everything is color-coded. The poles are pre-bent on the top so you have gothic arches here.
The poles attach at the base through the usual pin and ring system, and higher you have sleeves. One person can set this tent up easily in 10-15 minutes.
The fabric
The fly is a polyester with a 3000 mm waterproof rating, so this is more than what you will ever need. The seams are taped. This is a fire-retardant material and they claim it offers UV protection comparable to the UPF factor of 50+. The floor is a polyethylene, a highly waterproof plastic.
Please see more about this tent in this video:
---
Who is it for
Regarding the capacity, the tent is officially for 3 people, and for this you have plenty of space. In the inner tent you have 41 ft² (3.8 m²). This is very similar to what you have in OEX Jackal III Tent. Under the porch there is 45.2 ft² (4.2 m²). This means 28.7 ft² (2.6 m²) of the covered space per person, this is quite generous in every sense.
Regarding seasons & climate, the tent comes with a high waterproof rating, the fly covers it completely, it is nicely ventilated, so this is a true 3-season tent. It will work well in any environment. Note that there are no mesh doors on the porch, pity.
Regarding the weight, the correct value should be 11.46 lb (5.2 kg), you will notice many different numbers around. So this is a very light tent in view of its total area. The packed size is excellent, it measures 19.7 x 5.5 x 5.5 inches (50 x 16 x 16 cm).
The tent is portable, but I see it best suited for places where you would not have to carry it in the backpack. I have included it in my list of best 3 person tents for camping. If you need something on the trail, check these backpacking 3 person tents.
Regarding the price, it may look a bit steep but this is a large tent and with great features.

---
Specifications
Official capacity: 3 people.
Weight: 11.46 lb (5.2 kg).
Dimensions: 14.44 x 6.56 ft (440 x 200 cm).
Inner tent area: 41 ft² (3.8 m²).
Porch area: 45.2 ft² (4.2 m²).
Total area: 86 ft² (8 m²).
Peak height: 61 in (155 cm).
Packed size: 19.7 x 5.5 x 5.5 in (50 x 16 x 16 cm).
Poles: fiberglass.
---
Final thoughts, rating, pros & cons
When you see all the features of this Coleman Waterproof Tasman Unisex Outdoor Tunnel Tent 3 Person Plus you realize why it has been around for years already. This is a great money/value combination, the tent will protect you anywhere in a 3-season use. Fully recommended. I have added it to my list of best 3 person tunnel tents for camping.
Below is the summary of my rating, and pros and cons, the same criteria are used for all the tents here in the site so you can easily compare. As you see it scores great:
If you need more options, check under the category Tents for 3 people. In particular, check yet another 3-person tent from the same brand with the dark-rest design, the Coleman Tent The Blackout.
Bookmark this site and visit again, this will keep you informed because we add texts here on a regular basis. Thank you for reading and have a nice day.