---
The OEX Jackal III Tent is a tunnel-type double-layer shelter supported by aluminum poles, with one door and one vestibule, nicely ventilated, easy to use, and very affordable.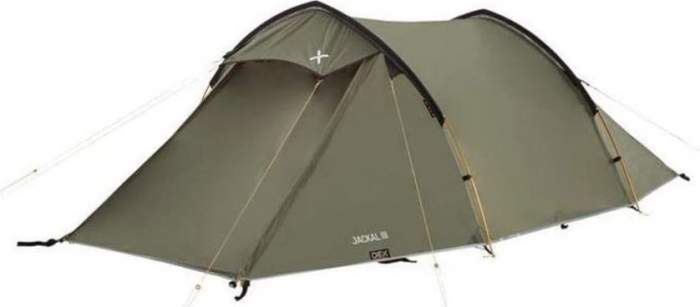 ---
Key features & benefits
Tunnel-type tent.
One door.
Floored vestibule.
High waterproof rating.
Aluminum poles.
Incredible price.
---
What this OEX Jackal III Tent is about
This is a tent from a series that includes also a smaller cousin, the OEX Jackal II tent. It is tunnel shaped and with one door and one vestibule on the narrow side of the tent. It is not freestanding, so you have to stake it properly. The floor plan is shown below, the yellow area is the inner tent, and the red arrow shows the position of the door.
The tent is quite low, and more importantly the vestibule opening is even lower because of the small brim above the door. You can see this from the picture below which shows the tent with the open vestibule.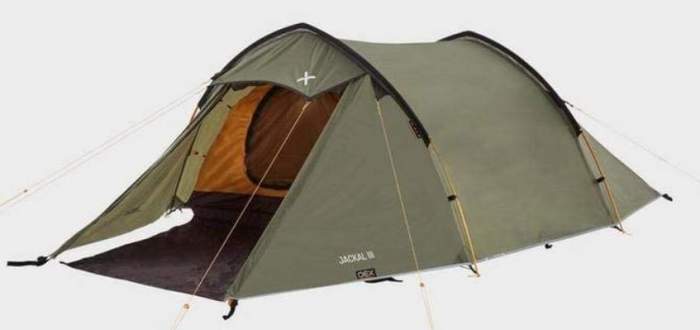 What you see also is the floor which you have in the vestibule area, it is attached to the inner tent and this is great to have so that you can keep your backpacks and other stuff separated from the wet ground. The vestibule flap is with two zippers on the sides so you can unzip it completely and fix above the entrance as the picture shows.
Materials
The poles: You have only two of them, shock corded and color-coded aluminum 8.5 mm diameter poles, they call them Endura poles. They are pre-bent on the top so the tent has that sharp profile. The poles attach to the tent's base through the usual grommets, and higher you have clips and long sleeves.
Note that the sleeves are from outside so this means you have a dry setup, with the inner tent protected all the time if you have to pitch the tent when it is raining. The official pitching time is 15 minutes and one person can do the job easily. You also have no less than 20 steel pegs in the package.
The fabric: The tent is a true double-layer type so you have a polyester shell with the vestibule and its waterproof rating is impressive 5000 mm.
The inner is a breathable polyester, and it has one large mesh section on the back. The inner door is oval, and it is double-layer so you have a zippered mesh door plus a zippered panel. You can unzip them separately and keep stored inn the side pocket next to the door, see the picture: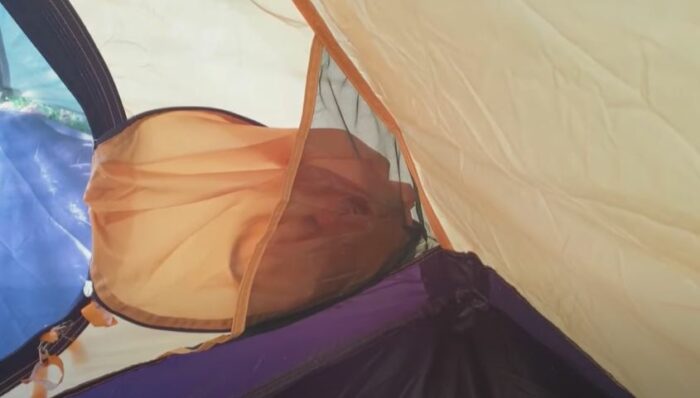 There are also a couple of storage pockets on the sides, and a lantern hanging point. The good thing with the vestibule zippers is that you can unzip them from the top and from the bottom, so you can regulate ventilation.
The carry bag
The tent comes with two carry bags in the main bag, one is with the inner tent plus poles, and the other contains the shell. This is good to have if you want to share the weight with your partners.
Note that both carry bags have a nice roll-top closure with a buckle on the top, plus sewn-in webbing loops which are there so that you can attach each of the carry bags to your backpack.
Ventilation
Ventilation here is quite good in view of the fact that this is a true double-layer tent. You can create some air flow if you unzip the vestibule. But you have also a high vent on the front, it is under the brim above the vestibule. One more vent is on the back, it is equipped with a stiffener.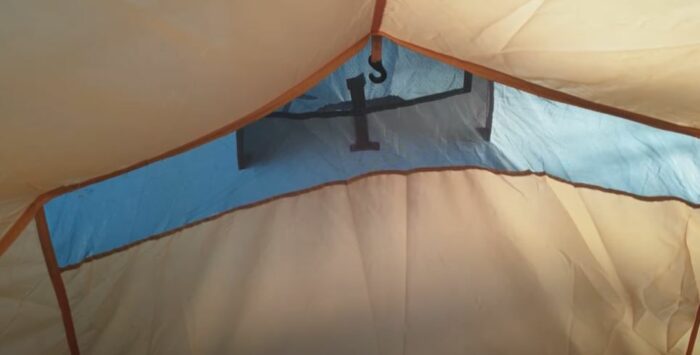 As mentioned, the inner door is double-layer and it is fully protected, so you can keep it with the mesh only all the time unless you feel cold of course. There is a mesh section on the inner tent and it matches the rear vent, see the picture. So there is not much to object here.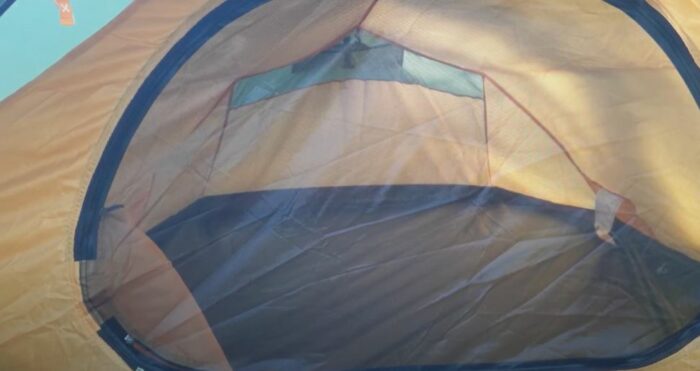 ---
Who is it for
Regarding the best use & climate, this tent is nicely ventilated so it will work well in a warm environment, but it is almost fully closable and this is useful if you are in a cold place.
On the other hand, it is low profile, the poles are a quality aluminum, and its waterproof rating is simply excellent. So this is a tent for practically any environment and climate, suitable for a year-round use.
Regarding the size, the tent is officially for three people. They do not provide the exact number for the area, but my estimate is that you have around 43 ft² (4 m²) in the inner tent. It is difficult to imagine three people inside but perhaps this is possible.
But there is also a large vestibule, again no numbers are given, my estimate is you have around 30 ft² (2.8 m²). So all together this is a lot of space. Yet, the tent is best suited for two people.
Regarding the weight, they describe it as lightweight and ideal for backpacking, but it weighs 7.4 lb (3.37 kg). So it is backpack portable, but it is in between very light backpacking tents and camping tents. To see what I mean, this Sea to Summit Telos TR3 tent that weighs 2.32 kg, but it costs three times more.
The packed size is very good, there are various numbers around, it depends on how well you pack the separate bags and how you place them in the main carry bag.
So I have not included it in my list of backpacking 3 person tents, it is in my list of 3 person tunnel tents for camping.
Regarding the price, it is simply amazing for such a great tent and with such features. You will have links below so you can compare several sellers.
---
Specifications
Type: tunnel tent.
Weight: 7.4 lb (3.37 kg).
Dimensions (L x W): 135.8 x 78.7 in (345 x 200 cm).
Peak height: 39.4 in (100 cm).
Floored inner area: around 43 ft² (4 m²).
Vestibule area: around 30 ft² (2.8 m²).
Packed size: 18.5 x 9.8 x 5.9 in (47 x 25 x 15 cm).
Poles: aluminum.
---
Final thoughts & rating
So this OEX Jackal III Tent is nicely built, you have a great combination of materials and an amazing price tag. The waterproof rating is excellent, the poles are aluminum, the tent is a true double-layer type and nicely ventilated.
It is compact and light but it is somewhere in between camping tents and trail tents, perhaps equally good or equally bad for both. If used as a camping tent, it is small for three people. On the other hand, if carried on the trail, it may be too small for three users, but it is too heavy for two. So it is a bit tricky to determine its best use, but in any case, this is a great tent, fully recommended.
Below you can see how I rate it against my usual rating criteria so that you can easily compare it with other items of this type:
BEST PLACEs TO BUY
For more options, please check under the category Tents for 3 People. Bookmark this site and come again, this will keep you informed because I add texts here regularly. Let me know if you have questions or comments, there is a comment box below. Have a nice day.