---
The Snow Peak Land Breeze Pro 3 Tent is an extended dome 4-season reliable camping tent with aluminum poles, and incredibly well-ventilated.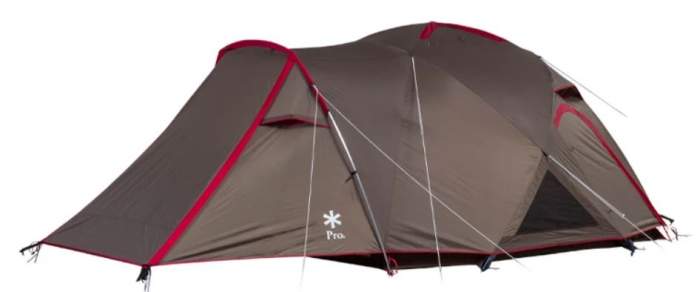 ---
Key features & benefits
Tent for all seasons.
Extended-dome structure.
Aluminum poles.
Incredible ventilation.
---
What this Snow Peak Land Breeze Pro 3 Tent is about
Here you have a tent from a series of three, it includes also the Land Breese Pro 1 and Land Breeze Pro 4 tents. The inner tent is a very typical dome structure, see how it looks without the fly: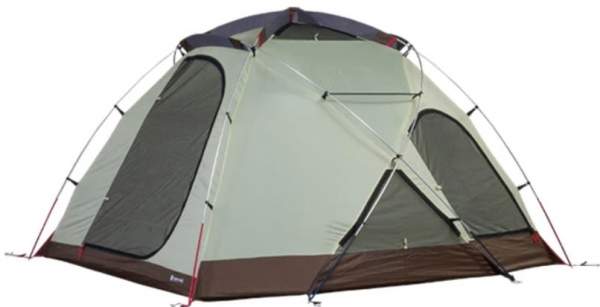 So the inner tent itself is freestanding and fully self-supporting. But the full-coverage fly is with an extra loop pole that supports its large porch or vestibule. It must be staked to be fully functional. The floor plan shown below will help you to understand its structure. The gray area is the inner tent, the rest is the area covered by the fly, on the left is the larger vestibule/porch and on the right the smaller vestibule.
Note that the base profile is oval, they do this to reduce wind resistance, so orient the tent properly when you are in the camp. The inner height is 56.4 in (143 cm).
The inner tent is fully symmetric with two huge double-layer doors, so you have zippered mesh plus zippered panels, and you can use them as you wish, with or without one of the layers.
But with the fly you have an asymmetric design. On one side there is a huge porch/vestibule, and on the other side you have a far smaller vestibule. On both sides the flaps are with dual zippers on the sides so you can roll them up and fix above entrance. The picture below shows the rear door and vestibule. 
Note that even the doors on the fly are double-layer, with full size zippered mech and the mentioned zippered flaps. So this is something rarely seen on tents. 
Materials
The poles & pegs: This tent has 5 poles and there is some work to do to have them all in place, but one person can easily do this in 20 minutes or so. The poles are shock-corded and color-coded and the material is a duralumin.
The poles attach to the base with grommets, and on the canopy you have sleeves and clips. You also have included 22 duralumin pegs 17 cm long, and a full set of ropes (5m, 3m, and 2m length).
The fabric: The huge fly is a 75D polyester ripstop with a PU coating and 1800 mm waterproof rating. With this brand this is usually the minimum value, so it may be much higher. The outer surface is with a Teflon water repellent.
The inner canopy is a 68D polyester taffeta, and the bathtub floor is a very durable 300D polyester Oxford with a PU coating and an impressive 10000 mm waterproof rating.
One extra unique detail here is the included gear loft that attaches under the vestibule, I have not seen any other tent with such a detail. See how it looks.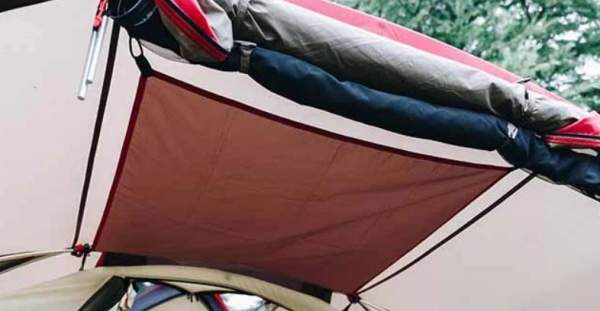 But note also those incredible pulls on the zippers, this is yet another unique detail in this tent. There are also a few small pouches on the wall directly above the floor.
Incredible ventilation
The inner tent is a breathable taffeta, though this is not enough for a good ventilation. But you have seen already about the huge inner doors that you can keep with the mesh only as long as you do not feel cold. 
They have also added multiple openings and vents. There are two triangular floor vents on the sides, and they are closable, with a mesh and zippered panels. They match the vents on the shell, one is visible in the picture below, and note that even these outer vents are double layer.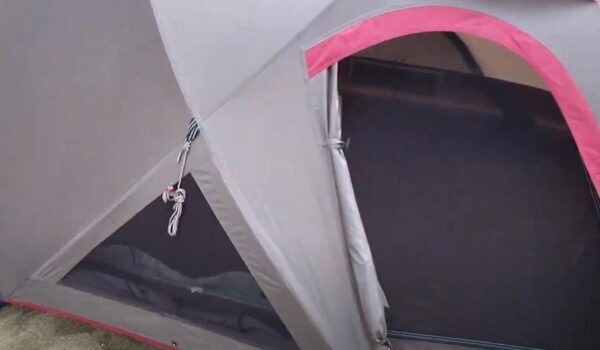 This is not all. There are two large windows on the sides, they are double layer on the inner tent, and they are matched by the double-layer openings on the fly, one is visible above. Simply incredible. I am sure kids will want to use them as extra doors.
There are also two closable roof vents on the inner tent. They have zippered mesh and panels to open them completely, and the reason for this is that you have access to the stiffeners that support flaps on the vents, so you can regulate this from inside the tent. They are matched with the two fly vents on the top, and these are also double layer, so you can use them as roof windows when needed, see the picture.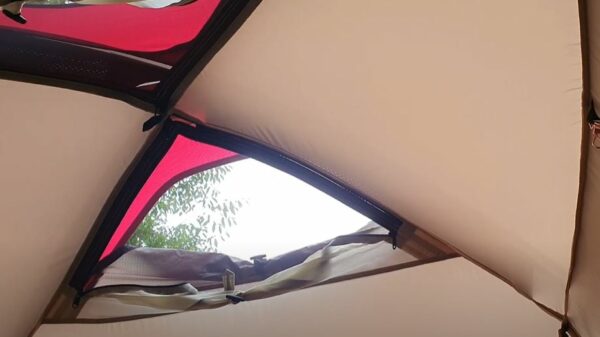 But wait, there is more. There are extra 4 vents on the fly. Two are on the part above the inner tent, and two are in the vestibule area on the sides.
To summarize, the fly has 12 openings in total and they are all double-layer. The inner tent has 8 openings and they are also all double-layer. I must say, I have never seen something like that. If you want a true double-layer tent and yet incredibly ventilated. this is it.
Please see more in this video, it shows how to set the tent up:
---
Who is it for
Regarding the best use & climate, this is an extraordinary good tent that will perform great in any climate and in all seasons. You have already seen all venting options, so this is all perfect for warm weather.
In a cooler environment, all the openings can be closed. So the structure is full two-layer type. There are 7 cross points for the frame, so the construction is very strong, stable, and aerodynamic with its low profile. The inner tent is fixed to the ground at 8 points, the same points are used for the fly plus additional 4 stake points on the vestibules.
There are also multiple guylines around, and they are connected to the tent at several different heights. So this tent will perform great even in windy places.
Regarding the size, the tent is officially for 3 – 4 people. They do not provide the number for the floored area, the dimensions are 7.9 x 7.9 ft (2.4 x 2.4 m), but it is not square. My guess is that you have around 58 ft² (5.4 m²) and this is plenty of space for 3 people, for 4 this would be too tight.
There are no numbers for the vestibules area. My rough guess is that they together provide around 38 ft² (3.5 m²). So the total covered space is around 96 ft² (8.9 m²), and in the case of 3 users this is lots of space. 
Regarding the weight, this is a heavy tent with its 20.2 lb (9.2 kg). But the weight is justified, you have durable materials and this is a true double-layer tent, but remember also those double-layer openings on both inner tent and the fly.
---
Specifications
Official capacity: 3 – 4 people.
Weight: 20.2 lb (9.2 kg).
Dimensions (L x W): 14.1 x 8.5 ft (430 x 259 cm).
Floored area: around 58 ft² (5.4 m²).
Vestibules area: around 38 ft² (3.5 m²).
Total protected area: around 96 ft² (8.9 m²).
Indoor height: 56.4 in (143 cm).
Peak height: 61 in (155 cm). 
Packed size: 24 x 9 x 7.5 in (61 x 23 x 19 cm).
Poles: aluminum.
Warranty: lifetime warranty.
---
Accessories
They have a footprint built for this tent, it is under the name Land Breeze Pro 3 Ground Sheet. The fabric is a 210D polyester with a 1800 mm PU coating. The weight is 1.6 lb (740 g) and its dimensions are 7.6 x 7.6 ft (2.3 x 2.3 m).
There is also the Snow Peak Land Breeze Pro 3 Inner Mat. It provides insulation with its 68D polyester PU coated taffeta and 5 mm urethane core. The bottom fabric is a PVC. It weighs 6.6 lb (3 kg) and its dimensions are 7.7 x 7.7 ft.
---
Final thoughts & rating
In summary, this Snow Peak Land Breeze Pro 3 Tent is incredibly well-built and with so many useful details, some of them quite unique. The materials are top quality and ventilation is the best possible. The tent is designed to be used all year round and it will perform great no matter where you use it. Fully recommended. I have included it in my list of best 3 person camping tents.
Below you can see how I rate this tent (as a 3-person tent) against my usual rating criteria so that you can easily compare it with other tents here in the site:
BEST PLACEs TO BUY
For more options, please check under the category Tents for 3 People. Bookmark this site and come again, this will keep you informed because I add texts here regularly. Let me know if you have questions or comments, there is a comment box below. Have a nice day.