The Snow Peak Land Breeze Pro 4 Tent is a 4-season shelter supported by quality aluminum poles, very reliable and incredibly well-ventilated.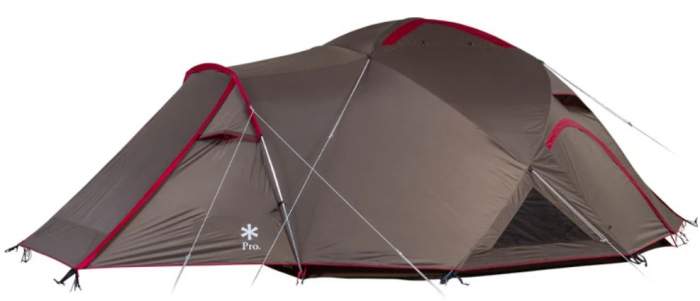 ---
Key features & benefits
4-Season tent.
Aluminum poles.
2 Vestibules.
Incredible ventilation.
---
What is in the name
This is the largest tent in their Land Breeze Pro series, they also have the Land Breeze Pro 1 and Land Breeze Pro 3 tents. So this is a very typical dome-type tent and you realize this when you see it without the fly as in the picture below. The inner tent with its poles is fully freestanding, and it is relatively low profile with its peak height of 5.7 ft (174 cm).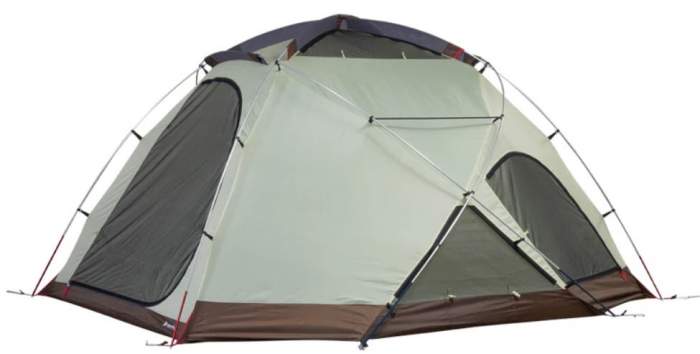 The base is something between a square and a hexagon, you can see it in the picture below. The gray area is the inner tent. You have a full-coverage fly that creates two asymmetric vestibules. One of the vestibules (on the left in the picture below) is supported by an extra loop. So to have it functional this all must be staked, this is why the tent is generally not freestanding.
There are two external doors on the vestibules and they are both double-layer type with zippered mesh and with panels equipped with dual zippers on the sides. So this double-layer fly doors design is a feature that already sets this tent apart from its competitors. The rear door is shown in the picture below.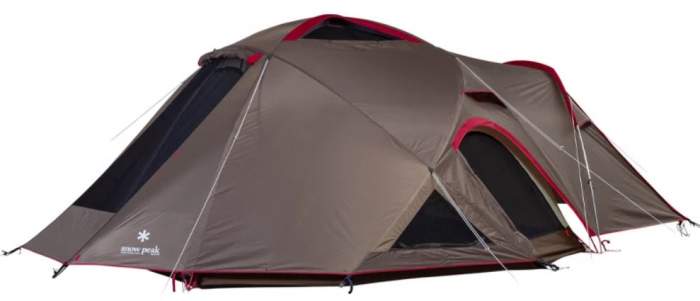 The inner tent is also with two D-shaped doors and they are both 2-layer type with mesh and with a panel.
Ventilation
It is hard to find such a true double-layer tent that would be better ventilated. So you have already seen its 2 outer and 2 inner doors that are all double-layer constrictions. The inner doors are completely protected under the vestibules, so they can remain with mesh only all the time and you can have plenty of ventilation.
But this tent offers far more. There are two double-layer windows on the fly, and they are matched with two double layer openings on the inner tent. You can see one of them in the picture below, it is on the left side of the door.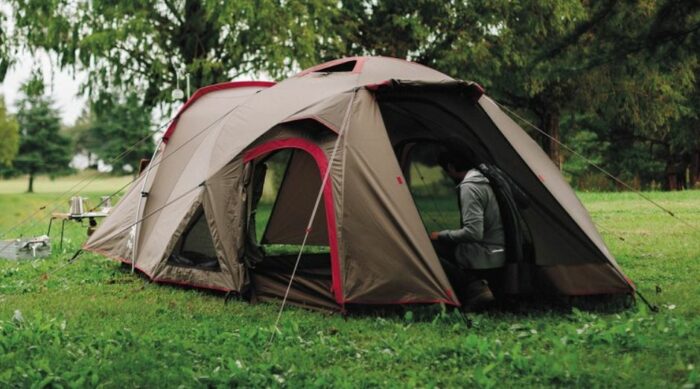 You also have two triangular floor vents, one is visible above, and they are matched with the same shape openings on the inner tent. Of course, all of them are 2-layer structures.
This is far from all, the tent has two double layer ceiling vents, see them in the picture below, one is unzipped. They are matched with the corresponding roof vents on the fly.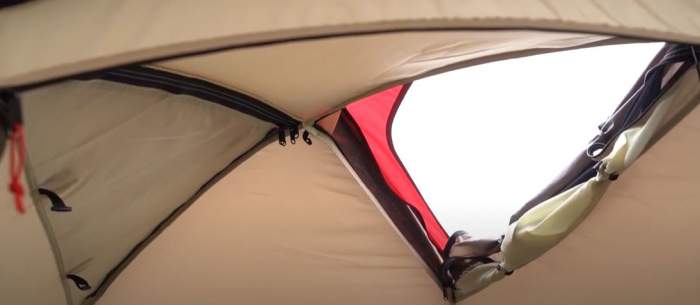 This is still not all, there are 4 separate side vents, you can see them in the pictures above. They are added so that vapor can escape and this should help against condensation. Now you understand why I say that its ventilation is simply incredible.
Materials
The poles: You have high quality color-coded 7001 duralumin poles, and the same material is used for the 22 stakes that are in the package. The poles diameters are 9.5, 11, and 12 mm.
The poles attach to the base with the usual grommets. On the canopy you have clips and sleeves. Sleeves are good because wind pressure is distributed over larger areas.
The fabric: This is a double-layer tent in true sense. The fly is a 75D polyester ripstop with a PU coating and a 1800 mm minimum waterproof rating, plus Teflon water resistance on the outside. The inner tent canopy is a 68D polyester. As you have seen all windows and doors are with the same panels.
The bathtub style floor is a very strong 300D polyester with a PU coating and an impressive 10000 mm waterproof rating. There are a few wall pockets as well.
You get also the following items in the package:
Universal rope.
Seam grip agent.
Repair pipe.
Carrying, frame, and peg cases.
---
Who is it for
Regarding the best use & climate, the manufacturer describes it as a 4-season tent and there is no doubt this is so. You have two taffeta layers, and all doors and windows are fully closable to protect you from the cold. But even in such situations you have plenty of venting options.
In a warm weather situation, you can keep all the doors with mesh, so this with all the vents around is a guarantee for a great ventilation.
The tent is very aerodynamic and low profile, and its waterproof rating is very good. The poles have 7 cross points and this makes the frame very stable and strong. So the tent will behave nicely even in very windy conditions.
Regarding the size, the official capacity is 5-6 people and it can indeed accommodate such a number of pads on the floor. But you see that they show 4 pads in the floor plan, and there is also the number 4 in the name. So I see it as a 4-person tent and I rate it as such. In such a use it is impressive.
They do not provide numbers for the area. The floor is not rectangular, and it is also a bit tricky to determine the vestibules space.
So my estimate is that you have close to (but less than) 100 ft² (9.3 m²) of the inner floored space, plus around 34 + 17.5 ft² (3.1 + 1.6 m²) under the two vestibules. My numbers for the vestibules may be very inaccurate, but in any case this is a huge protected space if used by 4 people.
Regarding the weight, the tent is quite heavy, it weighs 26.2 lb (11.9 kg). But this is a double layer structure, the total protected area is large, and the fabric is durable. The packed size is 29 x 14 x 12 inches (74 x 36 x 30 cm) and this is excellent when you realize how much protected space you have.
Regarding the price, this Japanese brand is not known for low prices, but it is known for the highest possible craftsmanship and quality. You should know that you have a lifetime warranty with their products, so you know what you are buying and this should put your mind at peace.
---
Specifications
Type: dome tent.
Official capacity: 5-6 people.
Weight: 26.2 lb (11.9 kg).
Dimensions (L x W): 16.7 x 10.7 ft (509 x 326 cm).
Area: close to 100 ft² (9.3 m²).
Peak height: 5.7 ft (174 cm).
Inner height: 5.4 ft (165 cm).
Vestibules area: around 34 + 17.5 ft² (3.1 + 1.6 m²).
Packed size: 29 x 14 x 12 in (74 x 36 x 30 cm).
Poles: aluminum.
Warranty: lifetime.
---
Final thoughts & rating
So this Snow Peak Land Breeze Pro 4 Tent is an excellent product from a brand that is globally known for the quality of its products. You have full protection in this tent and you can use it all year round in any season and climate. Ventilation is the best possible, designed to work in any situation. I can fully recommend this tent to anybody who can afford it.
Below you can see how I rate it against my usual rating criteria. Note that I rate it as a 4-person tent.
BEST PLACEs TO BUY
For more options, please check under the category Tents for 4 People.
Bookmark this site and come again, this will keep you informed because I add texts here regularly. Let me know if you have questions or comments, there is a comment box below. Have a nice day.