---
The Snow Peak Land Breeze Pro 1 Tent has a unique design with 4 doors, aluminum poles and a great waterproof rating for full protection in all seasons.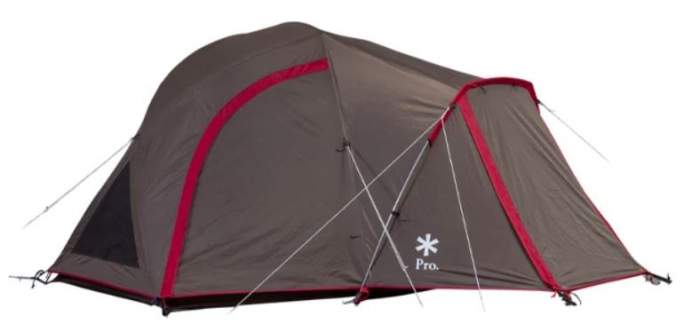 ---
Key features & benefits
Totally unique design.
4 Doors.
Vestibule.
Aluminum poles.
Incredibly good ventilation.
---
What this is about
The picture below shows the tent without the fly so you see that this is a very peculiar structure. This tent has no less than 4 doors, and two of them are visible in the picture below. The other two are on the opposite side.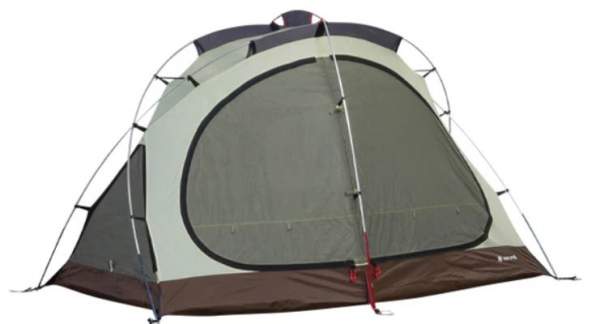 The inner tent shown above is fully freestanding, but this not so in general when it is under its full coverage fly. With the fly on, the tent becomes completely asymmetric because of the vestibule which is on one side only. Below you can see the floor plan and some dimensions.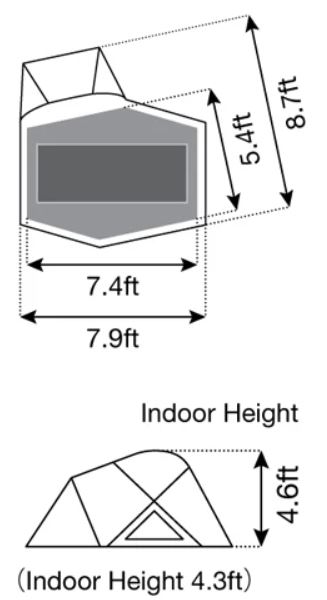 The gray area in the picture above is the inner tent, and you see the position of the vestibule on the upper side of the picture. So one door of the doors on that side of the tent is under the vestibule, and yet another is next to it. You can see them in the top picture above. The vestibule is with a flap that has two zippers on the sides so you can roll it up and fix above the door.
But below you see how the tent looks under the fly on the opposite side. You can see the other two inner tent doors and you realize they are fully protected under the fly, though in this part the fly does not add any extra space for storage.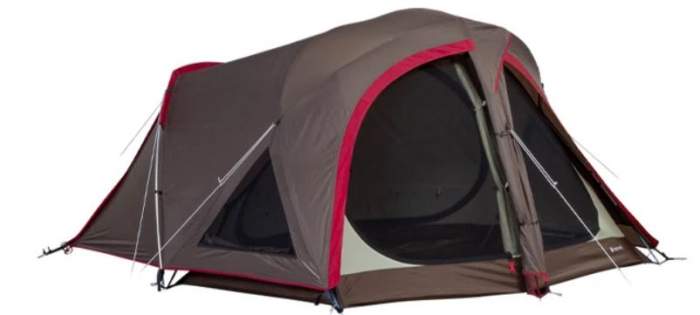 So the shape is confusing because of such an asymmetric fly. To understand it better note that the doors are on the wider sides of the tent. The small triangular opening that is visible above the ground is the narrow side of the tent, and you have the same opening on the opposite side, so this is the main axis of the inner tent.
Materials
This tent is constructed with advanced materials for increased performance.
The poles & pegs: There are 3 poles that support the inner tent, plus one loop pole that supports the vestibule and it is added from outside. This is a strong duralumin 7001 with a 9.5 mm diameter. There are also 16 duralumin pegs that are 17 cm long, and a full set of ropes.
The fabric: The fly is a 75D polyester ripstop with a PU coating and 1800 mm waterproof rating and Teflon water repellent finish. The inner tent is a 68D polyester taffeta, while the floor is a much more durable 300D polyester Oxford with a PU coating and 10000 mm rating.
Other features
You have included a seam grip agent, a repair pipe, a carry bag, a frame case, and a peg case. There is a wall pouch above the floor. Storage pockets are also available.
Ventilation
Ventilation in this tent is excellent. You have already seen its 4 huge doors, they are fully protected under the full fly, so you can keep them with mesh only to have air circulation in a warm environment.
But they have also added those 2 triangular openings on the narrow sides of the tent, and here too you have double-layer design with mesh and with zippered panels. This will create extra cross flow.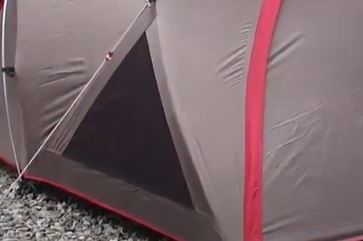 There is also a fly vent above one of the doors, you can see it below. This will create extra vertical air flow and let vapor escape. All in all, there is not much one could object here.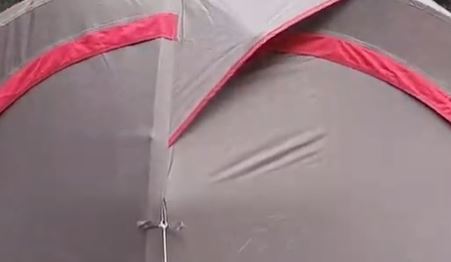 In this video you can see how to set this tent up, please have a look:
---
Who is it for
Regarding the best use & climate, there is no doubt this is a tent for all seasons and for every climate. The waterproof rating is very good and materials are high quality.
The tent is well-ventilated for warm weather camping, but all its openings are fully closable so you can use it in a cold environment as a true double-layer tent. The profile is low and you have plenty of quality stakes to fix the tent to the ground.
Regarding the size, it is officially for up to 2 people. They do not provide numbers for the area, and my estimate is that you have around 30 ft² (2.8 m²). The vestibule area is also not known, so again my guess is around 10.7 ft² (1 m²). But I may be wrong of course.
In any case, I do not see it as a 2-person tent, this is a great solo camping tent and this is how I rate it below.
Regarding the weight, the tent is heavy, it weighs 13.4 lb (6.1 kg). But this is not a big deal, it is not designed to be carried anywhere. The packed size 24 x 9 x 7.5 inches (61 x 23 x 19 cm) is such that you can transport it even on a bicycle.
---
Specifications
Official capacity: 1-2 people.
Weight: 13.4 lb (6.1 kg).
Dimensions (L x W): 8.7 x 7.9 ft (265 x 241 cm).
Floored area: around 30 ft² (2.8 m²).
Vestibule area: around 10.7 ft² (1 m²).
Peak height: 55.1 in (140 cm).
Packed size: 24 x 9 x 7.5 in (61 x 23 x 19 cm).
Warranty: This brand is known for its lifetime warranty. Their products are expensive, but you know what you are buying.
---
Final thoughts & rating
So you have seen it, this Snow Peak Land Breeze Pro 1 Tent is unique and nicely designed. You can use it all year round and you will be fully protected in any environment. They use high quality materials and ventilation is almost excellent. Fully recommended.
Below you can see how I rate it (as a solo tent) against my usual rating criteria so that you can easily compare it with other items of this type:
BEST PLACEs TO BUY
For more options, please check under the category Solo Tents. In particular, check this Snow Peak Minute Dome Pro. Air 1 Tent from the same brand.
Bookmark this site and come again, this will keep you informed because I add texts here regularly. Let me know if you have questions or comments, there is a comment box below. Have a nice day.