---
The Coleman Chimney Rock 3 Plus Tent is a tunnel-type with a huge floored porch, 3 doors, and an impressive waterproof rating for a full protection.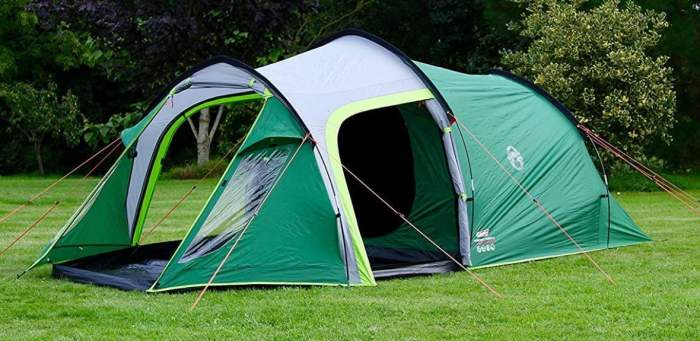 ---
Key features & benefits
BlackOut design.
Huge porch.
3 Doors.
High waterproof rating.
Fiberglass poles.
Ventilated.
---
What this is about
This Coleman Chimney Rock 3 Plus Tent is originally built for the EU market and it is available at many sellers in the EU. So this implies certain features like a huge waterproof rating.
The tent is tunnel type and with interesting pointed arches. You can see something similar in their Coleman Waterproof Tasman Unisex Outdoor Tunnel Tent 3 Person Plus.
The picture below shows its floor plan so you can better understand what it offers. You have an inner tent with its own floor, and it is fully protected with a full-coverage fly that creates a large vestibule/porch which is on the right side in the pictures.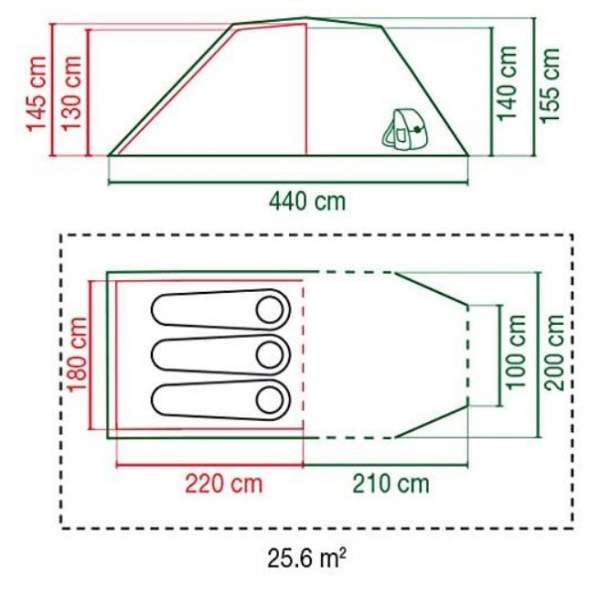 Note that the tent is moderately high, you have the numbers given above. One truly great feature here is its 3 doors, they are marked with dashes in the picture above, and below you can see how they look.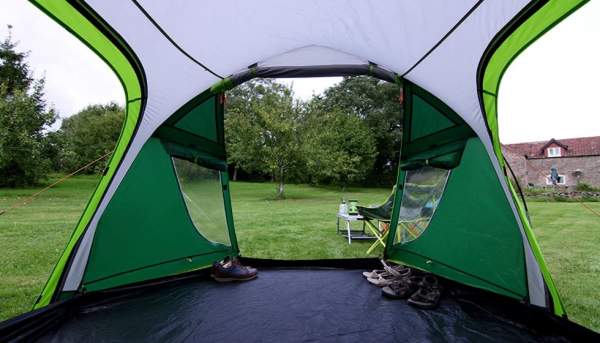 There is also one inner door shown below, it has mesh section for ventilation on the upper part.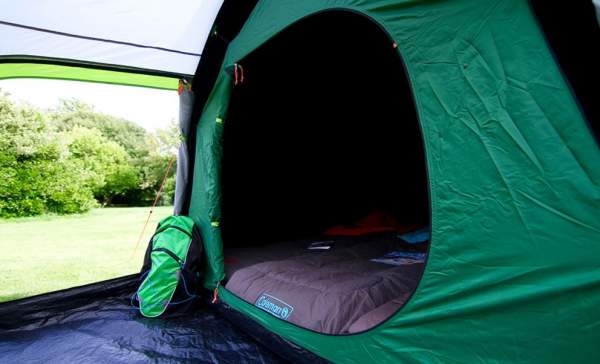 This is also what they call the blackout design, some call this also the dark rest or dark room feature. They write that it blocks 99% of daylight in the bedroom area. They also claim it is up to 5°C cooler during the day, I am not sure if this is really so. The picture below shows the view from inside this dark rest inner tent.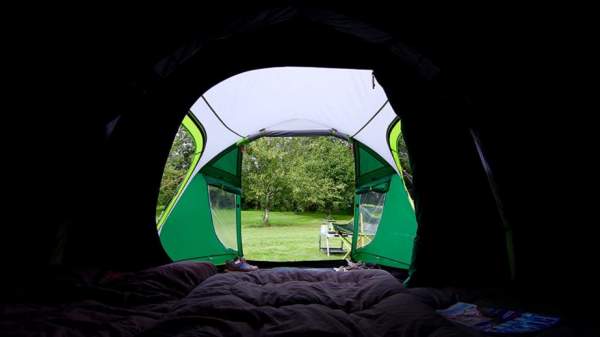 The porch/vestibule is a large and pleasant space, and they have added a removable floor here, you can see below how it looks. It is a sort of a bathtub shape so your gear stored here is safe from ground water.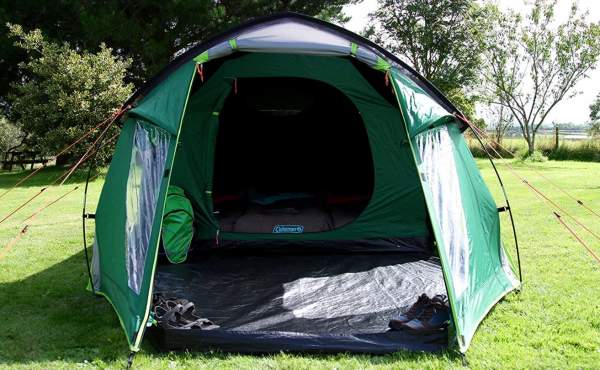 Materials
The poles: You have them 3, shock-corded and with pre-bent top sections. This is fiberglass material so it needs a bit care in handling. Note that they attach from outside, so this is a sort of dry setup, and this means that the inner tent remains protected if you pitch the tent when it is raining.
The pole attach to the base with the usual pin and ring system, and on the canopy you have long sleeves and clips. Such sleeves are generally good because they distribute pressure.
The fabric: This is polyester with a PU coating and 4500 mm waterproof rating. So this is a truly great value. The seams are taped. They claim that it provides high SPF 50 protection from the sun's rays. This value is normally in the level of Excellent. The inner tent polyethylene floor is fully sewn-in and sealed.
You also have a couple of PVC windows with inner covers for privacy. As mentioned, the porch is also floored but this floor is linked-in.
Ventilation
So ventilation is typical for such tunnel tents. You have two roof vents on the front, and one on the rear side, see the picture below. The vestibule allows for some air from the ground, as you have seen the floor here is not sealed.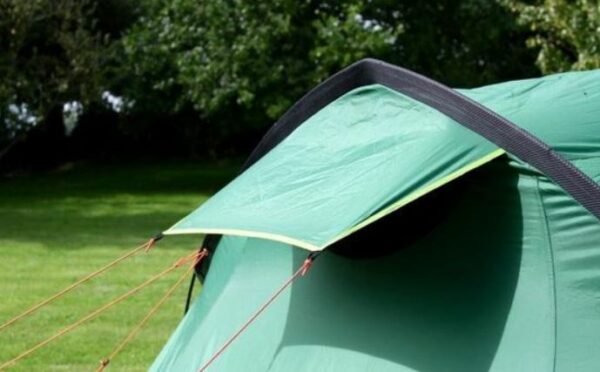 Please see more in this short video:
---
Who is it for
Regarding the best use & climate, you have a full coverage fly, and the inner tent is deep underneath it. You have seen its waterproof rating so no doubt the tent provides great protection. The windows are solid, and there is even the linked-in floor underneath the vestibule.
Ventilation is quite good here, and this is a true double-layer tent. So, regarding seasons, I see it as a 3-seasons-plus.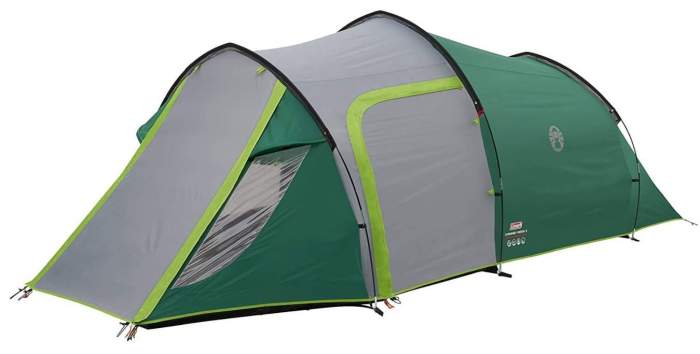 Regarding the size, you have seen 3 Plus in the name, so this should indicate lots of space for 3 people. Indeed, you have the inner area of 43 ft² (4 m²), and this would give 14.3 ft² (1.3 m²) per person. This is the same as in the OEX Jackal III Tent.
The vestibule offers 40 ft² (3.7 m²), so the total protected space is 83 ft² (7.7 m²), and this is far from bad. You will see below how I rate it.
Regarding the weight, the tent is quite heavy, it weighs 15.2 lb (6.9 kg). The packed size is excellent, it measures (L x D) 22.8 x 7.1 inches (58 x 18 cm). So it can be transported even on a bicycle, but it is not to be carried anywhere. I have included it in my list of of best 3 person tents for camping.
Regarding the price, I would describe it as very reasonable for such a tent.

---
Specifications
Official capacity: 3 people.
Weight: 15.2 lb (6.9 kg).
Dimensions (L x W): 14.43 x 6.56 ft (440 x 200 cm).
Inner floored area: 43 ft² (4 m²).
Inner area per person: 14.3 ft² (1.3 m²).
Vestibule area: around 40 ft² (3.7 m²).
Total protected area: 83 ft² (7.7 m²).
Packed size (L x D): 22.8 x 7.1 in (58 x 18 cm).
Peak height: 61 in (155 cm).
Poles: fiberglass.
---
Final thoughts & rating
In summary, this Coleman Chimney Rock 3 Plus Tent is well-built and with a very useful and large vestibule area. The waterproof rating is excellent, and the tent is compact for transportation. The price is very fair for what you get. Fully recommended. It is included into my list of best 3 person tunnel tents for camping.
Below you can see how I rate it against my usual rating criteria so that you can easily compare it with other items of this type:
BEST PLACE TO BUY
For more options, please check under the category Tents for 3 People. Bookmark this site and come again, this will keep you informed because I add texts here regularly. Let me know if you have questions or comments, there is a comment box below. Have a nice day.