---
The Snow Peak Entry Pack Tent and Tarp includes the 2-layer and 4-season Snow Peak Vault 4 Person Tent with two vestibules and three doors, plus a tarp, all supported by quality aluminum and steel poles.  
---
Key features & benefits
2-Layer tunnel tent.
2 Vestibules.
Large shed under the tarp.
3 Doors.
Aluminum & steel poles.
4-Season protection.
---
What is in the name
This set is at some sellers sites under the name Snow Peak Entry Pack TT where the letter TT mean Tent & Tarp. So you have two separate elements here that include:
Snow Peak Vault 4 Person Tent.
Snow Peak Amenity Hexa Tarp.
Obviously, you can use them together as the pictures show, but you can also use them separately as it suits you best.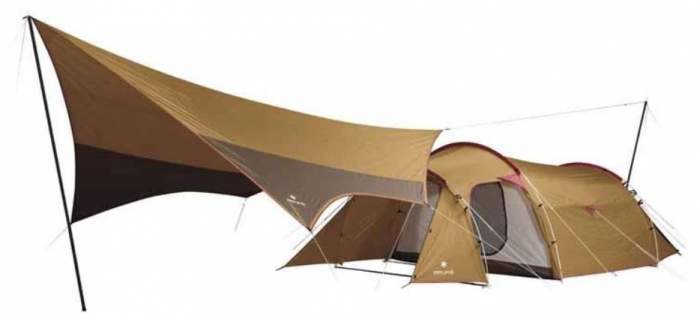 Below you can see some important numbers that tell you how much space you actually need in a camp. On the right you see the tent with its inner sleeping area which is in gray. On the left you see the shape of the tarp.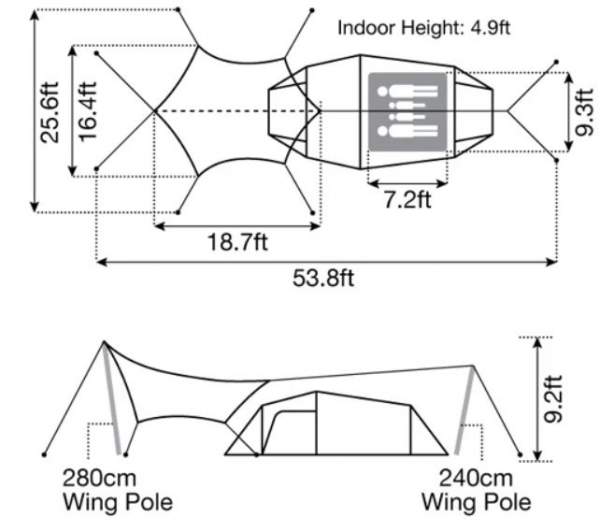 So the Snow Peak Vault 4 Person Tent is the most important part here, and it includes a full size fly plus an inner fully-protected inner tent. There are 2 vestibules under the fly, and the tent has no less than 3 doors. Two of them are on the larger vestibule and one is on the rear side. The rear door is shown in the picture: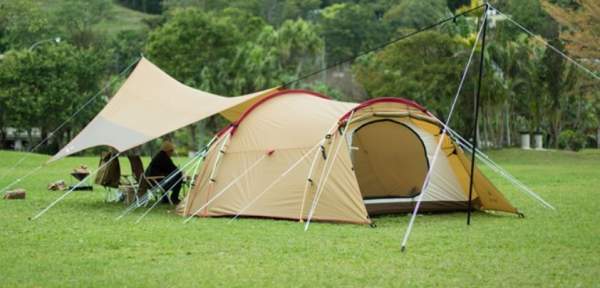 The inner tent's doors are both true 2-layer type, so this means both are with a mesh zippered door plus a zippered panel, see how they look: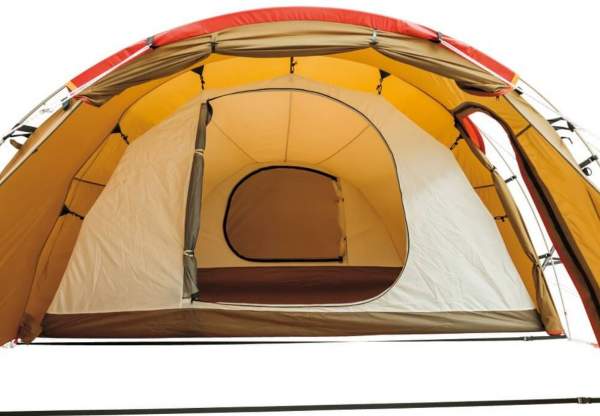 The inner tent attaches to the shell and you can see it in the picture above. But the fly can be used on its own as a shed as shown below.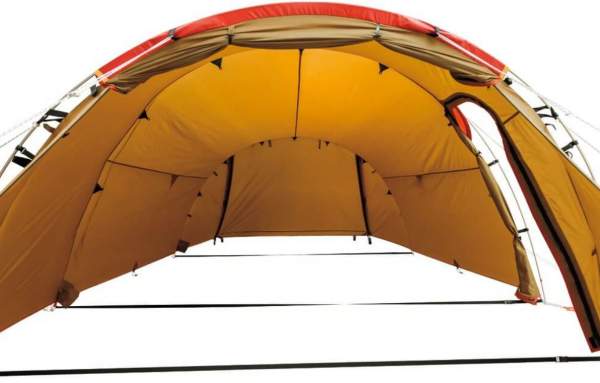 In this configuration you have plenty of space for a camping table and chairs. Here you can admire the mentioned 3 doors with plenty of options for users to get in and out.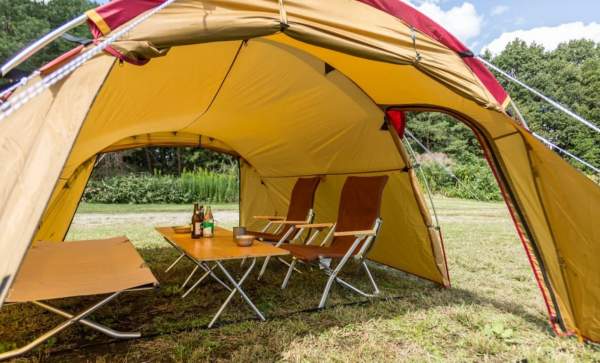 So this is a large covered space, but see how this looks when you add the tarp in front of the tent. This is a great configuration for camping and for picnics.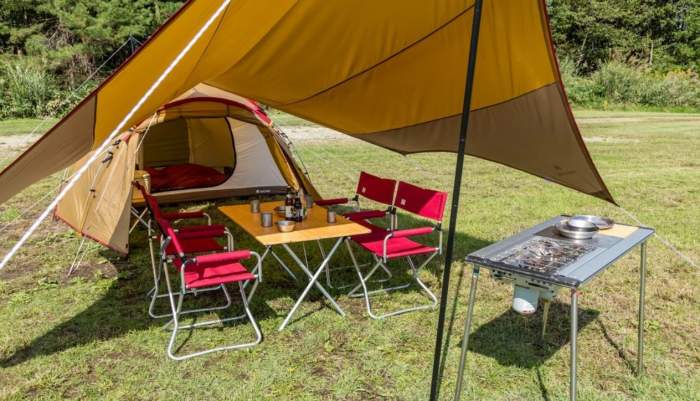 ---
Materials
The tent fabric
The shell tent is a durable 75D polyester taffeta with a PU coating and its official water resistance is minimum 1800 mm. You can expect more because you have a Teflon coating as well. They claim that it provides UV protection.
The inner tent is a breathable 68D polyester taffeta. Its floor is a bathtub style and it is a very strong 210D polyester Oxford with the same PU coating and waterproof rating.
The tarp fabric 
Here you have a 210D polyester Oxford with the same PU coating and 1800 mm minimum waterproof rating and Teflon coating. The same UV protection applies here too.
The poles
The tent is supported by three separate shock-corded aluminum loops and this is a 7001 and 6061 aluminum alloy with a 13 mm poles diameter. The tarp poles are steel, and you have two separate 280 cm and 240 cm.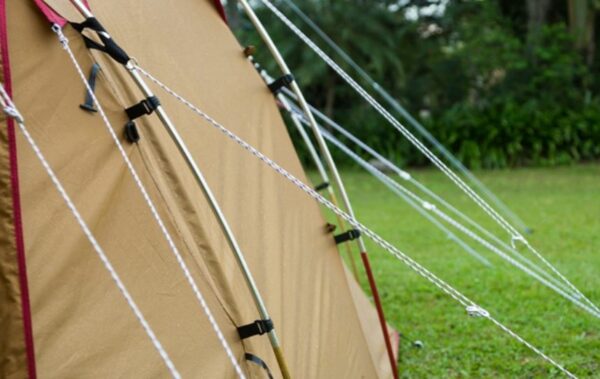 Tent elements
You have the fly and inner tent, poles, 24 duralumin pegs, tensioning ropes with slider (3 m x 4, 2.5 m x 8), a repair pipe, a carry bag, a poles case, and a peg case.
Tarp elements: 
This package includes the tarp itself, connection straps, steel poles, steel pegs 30 cm (x 8), tensioning ropes with slider (2-forked 10 m x 2, 3 m x 2, 2 m x 2), a carry bag, a pole case, and a peg case. 
Ventilation
You have already seen about its full-size mesh doors. They are fully protected under the fly so you can use them without their panels, unless you feel cold. This will provide as much ventilation as you want.
The inner tent material is breathable so this is yet another element of ventilation, and there are also vents on the fly. So this tent is nicely ventilated and there is not much one could object.
In this video you can see how to pitch the tent, please have a look:
Here you can see the full set:
---
Who is it for
Regarding the best use & climate, you have already seen about its materials, so you realize that this is a true 2-layer tent with two taffeta walls and canopies. So this should be good enough for year round use.
The tent itself is low-profile and aerodynamic so it will work great even in windy spaces. But clearly, you would not want to use its tarp at places with strong winds. There are two vestibules and they are nicely protected, so this is lots of space for your gear. 
Regarding the size, you have seen in the floor plan above that they show up to 4 users inside the inner tent. On the brand's site they write 2-4 people as its capacity. Its width is 283 cm so indeed it is possible to put 4 pads side by side.
But this would be too tight, and I see it best suited for 3 adults. This is how I shall rate it further in the text. See below how 3 wide pads fit nicely inside. However, it offers enough space for parents with two small kids.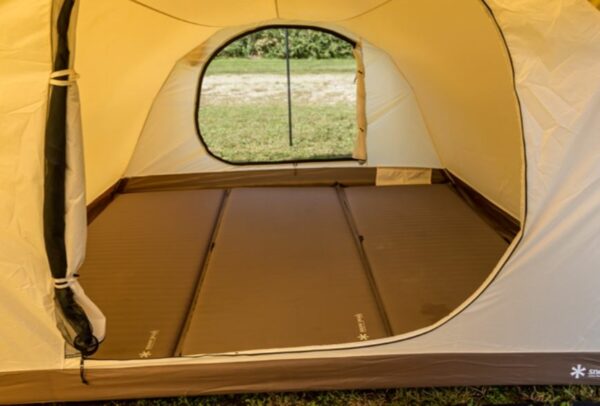 They do not provide data for the area under the vestibules, so my guess is this is around 48 + 20 ft² (4.4 + 1.8 m²) for the two vestibules. This adds lots to the comfort of the tent.
Regarding the weight, this is a heavy set, the total weight is 34.8 lb (15.8 kg). But you have seen how much space it offers. The packed size is also not its best feature, you will see the numbers below. Here is just the picture to show that you have two separate bags: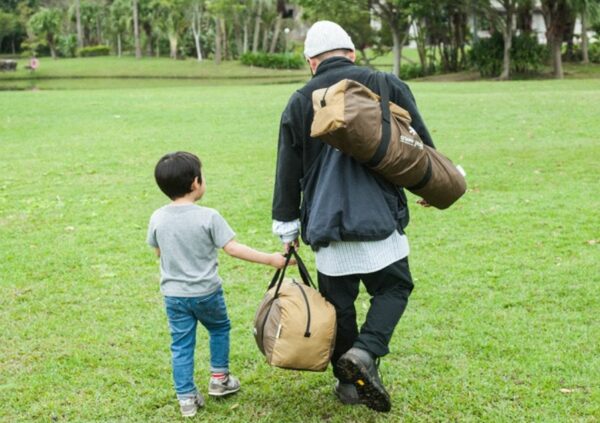 Regarding the price, this brand is known for steep prices of its products. But it is known also for the top quality and lifetime warranty. Bear this in mind.
---
Specifications
Official capacity: 4 people.
Weight: 34.8 lb (15.8 kg).
Teent dimensions (L x W): 17.4 x 9.8 ft (530 x 299 cm).
Inner tent area: 67 ft² (6.2 m²).
Vestibules area: 48 + 20 ft² (4.4 + 1.8 m²).
Total covered area under the fly: 135 ft² (12.4 m²).
Peak height tent: 59.05 in (150 cm).
Packed size:
– Tent carry bag: 26 x 9.8 x 9.8 in (66 x 25 x 25 cm).
– Tarp carry bag: 31.5 x 8.7 x 6.7 in (80 x 22 x 17 cm).
Poles: aluminum & steel.
---
Final thoughts & rating
So this Snow Peak Entry Pack Tent and Tarp is a high quality and very functional product that can be used in various configurations. It offers full protection for its users, and lots of space.
Its features are such that you can use it in any climate and in any weather conditions. Fully recommended. I have included it in my list of best 3 person tunnel camping tents.
Below you can see how I rate it (as a 3-person tent) against my usual rating criteria so that you can easily compare it with other items of this type:
BEST PLACEs TO BUY
For more options, please check under the category Tents for 3 People. There are several tents of this brand here in the site, you can see them here.
Bookmark this site and come again, this will keep you informed because I add texts here regularly. Let me know if you have questions or comments, there is a comment box below. Have a nice day.