---
This Coleman Tent OctaGo is a 3 man freestanding tent built in the cabin style with steep walls and with a full-coverage fly, sturdy and stable with its 8 legs poles.
---
Key features & benefits
Cabin style tent.
Full cover fly.
Freestanding.
Zippers on the fly.
8 Windows.
1 Door.
Steel poles.
E-cable port.
---
What this is about
Here you have a unique fully freestanding and cabin type structure with straight and steep walls. The picture below shows it without fly so you can understand its frame and shape. It is fully self-supportive and you can move it and rotate even when the fly is on. Its 8 strong legs make it incredibly strong and stable.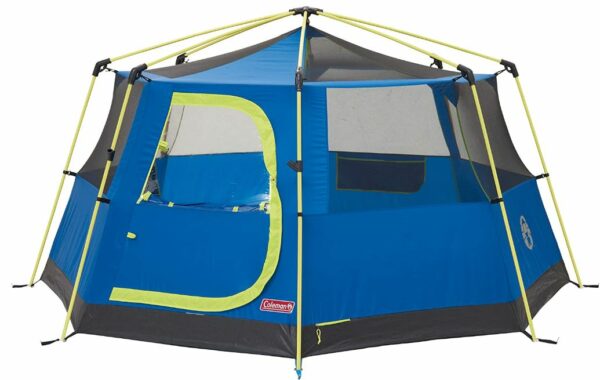 Because of these features, I have included this tent in my list of best 3 person cabin tents. As you realize this is an octagonal structure. The floor plan and the most important dimensions are shown below.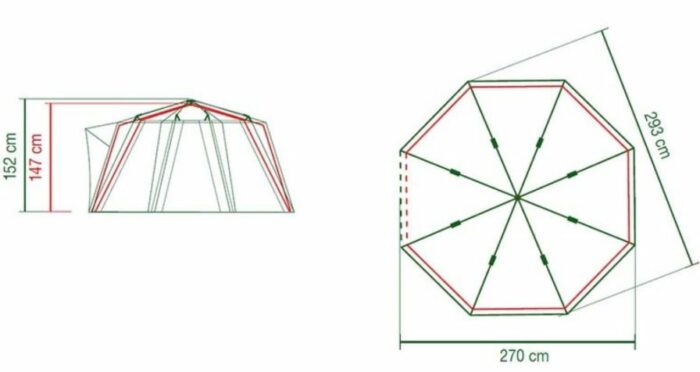 Full-fly cabin tents are a bit rare, but here you have one. So the fly covers the tent completely, all the way to the ground, and it looks like a giant lid on a pot. But it has vertical zippers on each of its 7 sides so you can unzip them and have 7 windows as the picture below shows: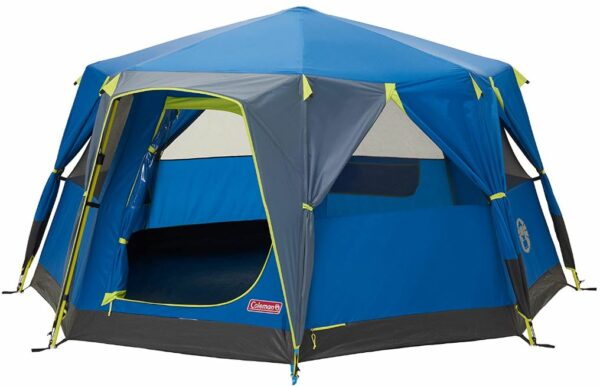 The view below shows how pleasant this tent is with open windows. Observe multiple storage pockets on the walls.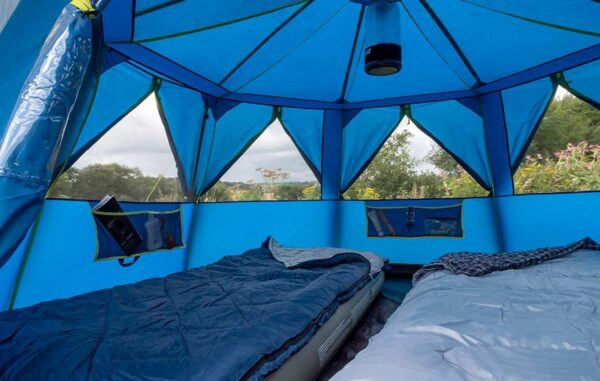 Note also that there is only one door here, but this is quite enough. The door is with mesh and panel on the upper part, and it is partly protected by the small brim. So you can keep it with the panel all the time. This creates yet another window, this is why mentioned 8 windows in the beginning of the text.
Note that on Amazon they write this is a hinged door, this is clearly a mistake, mixed with some of its larger cousins built in the same style. You can see it in pictures rolled to the side.
The tent is nicely proportioned, it is not particularly tall, the inner peak height is 57.87 in (1.47 m), see the picture below. But the diameter is 9.61 feet (2.93 m), so this is yet another reason why the tent looks so stable and sturdy.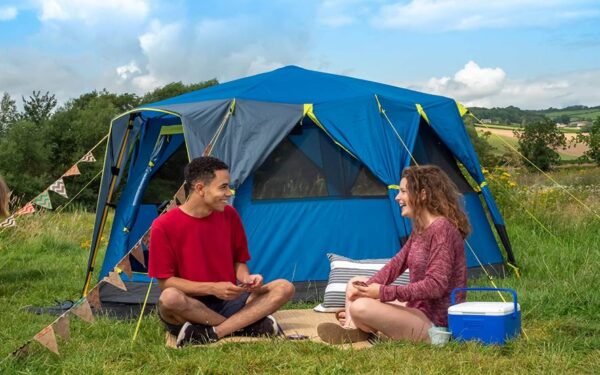 Ventilation
You have already seen the tent without the fly, so you realize that the whole canopy is mesh. This looks great when the sky is clear, but as you know well this is not always so.
The fly is massive, it has those 7 zippers, but they must be closed when it is raining. They did not make any roof vent. There are no floor vents either. So this is not a great design if you happen to be in an area with many hours of rain. You will have to rely only on the window that is on the door because it is protected by the brim.
There is airflow under the fly from the ground, and this works, but without a roof vent, condensation can be a real issue with this tent.
---
Materials
The poles
You have already seen the poles, there are many 8 + 8 in total, and this is all strong steel. This makes the tent heavy but this is a great design. They attach to the tent at its 8 corners and higher you have clips plus an 8-way top hub element. One small brim pole is fiberglass.
The fabric
They claim the tent is 100 percent waterproof, well, from my experience there is no such thing yet. But the waterproof rating is indeed 2000 mm and you will never need more. This is a fire-retardant polyester plus a No-see-um mesh, and all seams are taped.
The floor looks great, this is a very waterproof polyethylene, a sort of plastic, thick and reliable, and it is with a bathtub design (see it in the picture below, this is the dark fabric that goes up from the ground), so you are safe from groundwater and splashes. The carry bag is polyester.
Other details
There are several mesh pockets on the walls.
An e-cable port is available, the picture below.
A lantern hanging loop is on the ceiling (you can see it in the pictures above).
Pegs and guylines are included.

---
Who is it for
Regarding the capacity, officially this is a 3-person tent and for this you have 64.6 ft² (6 m²). This is a generous space for 3 users. Note that the area mentioned on Amazon cannot be correct in view of the dimensions shown above.
Regarding climate & seasons, this tent comes with such a big fly and a very good waterproof rating. The poles are excellent, so you are protected no matter what weather conditions you can have. This is a reliable 3-season tent.
Regarding the weight, the tent is heavy with its 25.6 lb (11.6 kg). But the weight is justified, this is a very solid structure. The packed size is 25.6 x 7.87 x 7.87 inches (65 x 20 x 20 cm), so this is a tent for places with a motorized access.
Regarding the price, I would say this tent is a real bargain, totally worth the money.

---
Specifications
Official capacity: 3 people.
Weight: 25.6 lb (11.6 kg).
Dimensions: 9.61 x 8.86 ft (2.93 x 2.7 m).
Area: 64.6 ft² (6 m²).
Area per person: 21.5 ft² (2 m²).
Inner peak height: 57.87 in (1.47 m).
Packed size: 25.6 x 7.87 x 7.87 in (65 x 20 x 20 cm).
Frame: steel.
---
Final thoughts, rating, pros & cons
In the summary of this Coleman Tent OctaGo review, I wish to stress that this tent offers full protection no matter where you would use it. It looks cool with so many windows, it is strong and stable, and the price is also excellent.
But you have seen my comments about ventilation and condensation, bear this in mind when you decide.
Please see how I rate this tent against my standard set of criteria so you can easily compare it with some other tents here in the site. As you see it scores well.
Check under the category Tents for 3 people if you need more options. You might want to compare this tent with yet another from this brand, the Coleman 3-Person Connectable Tent that is also a cabin-style tent, but see also their Coleman Rock Springs 3 Person Tent built as a dome tent.
Bookmark this site and visit again, we add texts regularly and this will keep you informed. There is a subscription form below for our weekly newsletter, so subscribe and stay in touch. Thank you for reading and have a nice day.