---
The Zempire Aero TM PRO TC Tent is a polycotton construction with a breathable fabric, with many venting options, 2 rooms and a large porch, 3 doors, and much more.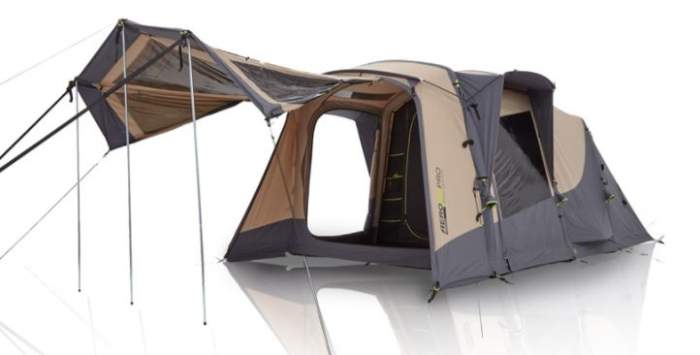 ---
Key features & benefits
Breathable polycotton fabric.
Dark rest bedroom.
Inflatable beams.
2 Rooms + porch.
Storage room.
PVC tinted windows.
Tinted skylight windows.
3 Doors.
Awning.
Incredible ventilation.
Very tall tent.
Multiple E-cable ports.
---
What this Zempire Aero TM PRO TC Tent is about
Here you have an incredibly functional tunnel-shaped structure with an inner tent that contains a bedroom and a storage area. It includes also a large living room (the gray area in the picture below), and a fully protected porch which is on the left in the picture. The storage room wall next to the bedroom can be unzipped to make the bedroom larger.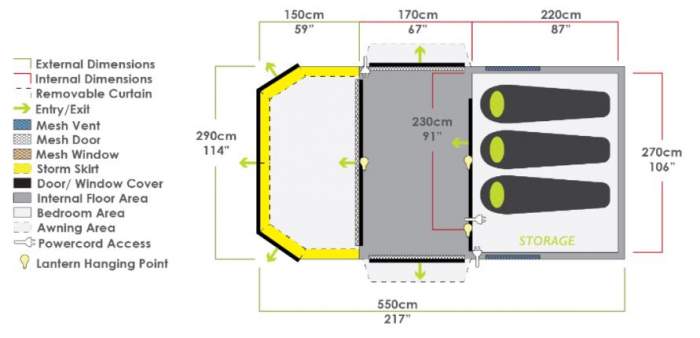 The porch is just a like a floorless room, fully protected and with great windows, so the tent is almost a 3-room structure.
How many doors?
So there are 3 doors in total, one on the front and two one sides, see the picture below, but you can open them in 5 ways. The positions of the doors is shown by those yellow arrows in the floor plan picture above.
The front door which you see in the picture below can be opened as a whole and you can create an awning with it, there are poles included for this purpose this is shown in the top picture above. But it can be opened also on the sides while the central flap remains in place.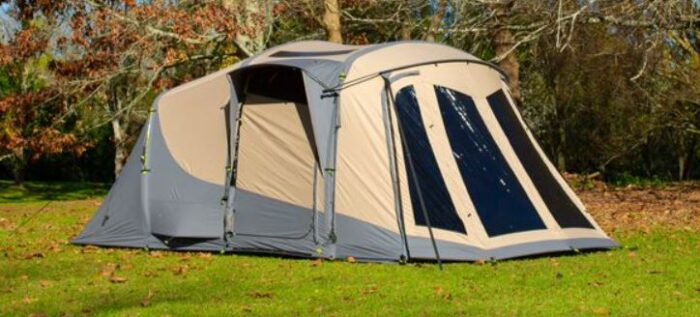 This main front opening is with an extra brow pole for support, you remove it when you create an awning. Observe the zippers on the sides, so you can use them and have two narrow front doors. The tinted dark windows here are solid.
Here are some more details with the awning and the positions of the solid windows and vents.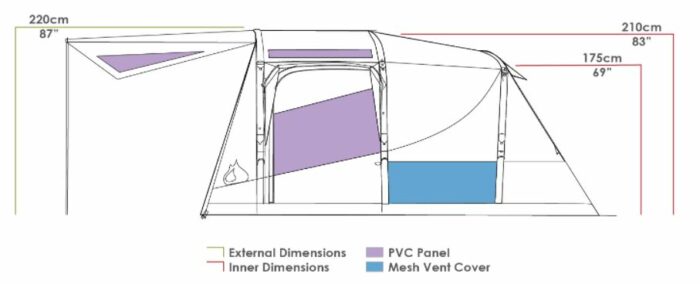 Below you can see through the tent, these side doors are both with small brims so you have a dry entry here.

Ventilation
This tent is built from a breathable material, but they have added numerous vents and mesh areas. There is a large flap on the rear side (the picture below) with a mesh window behind it. There are also low vents on the sides of the living room, plus the mesh on the inner doors.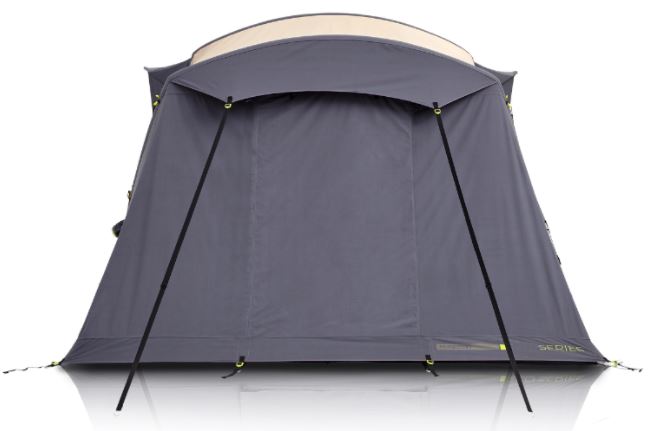 So regarding ventilation, there is nothing one could object here. This is very typical for the tents of this Zempire brand.
The materials
The shell is a 200 g/m² mix of 65/35 polyester and cotton, breathable, and torrential rain tested. The floor is a sewn-in 180 g/m² polyethylene with an official 6000 mm waterproof rating.
The support is with inflatable AirSystem tubes with external inflation points. You have several 7001 aluminum (11 and 7.9 mm) brim poles. The official pitching time is 10 – 20 minutes and one person can do the job easily. See how easy it is to raise this tent from the ground:
Other details
Pump features: double action, pressure release valve, twin hose adaptor.
Pegging: steel D ring peg points, adjustable door peg points.
Guy ropes: rear anchor fin, front anchor fin, aluminum tri sliders, reflective, safety bright glow.
Zippers: no jingle cord pullers, anti grit reversed, glow door pullers.
Storage: bedroom storage ladders, living area storage ladder, integrated storage cupboard.
Lantern rigging: living area, bedroom area.
Power cord access on the side.
Optional accessories: ground sheet protector, roof cover, carpet, supercell pump, hurricane pump.
Guarantee: 4-year PRO SERIES Guarantee.
---
Who is it for
Regarding the best use & climate, I would say this is a tent for all climates and seasons. The only limit I see for snow conditions, with inflatable beams it cannot withstand too much vertical pressure.
Regarding the size, you have around 122 ft² (11.3 m²) of the floored area in the living room and in the bedroom. The official capacity is 3 people, but this applies only on the bedroom. The living room is fully protected and it can easily accommodate 2 people more.
Note that you still have a large porch with full protection for your gear, the area there is around 40.4 ft² (3.75 m²).
Regarding the weight, the tent is very heavy with its 83.8 lb (38 kg). It is also bulky, the numbers are given below. But this is normal in view of its overall size and the materials used in the construction. This is a car camping tent and you are not supposed to carry it anywhere.
---
Specifications
Type: tunnel tent.
Official capacity: 3 people.
Weight: 83.8 lb (38 kg).
Dimensions (L x W): 217 x 114 in (550 x 290 cm).
Inner area: 122 ft² (11.3 m²).
Inner area per person: 41.7 ft² (3.87 m²).
Porch area: 40.4 ft² (3.75 m²).
Peak height: 86.6 in (220 cm).
Packed size: 33.5 x 20.5 x 20.5 in (85 x 52 x 52 cm).
---
Final thoughts & rating
So you have seen it, this Zempire Aero TM PRO TC Tent is built from the best materials and with an attention to details. It will protect you in any weather conditions and it is suitable for a year-round use.
You have an advanced beams technology, ventilation is the best you can have, the windows are tinted. The tent is tall and pleasant, the rooms are of a dark material so you can sleep longer in the morning, and your kids can take a nap during the day.
This all comes at a price of course. In any case, I have included it in my list of best 3 person tents for camping and best 3 person tunnel tents for camping. Fully recommended.
Below you can see how I rate it against my usual rating criteria so that you can easily compare it with other items of this type:
BEST PLACEs TO BUY
Camping World UK
Winfields Outdoors
Please check under the category Tents for 3 People if you need more options. Bookmark this site and come again, this will keep you informed because I add texts here regularly.
Let me know if you have questions or comments, there is a comment box below. Have a nice day.