---
This Therm-a-Rest Polar Ranger Minus 20 Degree Expedition Sleeping Bag comes with some unique features introduced for extreme weather conditions. Keep reading.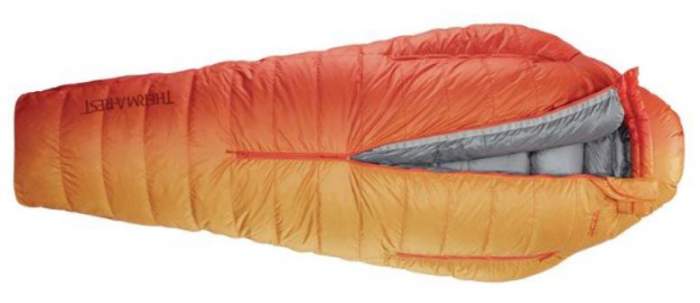 ---
Key features & benefits
Ultralight sleeping bag.
Two sizes.
Unique features.
Designed for extreme conditions.
Down & synthetic fil combination.
Foot warmer pocket.
Side vents.
SynergyLink Connectors.
---
A unique combination of features for extreme temperatures – are they all good?
Snorkel Hood
This is a structure introduced to control frost created by breath. As they claim it eliminates warmth-sapping cross drafts. The picture below shows how it looks when the bag is zipped up. They have introduced a synthetic fill here. This is a smart choice because this is the area with lots of vapor and having synthetic instead of down (even if treated) was logical. You will notice a drawcord here so you can reduce the gap and the heat loss.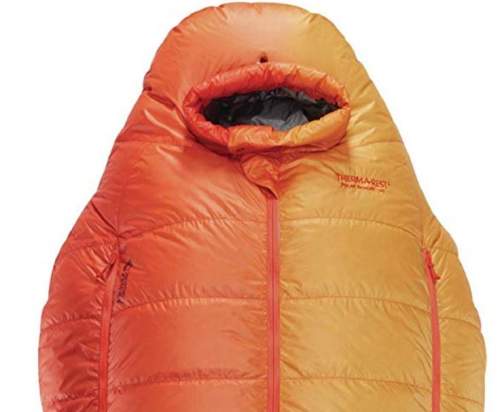 Overlapping Side Vents
This is something useful. You have zippered side vents visible in the picture above, that allow for arm use and customizable temperature control. So you can be in the tent sitting in the bag and still doing things you normally do with hands outside of the bag, preparing the food or anything similar, yet with the body fully protected. You have overlapping draft tubes to prevent cold spots when zippers are closed.
But those openings double as vents as well. This adds to the versatility of the bag, it can be used at a bit higher temperatures with such venting feature.
Toe-asis Foot Warmer Pocket
Essentially this is an additional insulated pocket within the foot box. So if you feel cold, you can keep feet inside such a smaller and more enclosed area. They have the same feature in their another Therm-a-Rest Oberon 0 Degree Sleeping Bag.
Top Zipper
This is something where I remain puzzled. The zipper is short and this is logical, to avoid heat loss. But it is on the top of the bag. Now, there are sleeping bags on the market where the zipper is moved as close to the ground as possible. See for example Marmot CWM -40 and also Marmot Teton sleeping bag. The logic of this is that warm air in the bag naturally goes to the upper area. So having the zipper close to the bottom should reduce heat loss, which is always there even with draft tubes in place.
This is why I do not understand why they introduced this top zipper in the Polar Ranger bag. I assume they had some good reasons for that, if anybody knows it would be great to hear, there is a comment box below.
Addition: There is a great comment by Nicholas below, most likely it explains the zipper design.
SynergyLink Connectors
These are straps under the bag introduced to keep the sleeping pad in place. So you will avoid to end up on the ground when/if you are moving a lot in the bag during the sleep.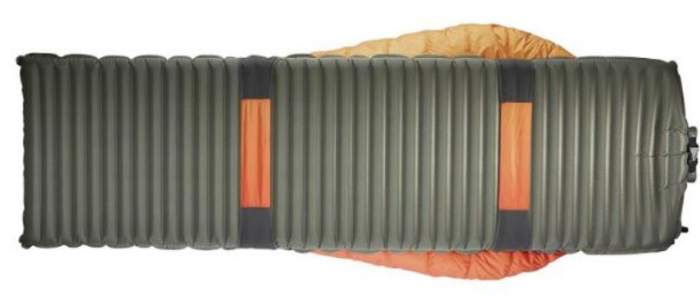 ---
Temperature rating – can you rely on it?
The official rating is as follows:
Recommended temperature comfort -4 F (-20 C).
Recommended temperature limit -20 F (-29 C).
This puts the bag in the range of a few others shown in the comparison table below, and according to this the bag is indeed for very low temperatures. So I have added it to my list of bags for extreme conditions. They have achieved this with all the features mentioned above, plus using a quality 800 fill goose Nikwax hydrophobic down which is also with the RDS certificate. They claim it dries three times faster than an untreated down, and it is also without dangerous PFCs.
You will see in the video below this is a bag designed and tested by Eric Larsen who is an Arctic explorer. But note that we are all built different and the feeling of cold is individual. So no matter what the rating is and what Eric Larsen is saying, it is essential that you test the bag before using it at such temperatures. Better this than finding yourself in a life-threating situation.
How about EN testing or/and ISO testing
I did not see any statement by the manufacturer about European Norm (EN) 13537 testing or International Organization for Standardization (ISO) 23537 testing. So I contacted them and got the reply which states that the new ISO standard testing protocol is applied to all their bags so they are indeed ISO tested.
This sounds good, yet even after knowing all this, it is still best that you try and test the bag yourself. After all, the limit temperature -20 F (-29 C) is not the most extreme you can have.
The same caution should be applied to any statements about the treated down. Down will work great in dry conditions and up to some point, but bear in mind that no treatment works forever. Also, our body releases vapor, and a lot of it, and down can get wet and this can make it useless. A synthetic should be more reliable, but this is usually a much heavier stuff.

---
More about features
Ultralight bag: They build it in two sizes, regular and long, you will see more in the specifications below. So for a bag with such a temperature rating, its 3 lb 4 oz (1.47 kg) for the size R is indeed what you can describe as an ultralight bag. This is why I have included it in my list of lightweight winter bags.
You will notice below that my rating for weight is a bit low, but this is because I use my absolute rating scale for the weight, for easy comparison with other bags, so focus on the comparison rather than on the exact rating value. It would be difficult to find a great rating formula for the weight that would give it relative to the temperature rating.
The fabric: You have a 20D polyester ripstop shell fabric with a DWR, and the lining is a 20D polyester taffeta. The bag is very compressible and the storage and compression sack are included.
The packed size: Note that the numbers for the packed size on Amazon are a mess, you have two different sets of numbers (16 x 9 and 16 x 6 inches for the size R). However, these numbers are different from those on the manufacturer's site where you have 20 x 11 inches (51 x 28 cm). The picture below which they give contradicts all these numbers.
Yet another puzzle with this bag is that the model shown in the video below with Larsen is not the one they actually sell. The bag in the video is without the top zipper. In any case, please see the video:
---
Specifications
Sizes: regular (R) & long (L).
Weight:
– R: 3 lb 4 oz (1.47 kg).
– L: 3 lb 7 oz (1.56 kg).
Fill weight:
– R: 2 lb 2 oz (0.97 kg).
– L: 2 lb 5 oz (1.05 kg).
Dimensions (L x W):
– R: 80 x 31 in (203 x 79 cm).
– L: 85 x 32.5 in (216 x 83 cm).
Fits:
– R: 72 in (183 cm).
– L: 78 in (198 cm).
Girth (shoulder/hip/foot):
– R: 62/57/46 in (157/145/117 cm).
– L: 65/58/51 in (165/147/130 cm).
Packed size (L x D): 20 x 11 in (51 x 28 cm) – this is from the manufacturer's site.
Temperature rating:
– Comfort: -4 F (-20 C).
– Limit: -20 F (-29 C).
---
Therm-a-Rest Polar Ranger Minus 20 Degree Bag vs Marmot Col -20 & Nemo Sonic -20 Bags
You might want to see this Polar Ranger bag side by side with some other bag with the same temperature rating. This will help in making an informed choice. The Marmot Col -20 bag is the only here with a waterproof shell, but it is more expensive. The Nemo Sonic -20 bag is with the same fill and shell denier, and it is close in price as well.
Therm-a-Rest Polar Ranger -20
---
Final thoughts, rating, pros & cons
In summary, this Therm-a-Rest Polar Ranger Minus 20 Degree Expedition Sleeping Bag is indeed nicely built and with some specific features needed for cold weather. The price looks steep but you have seen the comparison table above, such prices are normal for bags designed for extreme conditions. Fully recommended.
Please see how I rate this bag:
Please visit my page with sleeping bags if you need more options. A bag is almost useless without a corresponding sleeping pad. For such temperatures, you will need a pad with the R-value 7 or higher. You will see some of that type in my page with sleeping pads.
Thank you for reading. Note that this is not a sponsored text, and I am not paid by the brand. Please use the comment box below in case of questions or comments. Have a nice day.