---
If you plan to venture outdoors in the depth of winter, this Marmot CWM -40 Degree Sleeping Bag is an item you will definitely need. This is a backpack-portable bag for extreme conditions.
---
Key features & benefits
EN tested.
Designed for extremely low temperatures.
Top-quality down fill.
Lightweight.
Backpack-portable.
Waterproof.
---
Where to buy
This Marmot CWM sleeping bag is available on Amazon. I have seen it on several of their global stores. So follow the link and check shipping conditions for your location.
---
What type of sleeping bags is this
Here you have a sleeping bag designed for extreme temperature conditions when you have to rely on your equipment and on your sleeping bag in particular. It is interesting that the letters 'cwm' in the name mean valley or cirque in Welsh.
They have introduced a number of features aimed at its thermal efficiency and for protection in extremely cold conditions, so let's see what this bag offers.
Temperature rating
The official temperature rating is -40 F (-40 C), and they claim it is EN-tested, see the picture below. But before you get too excited about this, note that such testing implies some "standard" man and woman. So for men, this means 25 years old, 1.73 m tall, and weighing 73 kg (160 lb).
Even if those are your own parameters, the feeling of cold is very personal. Therefore do not take anything for granted, try it and only then you will know for sure.
Such a temperature corresponds to the R-value of around 9 or so. This is important to know because you have to match it with a corresponding sleeping pad, so go for this R-value or higher. Check my page with sleeping pads and you will find some great options.

Such a rating is due to several factors, so here they are:
The shape: The bag is a narrow cut mummy-style shape. This is the most efficient way of preserving the warmth but this is not the most comfortable if you feel claustrophobic in a bag as I do.
The fil: The bag comes with a lofty Responsible Down Standard-certified 800-plus fill power goose down for maximum warmth and compressibility.
Waterproof and breathable shell: You have their PertexShield 30D 100% nylon 2 layer 2.3 oz/yd.
Warm hood: Here you have a 6-baffle construction here, see the picture.

Very warm hood construction.

Stretchy cross-baffle construction: As you realize from the pictures, they change their direction twice on the length of the bag. This prevents movement of the down inside the baffles and eliminates cold spots.
Side seams are moved to ground level: This is because warm air inside the baffles tends to go up, and it could escape through stitching and seams.
11-Baffle and wrap-around foot box for increased warmth.
Draft-preventing features: There is a huge down-filled collar around the neck, see the picture, with a snap button closure and a cinch cord. You will need them in extreme conditions.

Down-filled draft-preventing tubes.
Other features:
There is a hidden zippered mesh pocket to keep personal stuff close at hand, see the picture below.
It comes with a stuff sack and a storage sack.
Hang loops are on the foot box.
The lining is Pertex Microlight 30D 100% ripstop nylon 1.3 oz/yd.
Reinforced foot box lining.
Zipper position left or right, you can choose.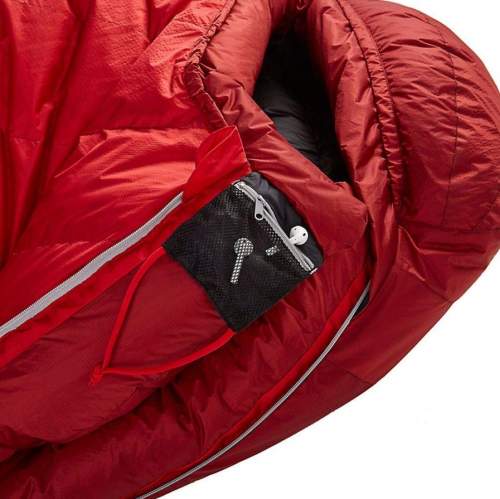 ---
Who is it for
Size-wise, they build it in two sizes regular (R) and long (L), see the numbers below. This allows you to be economical with weight and choose the proper size for you.
Seasons-wise, in view of its temperature rating, this is a cold-weather or winter sleeping bag. This makes it suitable for high-altitude mountaineering, winter camping, for explorers, hunters, backpackers, etc.
Weight-wise, with its 4 lb 9 oz (2066 g) of weight for the R size, this sleeping bag may look heavy. But the comparison table below will show you that for such a temperature rating, it is far more thermally efficient than some other cold-weather bags that are considered lightweight. So I have included it in my list of best lightweight winter sleeping bags.
The same holds for its packed size which is 19 x 9.5 inches (48 x 24 cm); it is bulky but this is still a backpack-portable sleeping bag.
---
Specifications
Sizes: R & L.
Temperature rating: -40 F (-40 C).
Weight:
– R: 4 lb 9 oz (2066 g)
– L: 5 lb (2268 g).
Packed volume:
– R: 1208 in³ (19.8 liters).
– L: 1288 in³ (21.1 liters).
Packed dimensions:

19 x 9.5 in (48 x 24 cm

).
Length fit:
– R: 6 ft (183 cm).
– L: 6 ft 6 in (198 cm).
---
Marmot CWM -40 vs Nemo Sonic -20
Although this comparison might look like comparing apples and oranges, I thought it could be useful for the following reasons. If you do not need a bag for such extremes, then perhaps you can shed the weight by using the Nemo Sonic -20. The weight difference is half a kilogram while the temperature difference is 11 degrees C. On the other hand, look at the numbers from the following perspective:
In the case of Marmot CWM -40, you have 19.4 negative degrees F per kilogram of the weight of the bag.
In the case of Nemo Sonic -20, this value is 12.6 negative degrees F per kg of the weight of the bag.
So although Marmot's bag is heavier in the absolute sense, its thermal efficiency is far better. Anyway, see the parameters:
---
Final thoughts, rating, pros & cons
As you realize, this Marmot CWM -40 Degree Sleeping Bag is at the top in this industry. You will not find many bags on the market that can match its features and performance. But this comes at a price. In any case, I have added it to my list of best extreme cold sleeping bags.
As of the moment of writing this text, this Marmot CWM -40 bag has received a few reports by Amazon customers and the average rating is exceptionally high. Please see how I rate this sleeping bag. I use the same criteria for all the bags here in the site so you can easily compare for various parameters.
So if you are on a budget, and in particular if you need a sleeping bag for car camping, check this Browning Camping McKinley -30 Degree Sleeping Bag which is more than twice heavier.
If you need more options to compare, just visit my page with sleeping bags, you have top-notch items there presented in detail. Check their Col -20 Sleeping Bag which is also a waterproof construction.
Note that this is not a sponsored text, and I am not paid by the brand. Please use the comment box below in case of questions or comments.