---
This Browning Camping McKinley -30 Degree Sleeping Bag is a very reliable and durable cold-weather camping item and a great value/price combination. Keep reading.
---
Key features & benefits
Designed for extreme conditions.
Synthetic insulation.
Rectangular design.
Hooded bag.
Very durable fabric.
Incredible value/price combination.
---
Where to buy
This sleeping bag is available on Amazon. They operate globally so please follow the link and check shipping conditions for your location.
---
So what this is about
Here you have a rectangular hooded sleeping bag with a 2-layer offset construction to eliminate cold spots. The hood is contoured and it helps to keep you warmer. You have a 210T nylon diamond ripstop outer fabric and a brushed polyester liner. Note that the liner is not removable.
The zippers are #10, see the picture below, very strong and durable. The bag is not designed to be zipped together with another bag of the same type. There is also a small zippered pocket under the chest for small items and valuables, see the picture. They recommend using a mild soap when you wash it, but you will need a very large washing machine. No dry cleaning.
Temperature rating
The bag is rated -30 F (-34 C) by the manufacturer. It is not EN rated but even if it is, the feeling of cold is personal and it depends on the person's age, gender, health conditions, and many other factors. In terms of the R-value, this is in the range of 7 – 8. This is essential to know because you have to pair it with an appropriate sleeping pad. Note that sleeping on a camping cot you will feel warmer and you will need less insulation.
I do not think many people would really use it at such low temperatures. Such rectangular bags have inferior temperature efficiency as compared to mummy sleeping bags, but they offer far more comfort. In any case, this is a true winter sleeping bag.
The insulation here is synthetic and this is Techloft Insulation. They describe it as an ultra-lightweight insulation (but see the weight of the bag) that has a tremendous weight-to warmth ratio. Note that you have no less than 160 oz (4.54 kg) of the insulation material alone in this bag.
I could not find more info about the material, it seems it is used only by the Alps Brands to which Browning belongs. So this is a micro-denier fiber material that has a siliconized finish for maximum insulation, loft, and compactness. Baffles are in place to prevent cold drafts along the zippers and around the chest, see the picture.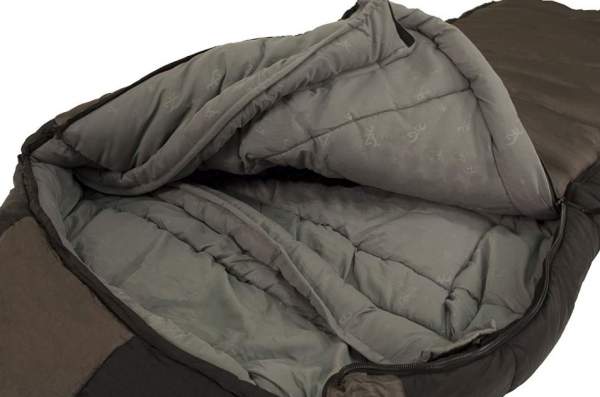 ---
Who is it for
Weight-wise, with its 12 lb 12 oz (5.78 kg) this is for any outdoor activity where you are not supposed to carry it yourself. So this is a sleeping bag for basecamps, for hunters, workers, explorers, etc.

The packed size 27 x 17 inches (68 x 43 cm) is such that it will take quite some space in the car trunk. Note that they include a compression stuff sack and roll-up straps.
Size-wise, they build it in one size only so you have 90 x 36 inches (229 x 91 cm) and this is a unisex model. This length looks suitable even for very tall users, but note that this includes the hood, so the part main part is 76 inches (193 cm).
Seasons-wise, in view of the mentioned temperature rating, this is a sleeping bag for a cold climate.
---
Specifications
Weight: 12 lb 12 oz (5.78 kg).
Fill weight: 160 oz (4.54 kg).
Dimensions: 90 x 36 in (229 x 91 cm).
Packed size: 27 x 17 in (68 x 43 cm).
Temperature rating: -30 F (-34 C).
---
Browning Camping McKinley -30 Degree vs Teton Sports Celsius -25 Degree vs Nemo Sonic -20 Degree
I have decided to show you this McKinley sleeping bag side by side with the Teton Sports Celsius which is similar in style and features. So this is again a bulky and heavy item.
But I thought you might also want to see how these two compare with a cold-weather sleeping bag that can indeed be carried on the trail. So I have added the Nemo Sonic -20 Degree bag. I do not think this is a competitor to the other two bags, they are totally different in many ways. This is more a demonstration of technology and design differences and the consequences.
As you realize, the differences in weight and packed size are drastic. This is mainly due to the difference in the insulation material, and also due to the design.
---
Final thoughts & rating
So to summarize this Browning Camping McKinley -30 Degree Sleeping Bag review by stressing again that this is a very reliable and durable construction for extreme conditions. The bag is heavy and bulky, but this is a camping item and not designed to be carried anywhere. The price is simply a bargain. Whether or not it is really for such low temperatures is hard to discuss here, you have to test it and only then you will know. I have added it to my list of best extreme cold sleeping bags.
Note that even with bags that come with EN testing certificates this is always about some "average" person, male or female. This implies a certain age (27 years to be precise) and body weight (73 kg). Well, we are all different and averaging will not help when you find yourself in a cold camping place. More about this you can find in my text about sleeping bags temperature rating.
This McKinley -30 degree sleeping bag has been on the market for years already and it has collected many reviews. So on Amazon alone, you have them more than one hundred and the average rating is incredibly high. Please see how I rate it:
If you need more options, please visit my page with sleeping bags, you will find top-notch items there with the best-known brands. Note that they also have their Denali -30 Bag for extreme conditions. Check this Marmot CWM -40 Degree Sleeping Bag if you need something much lighter and backpack-portable.
Note that this is not a sponsored text, and I am not paid by the brand. Please use the comment box below in case of questions or comments. Have a nice day.