---
This Browning Camping Denali -30 Degree Mummy Sleeping Bag is a new version of the car camping bag that has been on the market for years, designed for extreme conditions. It comes with a price tag that is hard to match.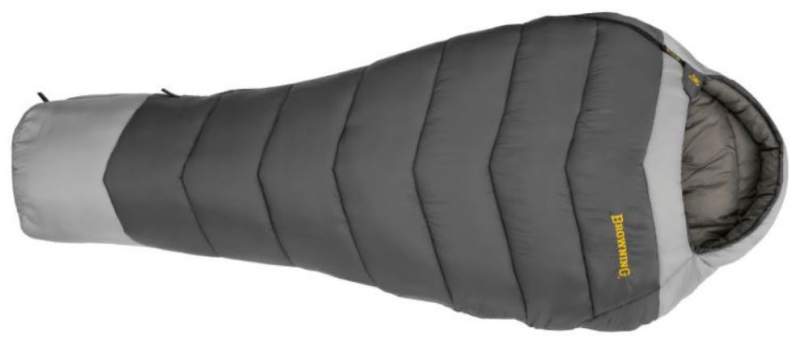 ---
Key features & benefits
Bag for extreme conditions.
Two temperature versions.
Synthetic insulation.
Great price.
---
What type of sleeping bag is this
So this is a new version, and as of the moment of writing this text, both of them are on the market. You will notice that the colors are different and also baffles patterns. This new version is with V-shaped baffles while the previous version is with horizontal baffles.
As you realize from the picture above, this is a very typical mummy-cut design with an exceptionally narrow foot box and a very wide shoulder area where you have 38 inches (97 cm) width.
Temperature rating & insulation
The mentioned mummy cut is for thermal efficiency, and this is further helped with the narrow hood which you see in the pictures. Note that there are two bags here, one with -30 F (-34 C) rating and the other one with 0 F (-18 C) rating. It is always good to have such options because there are differences in weight which is more than one kilogram, and in price; so you can choose what suits you best. Perhaps you do not need a bag for extremes and this zero-temperature variant may be enough for you.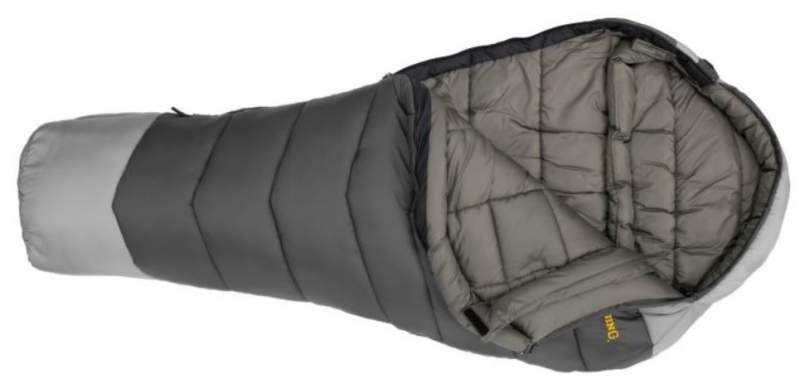 When you use such a bag in a cold environment, it is essential to have a sleeping pad that would match the temperature rating of the bag. So -30 F is roughly equivalent to the R-value in the range 7-8, and this is the value to go for, or higher.
But note that the mentioned temperature rating is from the manufacturer, they do not provide EN rating. So it is always best to test the bag in controlled conditions before you subject yourself to such extremely low temperatures far from home.
The insulation is synthetic TechLoft Silver insulation which this brand uses in their cold-weather sleeping bags. They describe it as consisting of "multiple denier staple-length fibers that have a siliconized finish for maximum insulation, loft, and compactness". You have it 122 oz (3.46 kg), so this means that 80% of the total bag's weight is from the insulation.
Other features
The picture above shows the insulated chest and zipper anti-draft baffles to ensure heat retention.
The shell fabric is a 210T nylon diamond ripstop, and the liner is a 210T polyester. So this is the same material used in their McKinley -30 bag which you will see in the comparison table below.
They use #10 strong zipper.

---
Who is it for
Regarding the weight and the packed size, with its 9 lb 9 oz (4.3 kg) of weight and the packed size (L x D) 24 x 15 inches (61 x 38 cm), this is not a bag to carry on the trail. It is best suited for hunters and for people who would use it as a base camp bag at places with a car access.
Size-wise, they build it in one size only and there is no option to choose the length. So the dimensions (see the specifications below) are such that it should be suitable even for very tall people.
Seasons-wise & climate-wise, you have seen its temperature rating, so clearly this is a sleeping bag for cold weather camping.
---
Specifications
Denali 0 F
Bag weight: 6 lb 15 oz (3.1 kg).
Dimensions: 86 x 38 in (218 x 97 cm).
Fill weight: 80 oz (2.27 kg).
Packed size: 24 x 14 in (61 x 36 cm).
Temperature rating: 0 F (-18 C).
Denali -30 F
Bag weight: 9 lb 9 oz (4.3 kg).
Dimensions: 86 x 38 in (218 x 97 cm).
Fill weight: 122 oz (3.46 kg).
Packed size: 24 x 15 in (61 x 38 cm).
Temperature rating: -30 F (-34 C).
---
Browning Camping Denali -30 vs Browning Camping McKinley -30 vs Teton Sports Celsius -25
I have decided to show you this Denali bag side by side with two others with similar insulation and weight range, but built differently. This might help in making an informed decision. As you see its packed size and weight is well below the McKinley bag from the same brand, and this is only due to such minimal mummy cut shape in the Denali bag.
But the Teton Sports Celsius -25 bag's weight is the same although this is a rectangular bag that offers more comfort. It also packs much better. But there is some small difference in the temperature range.
---
Final thoughts, rating, pros & cons
In conclusion, this Browning Camping Denali -30 Degree Mummy Sleeping Bag is an incredible value/money combination. This is an item from a renown brand, strongly built, durable, and reliable. But see also its weight and packed size, so do not plan to carry it anywhere. I have added it to my list of best extreme cold sleeping bags. Fully recommended.
Please see how I rate this Denali -30 F sleeping bag against my standard set of criteria. This will allow you to compare it with its competitors presented here in the site.
BEST PLACEs TO BUY regarding shipping and price:
If you need more options, in particular lightweight bags to carry on the trail, please visit my page with sleeping bags.
Note that this is not a sponsored text, and I am not paid by the brand. Please use the comment box below in case of questions or comments.