---
This Teton Sports Celsius Regular Sleeping Bag review is about a camping bag that has been on the market for many years now. This is a very comfortable and pleasant item and with a great price tag. In view of all its features and the price tag, its popularity is not a surprise. The bag is a part of a huge series so you can choose any size you need.
---
Key features & benefits
Very comfortable and pleasant materials.
Right and left zippers design, for zipping 2 bags together.
Truly great price.
Two separate insulation layers and with offset stitching.
Full-length zipper baffle.
Shoulder baffle.
Two-way zipper.
---
Where to buy
---
Description
The focus here is on the bag under the name Teton Sports Celsius Regular -18C/0F Sleeping Bag, and from this name, you realize its temperature rating. But they have them in several temperature ratings and you will see more below. This is a rectangular type, regular as the name says, with dimensions 80 x 33 inches (203 x 84 cm).
Materials and construction
Everything in this bag looks durable and pleasant. This is a double layer structure. So the external layer is a durable taffeta shell. Beneath this external insulation layer, you have yet another internal layer, and equally important, you have offset stitching in the two layers. This means that there cannot be seeping of cold air through the layers, and potentially cold spots are eliminated. This is really smart and effective.
The inner layer is with a very cozy flannel lining, no unpleasant and noisy synthetic. And here you also have a fully adjustable shoulder baffle equipped with a Velcro closure. The role of the baffle is to protect you from cold air getting into the bag from the top opening. In addition to this, you also have a full-length zipper baffle. Its role is the same, to protect you from the cold air inflow through the zipper. Very smart again; you can see both baffles in the picture below.
On the top, you have a fully adjustable hood, see the picture below. You can cinch it around your head for extra protection. There is a cinch cord with a toggle on the side.
Pocket
Yes, you are reading correctly, you have a nicely designed pocket with the Velcro closure. It is located close to the zipper on the cover part of the bag, see it in the picture above.
Zipper
The Celsius Regular bag comes with a two-way zipper that is located either on the right or on the left side. The purpose of this design is to connect two bags if you want to do so. No doubt, a great option for couples. You have again the Velcro closure on the top, which locks the zipper in place.
Such a two-way pull is convenient because it allows for ventilation in the bottom area near the foot, if you need it.
In the video below you will see how to zip two bags together, please have a look:
Packed bag
The packed size of this bag is 15 x 10 inches (38 x 25 cm), so it is rather bulky but the stuff suck is with cinch straps and nicely built, see the picture. Though it may be a bit tricky to get the bag in its suck and I have seen many people complaining about it.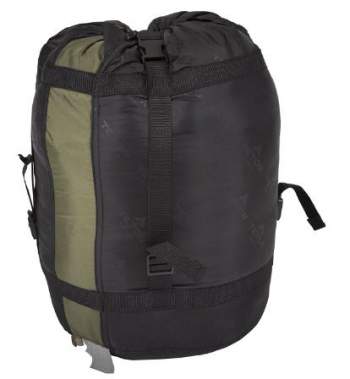 ---
One thing to bear in mind
Here is something you might want to know. In their site, they write the following: "A portion of every Celsius Regular -18°C/0°F Sleeping Bag for women purchased helps the fight against breast cancer." Being a father of two daughters, I could not miss noticing this.

---
Specifications & summary of features
Weight: 5 lbs (2.27 kg).
Purpose: multi-season use in rugged conditions.
Size: 80 x 33 in (203 x 84 cm).
Packed size (L x D): 15 x 10 in (38 x 25 cm).
Temperature rating: -18°C/0°F.
Materials:
– Shell taffeta.
– Liner: 100% brushed poly flannel.
– Fill: SuperLoft Elite 4-Channel Hollow Fiber.
Zipper: left or right.
Storage: Oxford stuff sack with drawstring closure.
Colors: two.
Half-circle mummy style hood with drawstring.
Sturdy taffeta shell.
Full-length zipper baffle.
Right and left zippered bags zip together.
Double-layer construction for the entire width and length of the bag.
---
Who is it for
In view of its weight, this is a car camping bag, suitable for any outdoor activity. Its price of $52 at the moment of writing this text is hard to match, and such a price tag is not on the account of the quality. This is a great bag and a great value for the money. It has a few very useful features which you will not find in many expensive sleeping bags.
Because of its pleasant flannel inner layer, one feels great sleeping in it with few clothing items on. As for the declared temperature rating -18C/0F, you should know that, as a rule, this implies the extreme values for a bag and not the optimal values.
So, I think I would not go to such extremes with this bag. Roughly speaking, this is a great bag above freezing temperatures. But you might want to compare this bag with yet another from the same brand, and with the same temperature rating, the TETON Sports Polara 3-in-1 Sleeping Bag.
From all this, you realize who it is not for; it is heavy and definitely not a backpacking item.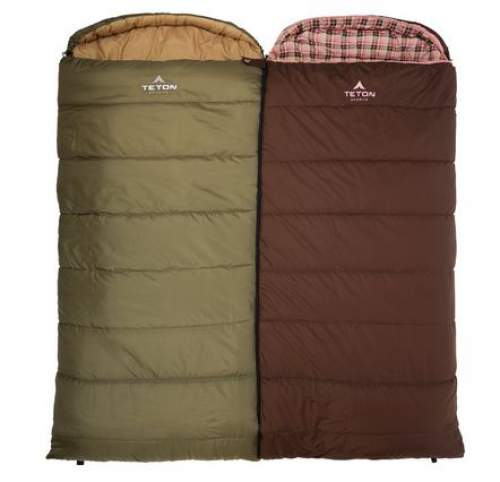 ---
About sleeping bags for men and women
In the case you did not know, some brands have sleeping bags designed separately for men and women. This is about differences in the shape, size, and insulation. A bit more about this issue you can find in my another text.
In the case of this particular bag, you also have zippers on different sides for men and women, so that the bags can be zipped together. I would say this is smart indeed.
---
Teton Sports Celsius sleeping bags series
The Celsius series includes several sleeping bags:
| | | |
| --- | --- | --- |
| | Weight, lb (kg) | Size, in (cm) |
| Celsius Unior -7C/+20F | 2.65 (1.2) | 66 x 26 (168 x 66) |
| Celsius Regular -18C/0F | 5.0 (2.27) | 80 x 33 (203 x 84) |
| Celsius XL -7C/+20F | 5.5 (2.49) | 90 x 36 (229 x 91) |
| Celsius XL -18C/0F | 6.5 (2.95) | 90 x 36 (229 x 91) |
| Celsius XL -32C/-25F | 9.5 (4.31) | 90 x 36 (229 x 91) |
| Celsius XXL -18C/0F | 7.0 (3.18) | 90 x 39 (229 x 99) |
| Celsius XL Hybrid -18C/0F | 6.7 (3.04) | 90 x 36 (229 x 91) |
This looks like a variety of bags, but observe also that within those listed above you still have models for men and women, so the list is effectively longer. Please see some of them in the links below.
---
In the case you are claustrophobic
If you are not, then this is not for you. But I am a bit, and every sleeping bag is somehow too small for me, in spite of my short body length. So when it is possible, I love to use a double sleeping bag as a solo tool. This is definitely not an option on extended tours, but in any case, check my text with several really great double sleeping bags. You will notice, they can be really lightweight.
Yet another great option is a completely new concept introduced by the Sierra Designs, and this is their innovative Backcountry Quilt.
---
Summary, rating, pros & cons
So to conclude this Teton Sports Celsius Regular Sleeping Bag review, what you have here is a heavy-duty tool, in a true meaning of this phrase. It is indeed heavy, but this bag has its clear purpose as an exceptionally comfortable and protective camping tool. I can fully recommend it.
I put "heavy" in the Cons. Clearly, this is not a backpacking item, so if you accept this as a fact, then the weight is not an issue. What sells this bag is its comfort and the price. In other words, this is a camping tool, not something to carry long distances in the pack. So, as such a camping piece, it can nicely be combined with some other Teton Sports camping items like this great combination known under the name the Outfitter XXL Quick tent and cot.
One thing I would really love to have is an extra zipper on the bottom. As it is now, you cannot open it completely and use as an ordinary blanket. Really pity.
But you could use it in a manner similar to the Sierra Designs Backcountry Quilt. This is how I use some of my bags with the same side-zipper design (I feel claustrophobic in sleeping bags, and I sleep on my belly). So I just open it and keep feet in the bottom closed section.
Perhaps this is how Sierra Designs people came to the idea about their famous Quilt concept, just a thought. Though in the present case, the hood comes over your head and this is annoying. Trust me on that, I have been using my bag in the described manner.
You will notice well over 1000 reviews on Amazon alone. The bag is very popular, and it has been on the market for a number of years already. The average rating by Amazon customers is exceptionally high. There are complaints as always, but my feeling is that comments for various versions/sizes are mixed. See my own rating below.
If you need a different size, you have seen various options in the table above. The links below show the prices of some of them. Thank you for reading. Let me know what you think, there is a comment box below. I wish you a pleasant day.