---
This Sierra Designs Backcountry Quilt review is about yet another series of sleeping bags that are 'designed to shake things up' as they write in the Sierra Design site. After the backcountry bed series, you will see some quite new features in the Quilt series. I shall present the features of this completely new design by using a couple of specific examples from the series, one with down fill and another with synthetic.
Sierra Designs Backcountry Quilt 800F 2 Season
Description
The number 800 in the name of this item refers to the compressibility of the down used as the fill of this sleeping bag. This terminology has been explained in a bit more detail in my another post.
As you see in the name, this is a sleeping tool for 2 seasons, so it is not for extremely low temperatures, though the lower limit of 28 F (-2 C) does not look bad at all to me. But in the same time, it is designed to provide much more comfort than any other traditional sleeping bag.
This is truly different from anything you have seen so far in sleeping bags designs. It is also very lightweight (only 0.68 kg).
In this particular case, we have duck DryDown fill with all the advantages that come with this technology. You may see some of it in the second video below. So this is a treated down, with each individual plume treated on the molecular level with a water-resistant coating, with the following effects:
It stays drier 7 to 10 times longer than an untreated down.
It is warmer because it retains its loft 2.7 times longer than an untreated down.
When it becomes wet, it dries out 33% faster than an untreated down.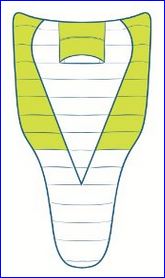 I am not sure if one should use the term 'bag' for this tool because it has no zippers and it is open, and it tappers only in the foot zone where you have a footbag. It becomes wide in the upper area and it has hand pockets in the two corners, as you can see in the picture.
These pockets are full-length and they provide insulation for your arms, and they allow you to maneuver the sides into a sealed tuck when you are cold, or to open it up when it is warm enough.
On the top, you have a tuck-away hood which you will use if it is particularly cold. In the first video below you will see how to use this unique product.
The bag comes with its stuff sack which you will use when you are outdoor, and a mesh storage sack to use when you are at home.
800F 2 season bag: technical specifications & features
Weight: 1 lbs 8 oz (0.68 kg).
Length: 78 in (198 cm).
Width:
Shoulder: 56 in (142 cm).
Hip: 45 in (114 cm).
Foot: 40 in (102 cm).
EN Comfort Limit: 38 F (3 C).
EN Lower Limit: 28 F (-2 C).
Fit up to 6 ft 4 in (193 cm).
Stuff Sack: length 14 in (36 cm), width 7 in (18 cm).
Material:
Shell: 20D nylon ripstop
Liner: 20D nylon taffeta
Insulation: 800 fill duck DriDown.

---
Sierra Designs Backcountry Quilt SYN 1.5 Season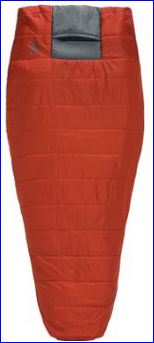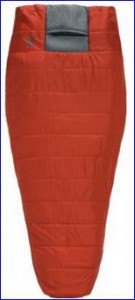 This is a less expensive version with synthetic fill, 1.5-season. There are no differences in design whatsoever. All the difference comes mainly from the fill. About the synthetic fill, I have said a few words in the post about Backcountry Bed series.
Specifications
Weight: 1 lbs 12 oz (0.79 kg).
EN comfort limit: 49 F (10 C).
EN lower limit: 42 F (5 C).
Fits to: 6 ft 4 in (193 cm).
Stuff size:  7 x 15 in (17.8 x 38.1 cm).
Material:
Shell: 30D polyester ripstop.
Liner: 30D polyester taffeta.
Insulation: poly-fiber synthetic.

Please see this short video from Sierra Design where most important features of the Quilt series are presented:
Here is a video about Sierra Designs DryDown technology:
Summary
It was indeed a great pleasure for me to write this Sierra Designs Backcountry Quilt review, because this is such a unique design, one that I find particularly comfortable for myself. I always feel claustrophobic in any sleeping bag, but this one is completely different.
Thank you for reading and please do leave me some comment in the box below. Have a nice day.