---
The TETON Sports Polara 3-in-1 Sleeping Bag is a modular and incredibly versatile 4-season set of 2 bags that can be used in multiple configurations.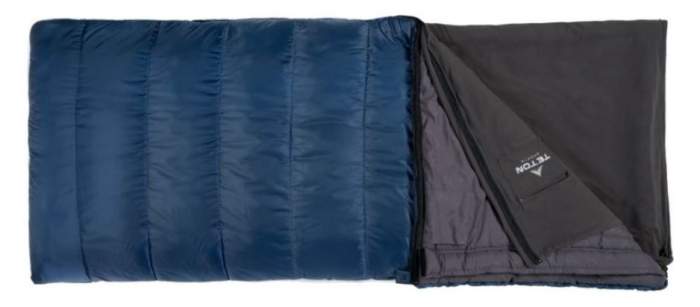 ---
Key features & benefits
Two bags in one.
Modular design with multiple configurations; 10-in-1 sleeping system.
Great temperature rating.
Great price.
---
What this is about
I would start with the 3-in-1 mentioned in the official name of this Polara bag. This should describe possible options that you have with this product, but there is far more than 3 in 1 here. See what you have:
This is a set of 2 sleeping bags. One is an external thick shell and one is a fleece inner bag.
You can use them both together, but you can also use them separately. This is the meaning of the phrase 3 in 1.
But, you can also remove the inner fleece bag and open it and use it as a thin blanket.
You can also fully open the shell bag and use it as a thick blanket.
You can use them both open as two blankets one upon another. So far, this is already 6 in 1.
But there is more. Note that the inner fleece bag is attached with Velcro loops to the shell bag. So you can sleep within the shell bag while keeping the fleece bag above you or under you. This would be 8 in 1 so far.
You can also sleep in one bag while keeping the other underneath you for an extra cushion. So as you realize, here you have a 10-in-1 sleeping system.
How it is built
The shell bag: This is a rectangular sleeping bag and it is hoodless as you realize from the pictures. You have a tough and durable exterior taffeta shell bag with its own reasonably soft inner lining which is a 100% Brushed Poly Flannel.
The shell bag insulation is synthetic, this is their SuperLoft Elite Hollow Fiber shown in the picture below. The overall construction is such that the bag will last for years of use and abuse.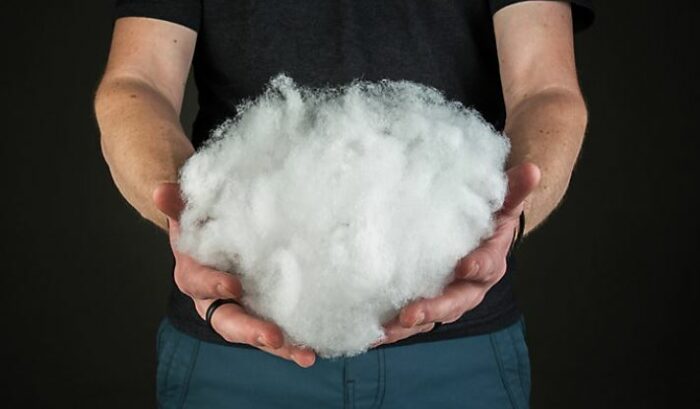 The shell bag is with an external L-shaped full-length zipper. You can open it and this will make it easier to attach or to detach the inner fleece bag. The shell is with inner loops, and you have the corresponding Velcro tabs on the outer area of the fleece bag.
The inner fleece bag: You also have an incredibly pleasant inner PolarLite Fleece bag shown below. It is with a zipper that zips it to the shell bag. This same zipper you use to close the bag when you use it separately as a rectangular sleeping bag.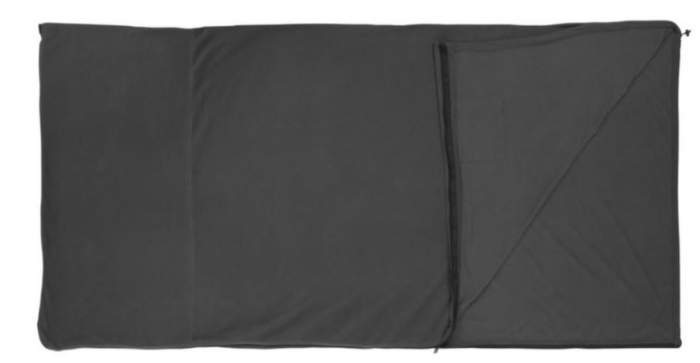 You also have other points of attachment to keep it in place when you turn around, see the picture below. When you detach the inner fleece, you can use it as a blanket when sitting in the camp. 
As you know, fleece is a very warm material in general because of the way it is built, it traps lots of air within its fibers. But due to this same feature, it is not so accommodating because it tends to grab onto your clothing. So if you normally feel claustrophobic and constricted in a sleeping bag, this feeling will only be increased in this bag.
In the video below you will see also about pockets that you have (one shown below), one in the inner bag and one in the shell bag.
Temperature rating
Layering is always a great system to protect you from the cold. This holds for clothing and also for such sleeping bags. They claim that this bag will work well in the temperature range from +60 ˚F (15 ˚C) to -10 ˚F (-23 ˚C).
My guess is this applies to the cases when it is used with the shell bag. I see no reasons why its inner fleece bags should not be used even when it is warmer, for summer camping for example.
The picture below shows what they officially provide for the lowest temperatures, no doubt this is for the case when you use both bags together.

Washing
You would not want to make this bag dirty. According to instructions, this all must be hand washed and after that, you are supposed to place it flat to dry naturally. But the inner fleece bag looks like a material that can be machine-washed.
---
Who is this TETON Sports Polara 3-in-1 Sleeping Bag for 
Regarding seasons & climate, no doubt this is a versatile system that can be used in any weather conditions from warm summer camping to harsh winter adventures. For summer camping you can use the fleece bag only and the shell bag put underneath you, or just leave it at home.
Note that the shell bag has a draft tube that runs parallel to the zipper, plus an adjustable shoulder baffle. So this is all to increase its thermal efficiency. But a hood is missing, it would make this bag simply perfect.
Regarding the size, the bag measures 82 x 36 inches (208 x 91 cm). This should be fine for most potential users except for very tall people. Note that the inner fleece bag makes it feel narrower than it is.
Regarding the weight & packed size, the bag weighs 6.5 lb (2.95 kg) and it reduces to (L x D) 17.5 x 12 inches (44 x 30 cm) when packed. In view of the fact that you have two bags here, the packed size is really good. 
Note that the included oxford stuff sack with drawstring closure has compression straps, see the picture below. All in all, this is not to be carried long distances in the pack, but you can definitely transport it even on a bicycle.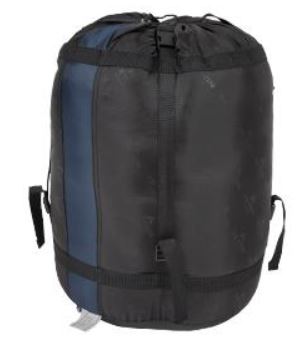 Regarding the price, it is simply excellent. This is probably one of the reasons why this sleeping set is becoming so popular since the moment they launched it.

---
Specifications
Weight: 6.5 lb (2.95 kg).
Dimensions: 82 x 36 in (208 x 91 cm).
Temperature rating: 0˚F (-18 ˚C).
Packed size (L x D): 17.5 x 12 in (44 x 30 cm).
Lifetime Warranty.
---
Final thoughts & rating
So this TETON Sports Polara 3-in-1 Sleeping Bag is incredibly versatile with its numerous modular options. This is an all-synthetic sleeping system that will perform great even in wet and damp conditions. The price is more than fair. I have included it in my list of best car camping sleeping bags and best rectangle sleeping bags. Fully recommended.
It is a bit difficult to apply my usual rating criteria to this bag simply because you have them two in the package. This affects the weight and the packed size. See how I rate it:
For more options please check under the category Sleeping Bags. In particular, check this Coleman All-Weather Multi-Layer Sleeping Bag that has 3 layers, and all of them can be fully unzipped.
Thank you for reading, let me know if you have questions or comments, there is a comment box below.