---
When you search the Internet for fleece jackets, you will definitely see the words like Polar Fleece and Micro Fleece in the description of some of them. So what is Polar Fleece and what is Micro Fleece? The story about these materials is interesting, keep reading.
First, what is fleece fabric?
Fleece is a synthetic polyester material, lighter than wool, and a highly versatile fabric. The polyester itself is derived from the petroleum products known as terephthalic acid and ethylene glycol. Presently, in many countries in EU recycling plastic is compulsory, so at least partly, this is a raw material used for polyester.
You should know that some companies who care about environment make their fleece jackets largely from recycled materials. In some cases, this in particular with black fleece jackets, you have 100% of the recycled material used. See the list of several great North Face jackets described in my separate text, with a clear indication about the recycled materials used in their production. 
Fleece is a great material for outdoor clothing because of its ability to resist moisture and withstand a lot of wear and tear. It is also warm, a synthetic version of wool, and it dries very quickly. This is due to space between the threads, it creates pockets of air and this is what insulates you from the cold. But bear in mind that this same effect does not allow the body moisture to escape. So, the breathability is an issue with such materials, see more about this below.
In my separate text, you can read a bit more about what to wear in mountains, in my case those are the Alps, but this applies to any area. I use fleece and synthetic in general, nothing else.
How they make the fleece?
I think it is best that you see this video, the complete process is presented, very educative:
So now, what is Polar Fleece?
Polar fleece is a type of fleece with a two-sided pile, extremely durable, and it does not pill even when worn frequently. According to Wikipedia, one of the first products of this type was created in Massachusetts in 1979 by Malden Mills, which later became Polartec LLC. This fabric was revolutionary at that time, and the inventor Aaron Feuerstein declined to patent his Polar fleece, with the idea to allow the material to be produced cheaply and widely.
After it was introduced by Polartec, practically all fleece materials, regardless of their manufacturer, are called Polar Fleece. So the terminology should be clear, if you ask "what is Polartec Fleece", this is the fleece by the Polartec brand, and the Polar Fleece has become a common name for this type of fabric.
This fabric is highly hydrophobic, and it retains its insulating powers even when gets wet. So again, what better you can need outdoor. Just like any fleece, the Polar Fleece is an alternative to wool, and this is what vegans know well. This fabric is not flammable, it just melts instead. They show this in the video above, and I know it from my own experience, have one of my fleece jackets with sleeves melted by the fire while cooking outdoor.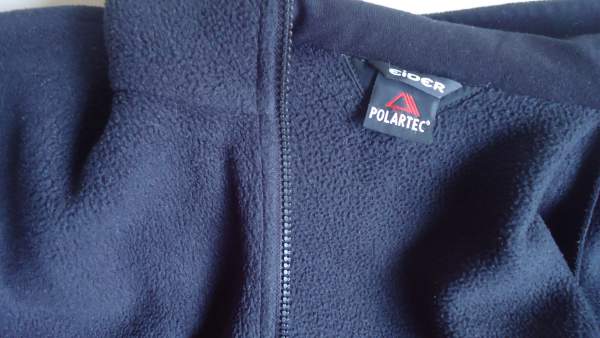 The weight
In the description of Polar Fleece jackets, you will see numbers: 100, 200, 300. These describe the weight in grams per square meter. So the bigger the number the heavier and warmer the jacket, but usually this also means less breathable.
There are also jackets which combine different types of fleece in different sections of a jacket. In addition, you can find some with overlays made of another type of synthetic, like in The North Face Oso and Denali jackets described in my separate text. Such extras are added to increase waterproofness and windproofness, or the abrasion resistance on exposed sections.
If you plan to carry your fleece under a rain shell, then heavyweight jackets (300) are not the best option. This, in particular, holds for the classic-fit type, like the Denali jacket. But if the fleece jacket will be used as an outer layer, and not for dynamic activities, then the heavier the better.
On the other hand, if you see that this is about a hoodie jacket and the number is high, then you can be sure this is a heavyweight class. The hood itself adds the weight. Hoodies are generally less good for layering under a shell jacket. The collars of rain jackets are usually designed so that they are high, and the hoodie simply doesn't fit. The Denali hoodie is a typical example, it is great as an outer layer, but do not plan to use it under a shell jacket.


What is Micro Fleece?
There may be some confusion in terminology. You will see sometimes that the term Micro Fleece is used as a synonym for Polar Fleece. But most likely it is correct to say that Micro Fleece is the thinnest and the most flexible fleece, typically 100-type or below.
So Micro Fleece is generally softer than the Polar Fleece (but see The North Face Osito II jacket), it is exceptionally pleasant to touch and frequently used for children clothes. Being such a thin fabric, fleece jackets built from this material are a great choice for layering; you will feel great with such a fleece layer underneath your rain shell jacket. One typical example of this type is The North Face Women's Glacier 1/4 zip jacket presented in my another text about the North Face jackets, and also the Columbia Women's Glacial Fleece III Half-Zip Jacket. See also these examples below:
You will notice that these examples are with 1/4 zip. This is not by chance, these are thin materials and breathability is not a big deal with them, so such a short zip is good enough for ventilation. Besides, these models are designed to be used as under-layers with a rain shell, so in such a combination the short zip fits better in any case.
Breathability & windproof properties
If you are an outdoor person, you are concerned about its windproof properties. Typically Polar Fleece is not windproof, but this depends on the thickness of the fabric. The problem is, when it is fairly windproof, it becomes not breathable. So to allow breathability, in some Patagonia jackets you have a gridded fleece where grid lines provide ventilation, while in some other models from the same brand you have tiny holes throughout the fabric.
On the other hand, if you have a look into my another text about The North Face Radium jacket, you will see this is a type with baffled seams for breathability. The bad news is: you should know that these ventilation systems pass the air both ways, so obviously, there is no perfect formula. If you need something for dynamic activities, go for a thinner fleece and perhaps full zip as well; it is great for layering and for technical activities. But if this is about protection from the wind and from cold in general, in camp or at home, go for thick materials.
How about rain protection?
As I mentioned above, the fleece is highly hydrophobic, but this does not mean you have protection from rain. The structure of the material is such that water penetrates through it. So to deal with this, as mentioned above, in some jackets, you have panels on more exposed sections like shoulders. One typical example is the North Face Denali, which you can see in my another text.
Some other brands build what is known as "hard face" type fleece to repel water. But again, this is just temporary and you should have a rain shell with you. For me in the Alps, this is a must. The message from this is: fleece jackets do not protect from rain.
High loft jackets
This feature is the result of brushing used in the process of production, you have seen the video above. The idea behind it is to make a soft and cozy material which in the same time is much warmer than tightly woven fleece. Some great examples of such high loft jackets are described in the site, like The North Face Radium jacket and The North Face Osito 2 jacket.
Tightly woven fleece jackets
This is a very different material, very suitable for jackets that are used as underlayers with rain shell jackets, and for packing in general. The material is thinner and smooth, far less warm than the high loft fleece, but at the same time much more breathable.
Zip-in compatibility
Some brands make their fleece jackets compatible with their rain shell jackets in the sense that they add an extra zipper inside such rain jackets. So in principle, you buy them separately, and you can zip in your fleece and then you have an exceptionally warm combination suitable for the coldest conditions. Some of the North Face fleece and rain jackets are of this type.
Another possibility with some brands is that they sell it together as a single jacket known as 3-in-1 jacket or interchange jacket. One great example is Columbia Bugaboo jacket.
I have such a jacket by Eider (see below), so I remove the fleece when I do not need it, and use the shell jacket only. The fleece alone I also use separately, though not so frequently.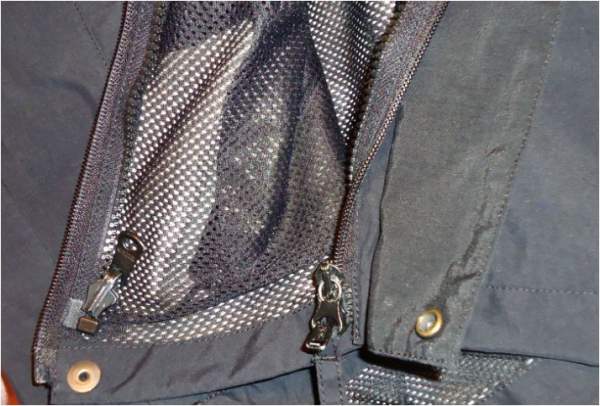 Lining or not?
Usually, fleece jackets are without any lining. They are really pleasant to touch, and if you use them with a t-shirt, you do not need a lining. But some do have it. I have one example of this type, and it is not the best. The reason is that the lining inside is not stretchy and it really reduces mobility. But this is perhaps just my bad example.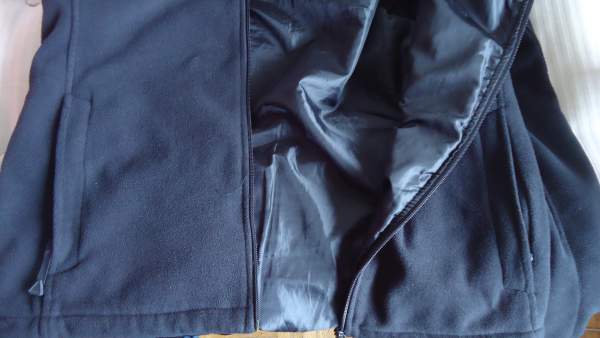 However, there are some fleece jackets with reflective heat technology embedded in such a liner. You have such an example in the Columbia Sportswear Women's Hotdots II Full Zip Jacket. Note that this fleece jacket with its own reflective liner is, in fact, the internal fleece in Columbia's Bugaboo jacket mentioned above. This is an incredibly warm structure altogether.  
You can see a bit more about the reflective heat technology in this short video by Columbia:
;
Best known brands for fleece jackets
I would say that currently, Columbia is the number one in popularity. This you can realize easily if you visit Amazon. As you can see, in the top-10 fleece jackets for women, 5 of them are from Columbia. I have them described in my separate text with 8 models in total. These jackets are great and Columbia's price tag is usually without a match. Currently (at the moment of writing this text), The North Face has 3 fleece jackets in the top-10 group. You can see them described here.
Quite similar is the situation with fleece jackets for men. In the moment of writing this text, Columbia has 6 of their jackets in the top-10 group.
---
Summary
So to summarize, the purpose of this text is to provide information about Polar Fleece and Micro Fleece, and to let you know what to expect when you decide to buy a jacket built from these materials. Fleece is here to stay, and it will only be used more in the future. I do appreciate wool, but cannot stand it, so fleece jackets are the only option for me.
We have many fleece jackets at home. I normally take 3 of them when I go to the Alps, all different types; one or two to wear under the rain shell, and one as a top layer jacket. I must say, some of them are very old pieces of my equipment, but what to do, they are incredibly durable so they last long, and they do not change in time. This is an incredible material.
Thank you for reading. If you find this text useful, do share it with others. I shall be happy to hear from you, there is a comment box below. Have a nice day.


---