---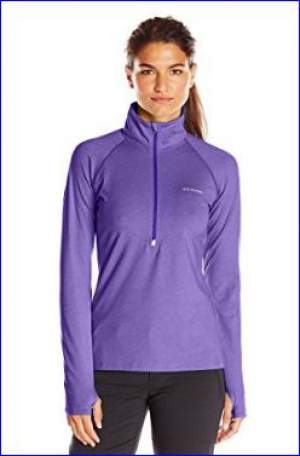 When it comes to the price and rating, Columbia Fleece Jackets for women are without a match. In the moment of writing this text, there are 6 Columbia fleece jackets in the top ten bestselling jackets of this type on Amazon.
So these are enormously popular jackets, and the prices are truly phenomenal: for the models mentioned above the prices are respectively, $30, 25, and 35. 
Regarding the zipper, two types are presented here:
full zip jackets, and
half zip pullovers.
As for the style, design, and purpose, you have casual and technical models.
Casual jackets are typically very comfortable and cozy, medium or heavy weight and bulky. Their fit is a bit more relaxed, and they allow for layers underneath them. This type is more stylish and appropriate for around-town wear. Examples of these are Benton Springs jackets, both full-zip and half-zip.
Technical fleeces have an emphasis on breathability and movement. In fact, some of them can be combined in layering with casual jackets. Typically, they are with a more streamlined fit and with side stretch and breathability panels. This type is great for dynamic activities in cold conditions, such as cross-country skiing, winter running, and hiking.
Full zip models
I present four top-ranked and enormously popular models, both casual and technical type.


See below some details about all 4 models, given in no particular order.
1. Columbia Women's Benton Springs Full-Zip Fleece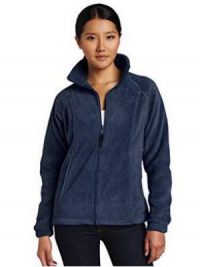 This is an updated Columbia classic active slim cut, versatile, soft and cozy fleece. It offers great insulation, and it is suitable for everyday life. It can be combined as an underlayer with a rain jacket. With such an external jacket it may be suitable for 4 seasons. It also allows for layering with some other jackets presented below, like the Trail Summit Half Zip model.
Here is the summary of specifications:
More than 5100 customers reviews on Amazon; with 4.5/5 average rate.
Fit as expected: 80%.
Colors: more than 30.
100% polyester.
Full zipper closure.
2 zippered hand pockets.
2 internal pockets without zippers; in fact, these are just flaps created by the external pockets' design.
Machine wash.
Slim-cut with standing collar.
Embroidered logo at left chest.
Note that the corresponding model for men is known as Columbia Steens Mountain fleece jacket for men.
2. Columbia Women's Fast Trek II Full Zip Fleece Jacket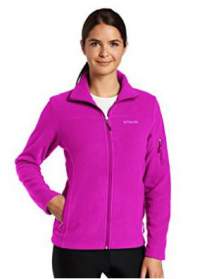 This is a very popular, medium weight model with a comfort stretch design and modern classic fit. It is über-soft all-season jacket which offers a flattering silhouette and great stretch properties, suitable for any dynamic outdoor activity.
The jacket comes with two zippered hand pockets, plus one zippered pocket on the left sleeve. The external pockets create 2 internal pockets with a top entrance.
More than 1100 customers reviews, and average rate 4.6/5.
Fit as expected: 82%.
Colors: 24.
100% polyester microfleece.
Zipper closure.
4-way comfort stretch.
Zippered security pocket.
Machine wash.
No elastic on cuffs.
Less warm than Benton Springs.
3. Columbia Women's Fuller Ridge Fleece Jacket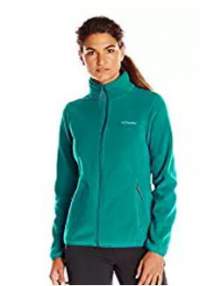 This a very comfortable and versatile midweight piece, perfect for casual use. Crafted from light, warm, and soft Polartec fleece, this jacket is also suitable for dynamic outdoor activities. This is an Active Fit which runs close to the body, yet it offers a great freedom of movement.
Spec:
Average customers' rate 4.0/5.
Polartec Microfleece 200. 

Comfort stretch.

Two zippered hand pockets.

Woven trim finishes on the collar, cuffs, and hem.
Stand collar.
At least 14 different colors available, please check the link.
Machine wash and tumble dry.
4. Columbia Sportswear Women's Hotdots II Full Zip Jacket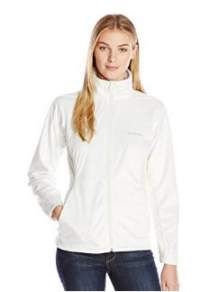 This is a very versatile full-zip jacket which features stretch side panels for exceptional comfort and mobility for any activity. A dynamic fleece built for movement, it comes with the patented thermal-reflective lining which reflects body heat for warmth while maintaining a high level of breathability.
So this is the only example here with lining, and this is what they call Omni-Heat technology which implies dots on the interior that are reflecting back the natural heat your body generates to keep you warm but not too hot. Excess heat and moisture are allowed to escape, regulating your temperature as you move.
Note that the same technology is used in the Columbia Bugaboo 3-in-1 jacket for women.
Spec:
Average customers' rate 4.5/5.
Fit as expected statistics: 88%.

Drawcord adjustable hem.

Zippered hand pockets.

Modern classic fit.
Center back length: 25 inches.
Fabric:
– Shell: 100% polyester Omni-Heat Reflective Luscious Pile Fleece.
– Side panels: 91% polyester; 9% elastane.
See here a video about Omni-Heat thermal reflective technology:
---
Half zip models
Again 4 great models, three of them are technical jackets, please have a look.


5. Columbia Women's Glacial Fleece III Half-Zip Jacket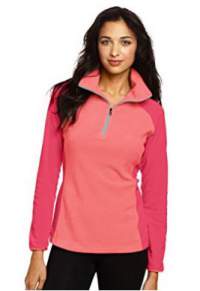 Thin and lightweight fleece jacket, supremely layerable for cross-season versatility. It can be combined with some of the jackets above, and with any rain shell jacket. The jacket offers a roomy and high collar to keep out drafts.
Spec:
Average customers' rate 4.2/5.
Fit as expected statistics: 74%.
More than 25 colors.

100% Polyester featherweight microfleece.

Zipper closure.

Machine wash.

Active fit pullover featuring half-zip neckline with stand collar.

Logo at sleeve.

No pockets.
No liner.
6. Columbia Women's Benton Springs Half Zip Fleece Pullover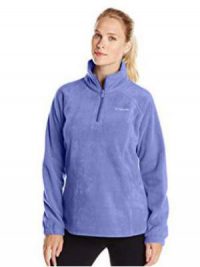 A medium to heavy type, the Columbia classic in a new half-zip style, this soft, cozy women's fleece offers instant insulation in a versatile, everyday style with an active slim cut.
Spec:
Average customers' rate 4.5/5.
Fit as expected statistics: 76%.
More than 20 colors.

100% polyester.

Zipper closure.

Machine wash.

Fleece pullover featuring stand collar with half-zip neckline and embroidered logo at chest.

Interior drawcord hem.

250 grams filament fleece.

Elastic cuffs.

No pockets. This is yet another difference with respect to the full zip Benton Springs model presented above.
7. Columbia Women's Glacial Fleece III Print 1/2 Zip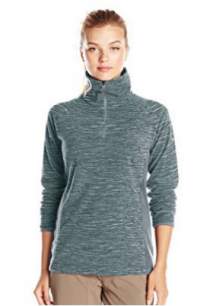 A supremely layerable fleece jacket for cross-season versatility. The jacket features fun prints, flattering princess seams, and a roomy high collar to banish drafts. It can be combined with any rain shell and hard-shell jacket, as well as with some of the causal models presented above.
Spec:
Average customers' rate 4.2/5.
Fit as expected statistics: 73%.
28 different colors presently available.
100% polyester feather weight microfleece.

Zipper closure.

Machine wash.

1/2 zip.
8. Columbia Women's Trail Summit Half Zip Shirt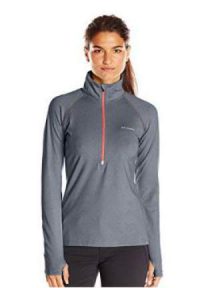 This is a wicking performance pullover with thermal reflectors,  thumbholes, and 4-way-comfort-stretch fabric. So clearly this is a great example of a technical type mentioned in the introduction above.
The jacket is simply perfect for hiking and mountaineering, it offers all the features you need for additional comfort on the trail. The fabric is made with 4-way comfort stretch, it is Omni-Heat thermal reflective, and it also has Omni-Wick which is a sweat-wicking fabric that helps you stay dry and warm even during very dynamic activities.
Summary of specs and features:
Average customers' rate 4.7/5 (the highest rate of all jackets presented in the text).
Fit as expected statistics: 94% (the highest score here as well).
Flatlocked construction.
Thumb holes.
Active Fit.
4-way comfort stretch.
Omni-Heat thermal reflective.
Omni-Wick.
Fabric: 88% polyester; 12% elastane interlock Omni-Heat Reflective.
Center Back Length: 26 inches.
Here is a short video about this technology, please have a look:
---
Conclusion
So to summarize this text about the Columbia Fleece Jackets for women, you have 8 great models here, more than enough to choose for any use and situation. If you feel overwhelmed, here are a few comments which might help:
Need something for casual use and for a very cold weather? Then see those with the numbers 1-4, and 6.
If you need a jacket for layering and technical outdoor use, check the numbers 5, 7, and 8.
The only jacket with thumb holes is the Trail Summit (the number 8 above).
The only model with 3 zippered pockets is the number 2 above, the Fast Trek II jacket.
Jackets without pockets are the half-zip models 5 – 8.
The jackets with the reflective technology are the models 4 and 8 (the Hotdots II, and the Trail Summit jacket).
Thank you for reading. I hope this text has been useful to you, and if this is so please share it with others. In the case of comments and questions please use the comment box below. Have a nice day.
---