---
The Coleman All-Weather Multi-Layer Sleeping Bag is incredibly versatile, it includes 3 bags that fit in each other, they all can fully open as blankets and this all gives 14 possible combinations.

---
Key features & benefits
Rectangular type.
3 Separate sleeping bags.
Suitable for all weather conditions.
All bags can be used as fully unzipped blankets.
Machine washable.
Great price.
---
What is in the name
I would start with the Multi-Layer in the name first. So you have three separate sleeping bags, each with its own temperature rating. We can call them shell bag (S), middle bag (M), and inner bag (I). They can be used together (S+M+I combination), each of them separately (S, M, I), and combined in various ways (S+M, S+I, M+I). So you have 7 different combinations to use as sleeping bag, some are shown in the pictures below.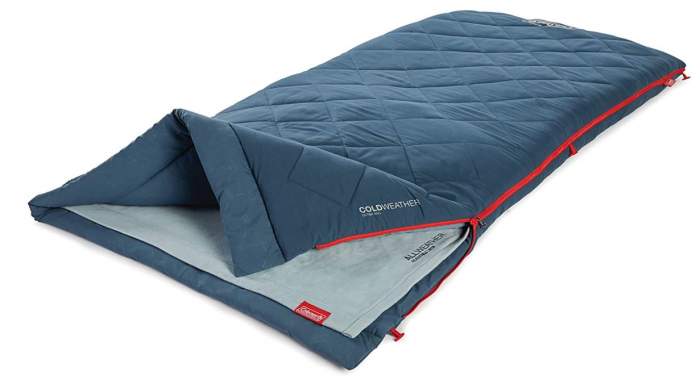 As you know, multi-layering is an optimal way to use your outdoor clothing, in this way you adapt easily to all possible conditions. So they use the same concept here. This explains the words All-Weather in the name.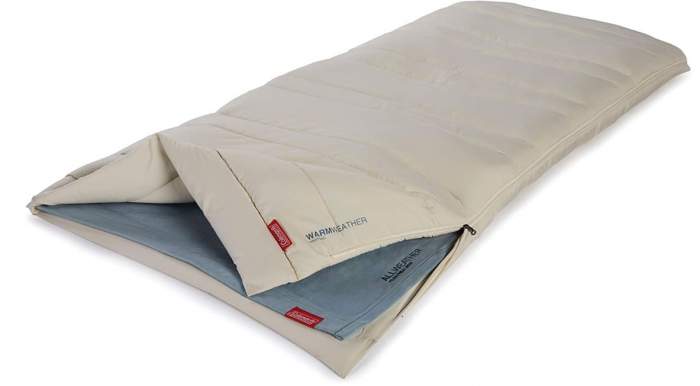 Temperature ratings
According to their statements, you can use the I layer alone, this is for 60˚F (15˚C) or higher.
For temperatures 45–55˚F (7–13˚C) they suggest using M+I combination shown in the picture above.
For temperatures 32-45˚F (0-2˚C) they suggest using the S bag, but you can experiment with S+M or S+I as well.
For temperatures below those mentioned above, use all bags together.
In general, the official temperature rating is 0-60˚F (-18 ˚C to +15˚C), but this upper limit clearly makes no much sense. You can use these bags even for a warmer weather.
Materials & construction
All the layers can be attached or removed easily. You have toggles for this purpose, see how they look in the picture below. Note also that the external shell bag has such toggles on both sides, this seems to be for attachment to yet another bag of this type.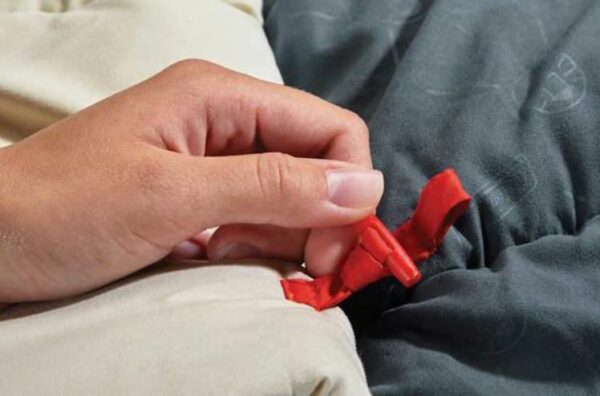 Each of the bags has a full length zipper that goes across the feet area as well, so you can open each of them and use as a blanket, see the picture below. You can also combine them as blankets the same way as you combine them when they are zipped up. So you have 7 more combinations here.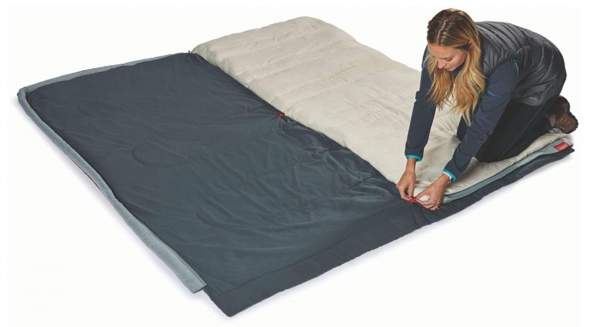 The I bag shown below is a fleece material, pleasant and fluffy. The other two bags are with some synthetic insulation. All of them are machine washable and this is a great detail here. Note that shell of both S and M bags are incredibly soft and pleasant.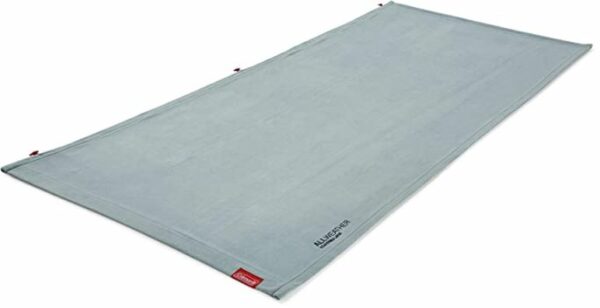 The shell bag has a full-length Thermolock draft tube along the zipper to preserve the warmth and to avoid cold drafts. You can see it in one of the pictures above. No-snag zippers are for frustration-free zipping and unzipping every time, see them below. This is Coleman's ZipPlow patented zipper system.
---
Who is this Coleman All-Weather Multi-Layer Sleeping Bag for
Regarding the best use & climate, you have already seen about its incredible versatility. So this is a sleeping set for all weather conditions and for all climates.
I must to stress that there is no hood here, and this affects its overall thermal efficiency so I would be careful about the lowest temperature they mention in the official rating.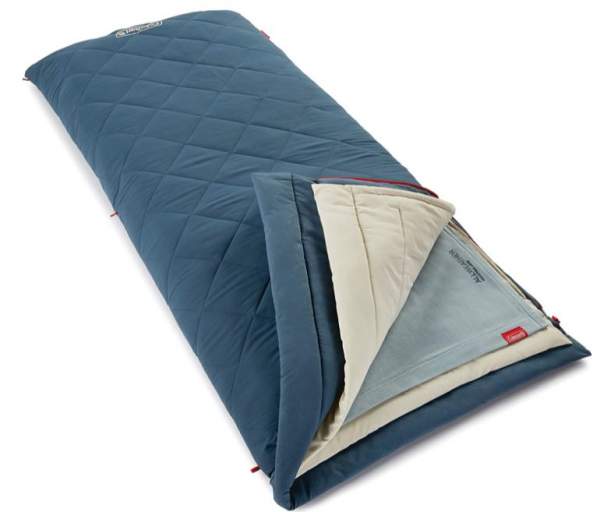 Regarding the size, this is a large and wide rectangular bag, the shell bag measures 79 x 36 inches (201 x 91 cm) and these are great dimensions. They write that it is for users of up to 5 ft 11 in (180 cm), I wonder why this is so in view of its length. 
Regarding the weight, this all is heavy, but this is expected for such an incredible set, the weight is 12.55 lb (5.7 kg). The packed size is (L x D) 16 x 21 inches (41 x 53 cm), and this normal for what you have here. So this is a car camping sleeping set.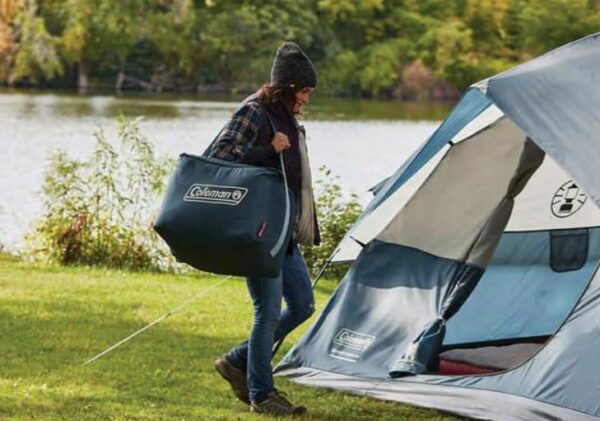 Regarding the price, this is an incredibly affordable outdoor sleeping set, a great value for the money.

---
Specifications
Type: rectangular.
Weight: 12.55 lb (5.7 kg).
Dimensions (L x W): 79 x 36 in (201 x 91 cm).
Packed size (L x D): 16 x 21 in (41 x 53 cm).
---
Final thoughts & rating
In summary, this Coleman All-Weather Multi-Layer Sleeping Bag is one of the most versatile sleeping sets presented here in the site. As its name suggests, it is suitable for all climates and all weather situations.
You have 7 possible combinations to use as sleeping bags, and 7 more combinations to use them unzipped as blankets. Fully recommended. I have included it in my lists of best car camping sleeping bags and best fleece sleeping bags for adults.
Below you can see how I rate this sleeping bag against my usual rating criteria so that you can easily compare it with other products of this type. 
BEST PLACEs TO BUY regarding shipping and price:
For more options, please check in my list Coleman Sleeping Bags for Adults. Bookmark this site and come again, this will keep you informed because I add texts here regularly. Let me know if you have questions or comments, there is a comment box below. Have a nice day.