---
When you decide to buy a sleeping bag, one of its important features is the temperature comfort it provides. So what is sleeping bag temperature rating in practical terms? The answer is not so simple, and yet it is very important.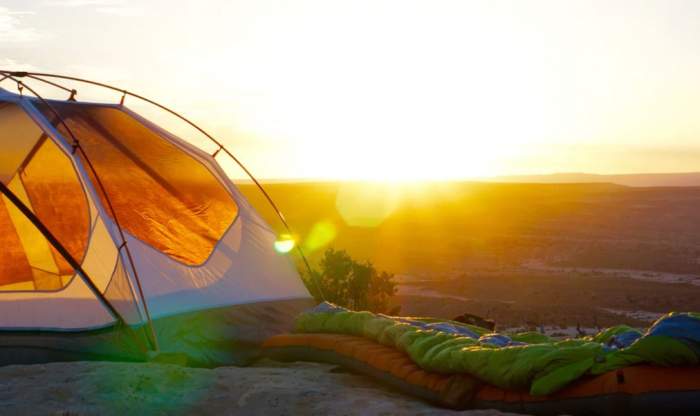 In EU you normally have the range of temperature on the bag: upper and lower limit, and it is usually in Celsius degrees. Staying in the middle of the range is always the best for a good sleep.
But there are many factors that may determine how good you will feel in your sleeping bag.
I must say that I never sleep well in a bag, this is simply against my nature, I need space, I turn a lot during the night, from time to time I need to have a foot out in the free air, etc. Well, everybody is crazy in his/her own way.
To start with, it may be helpful to have this table with several values of temperature in Fahrenheit scale and roughly corresponding values in Celsius degrees:

So let me now describe a few factors that may make life more comfortable when you are in a situation of using a sleeping bag.
Sleeping location
I wish to stress that not everything depends only on what you see on the label of the bag. Your comfort in the bag will depend on where you actually sleep. If you are using a high-quality breathable bivy sack with a good sleeping pad and a good bag, then this may contribute to the comfort. The space in a bivy bag is relatively small, it protects you from elements but it allows ventilation and breathability. You may see a few of them in my Outdoor Research bivy sacks review.
On the other hand, if you are in a tent, your comfort will depend on its size, the season and location. In other words, a 4 season tent will be a good choice if you are over 3000 meters in the mountains, or you are camping in the wintertime.
Gender issue
There is a gender issue as well. The same bag will have different comfort rating for women and men. Indeed, men and women are different in many ways (what a smart conclusion from my side!).
Also, some bags are designed specifically for women. This implies a bit different shape, like more narrow in the shoulder zone, more wide in the hip area, and more insulation at the foot area.
Sleeping bag size

It may be necessary to choose the proper size of the bag. You do not want it too big for two reasons. This would imply carrying an unnecessary load, and equally important you might not feel warm enough. This because you are the source of the heat in the bag, and this heat is then spread to a larger volume, increasing the potential surface for its escape, which may not be good.
Sleeping bag shape

A lot may depend on the shape of the bag, and if it has a hood or not. Generally, mummy bags are more thermally efficient than classic rectangular-type sleeping bags, they also typically have a hood, and the zipper is shorter, which all contributes to their thermal properties.
Importance of the sleeping pad
The comfort will depend on the quality of your sleeping bag pad, which is described by its R-value.
So what is sleeping pad R-value? This is a parameter that describes its insulation, the higher the value the better. If you are aiming at some 4 season pad then you should be considering R-value in the range 8-10, so this is simple.
As one good example, you may consider this self-inflating Therm-a-Rest MondoKing sleeping pad with the R-value of 11.4.
Bag liner importance
A lot depends also on what you wear when you are in the sleeping bag, and if you have a sleeping bag liner or not. The liner provides an additional layer of insulation and you should not miss it if you are in a cold environment.
Quality liners come with their own rating, with the meaning of how much they effectively add to the total rating of the sleeping bag. Here is one example from Teton Sports, which adds around 10 degrees to the warmth.
What is the dual rating on bags?
Sometimes you will see a dual rating on bags, let us say you have rating 20 and 40. The meaning is the following: the two sides of the bag are made with different insulation, one is better (with the rate 20) than another (with the rate 40).
So if it is colder, you will use the 20-rate side facing up, and vice versa. Similarly, if you are using it one night somewhere in a hut or a shelter you might turn the 40-rate side up. Below is one great example, the Exped MegaSleep Duo 25 Sleeping Bag with two temperature ratings.

Summary
In this text, I have tried to provide an answer on the issue of what is sleeping bag temperature rating. You realize that there are many factors worth considering, it is not only about the label you find on your sleeping bag. You might want to check also my recent text about EN Rated labels.
Thank you for reading. I hope this text has been useful to you. If so, please share it with others.
I shall be happy to have some comment from you in the comment box below.