---
The Sierra Designs Backcountry Quilt 700 15 Degree is a 3-season tool ideal for hikers, backpackers, and mountain climbers. Although an oversized design, it is very lightweight, 1 lb 15 oz (0.89 kg) only, and nicely packable, filled with Duck DriDown water-resistant insulation.
Key benefits
Lightweight.
Versatile.
Very packable.
Innovative.

---
Who is it for
The Sierra Designs Backcountry Quilt 700 15 Degree is a 3-season sleeping tool. I see it as a great item for outdoor use and for any emergency situation at home or elsewhere.
This tool can be used for sleeping in a tent on the ground, on a cot-tent, or in a hammock. Its temperature rating is good enough for cold weather but I would not plan it for extreme winter conditions.
This is an oversized design, 58 inches wide and 80 inches long, so bear this in mind if you are a short person. Though I do not think it is a problem to have more space under this quilt, it only adds to the comfort. A few extra grams are not a big deal in view of the comfort you get with it.
---
What is a quilt in the first place
(Very) roughly speaking, a quilt is a blanket with a foot pocket, so the lower section is relatively narrow, similar to a mummy bag, while the upper section is wide and open and it offers a lot of comfort and freedom of movement.
Such a construction suggests that there are no straps or sleeves to keep it attached to a sleeping pad, just to know if you are used to using such sleeping bags.
The idea behind it is that insulating materials lose their properties when pressed. So in an ordinary sleeping bag, the bottom layer does not offer much insulation in any case, and for the insulation from the ground you mainly rely on the pad.
This is why using a quilt may be better, it saves the weight and offers much more comfort (at least for me, I feel claustrophobic in standard sleeping bags, regardless how big they can be). You can see how a quilt is used in this video by Sierra Designs:
The following features are important here:
This is a zipperless design.
Freedom of movement.
Reduced weight.
It allows for a variety of ways of using it, dependent on what kind of a sleeper you are (side sleeper, back sleeper, belly sleeper), and on the external temperature. This is depicted in the pictures below.
The quilt has hand pockets in its design, so you can put your hands there and have them insulated, and you can still maneuver with the quilt. This is completely different from an ordinary sleeping bag where you end up with the bag twisted around your body during the night and you can get very restricted in it.
From the picture below, you can see that the Backcountry Quilt 700 15 is a hybrid structure in the sense that below the knees you have the foot pocket similar to the foot section of a mummy bag. This section is trapezoid-shaped, with a 42 inches (107 cm) girth. Your feet are protected in it, but it is still very easy to get them out if it is too warm.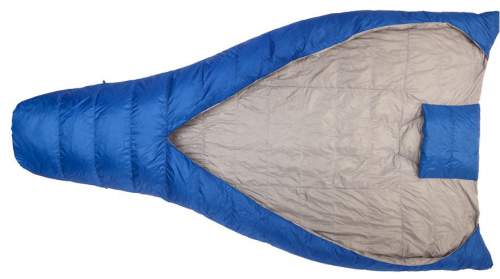 As you see above, the main part of the quilt is fully open and with very wide wings on the sides, 58 inches (147 cm) in total, and with the mentioned hand pockets. You have hang loops on the feet section, to use for storage or to dry if it becomes wet.
The hood
The quilt has the hide-away hood, and this is what qualifies it to be EN rated. This is a particularly clever design because it allows you to sleep with it on the head while sleeping both on your side and on your back, and also in a hammock. If you do not need it, it folds away into the chest as you can see from the pictures above.
The temperature rating
The quilt is EN rated (i.e., you have EN 13537 sleeping bag temperature rating standard); you can read a bit more about this terminology in my another text. Here to stress only that its optimal temperature for use is around 15 degrees Fahrenheit (-9.4 ºC). This is due to its 17.85 oz (0.51 kg) of 700 Duck DriDown water-resistant insulation.
Storage and stuff sacks
You have a nylon stuff sack for transport, with the dimensions 14 x 8 inches (36 x 20 cm). But you should know that you can compress it to a much smaller size if needed. Also included is a larger mesh sack for the storage at home. Both sacks are shown in the pictures below.
The fabric
The fabric, both liner and the shell, is a very pleasant ripstop nylon, down-proof, and very packable.
---
What is 700 in the name
This number describes the compressibility of the fill. Essentially, this is the volume which the fill retains after being pressed with a standard weight used in testing. This volume implies the air trapped in the down, so the bigger the volume the better; such a trapped air is a great insulator. Typically you will see numbers in the range 600 – 800 for Down bags and jackets. So this 700 number tells you this fill is in the medium range.
Note, the insulation materials lose this property when pressed, and the lower number implies bigger compressibility and less effective insulation. So bags with the bigger number will be lighter (they keep more air), they need less material to give the same insulation as a heavier bag with a lower number. You can see more about this in my another text.
---
What is DriDown technology
A few words only, if you are not familiar with this terminology. Down is always the best insulator, but down has an inherent weakness. When it gets wet, it loses much of its ability to maintain warmth.
This is where technology steps in. The Sierra Designs uses a unique polymer application by adding a hydrophobic finish on each individual plume of down. You can see more in this nice video:
With this, the performance of the DryDown is improved in several ways:
It has 98% loft retention, which implies the bag (or jacket) filled with it feels 15 degrees warmer.
It stays dry 7 times longer than an untreated down.
It dries 33% faster than an untreated down.
---
 

Specifications & summary of features
Best use: hiking, camping, backpacking.
Trail weight: 1 lb 15 oz (0.89 kg).
Fill weight: 17.85 oz (0.51 kg).
Packed size (L x D): 14 x 8 in (36 x 20 cm).
Length: 80 in (203 cm).
Shoulder width: 58 in (147 cm).
Hip width: 58 in (147 cm).
Footbox girth: 42 in (107 cm).
Fits people up to 6 ft 4 in tall (193 cm).
Insulation: down.
EN rated.
Temperature rating:
• 15 Degrees F (-9.4 ºC).
• EN Lower Limit: 17 F (-8 ºC).
• EN Comfort Limit: 28 F (-20 ºC).
Materials:
– Shell: 20D Nylon Ripstop.
– Liner: 20D Nylon Ripstop.
– Fill: 700 Fill Duck DriDown.
Included:
– Stuff sack.
– Storage sack.
Warranty: limited lifetime.
Full-length hand and arm pockets.
Insulated foot pocket.
Hide-away hood.
Oversized design.
DriDown hydrophobic down.
---
Pros & Cons
My short summary is as follows:
  Good

  Less good

Very comfortable.
Pleasant materials.
Wider than a bag.
Zipperless.
Lightweight.
There are no customers' reviews on Amazon at the moment of writing this text. See my own rating below:
Rating breakdown of the Sierra Designs Backcountry Quilt 700 3-Season Sleeping Bag
Weight -

9/10

Packed size -

9/10

Temperature rating -

9.6/10

Comfort & features -

9.6/10

Price -

7/10
If you are familiar with this quilt, please add your own rating here.
---
Backcountry Quilt 700 15 vs 

Backcountry Quilt 700 30 vs 

Backcountry Quilt SYN 1.5
It may be useful to have a comparison table between these three items from Sierra Design, with different fill and temperature rating, to save money and to avoid unnecessary weight if you do no need it. They are all presented in detail in the site, just follow the links to see more:
| | | | |
| --- | --- | --- | --- |
| | BQ 700 15  | BQ 700 30 | BQ SYN 1.5  |
| Weight, lb (kg) | 1 lb 15 oz (0.89) | 1 lb 9 oz (0.72) | 1 lb 12 oz (0.79) |
| Seasons | 3 | 2 | 1.5 |
| Temp. rating, F (C) | 15 (-9.4) | 30 (-1) | 49 (10) |
| Length, in (cm) | 80 (203) | 80 (203) | 80 (203) |
| Width, in (cm) | 58 (147) | 58 (147) | 58 (147) |
| Price, $* | 250 | 220 | 112 |
*At the moment of writing the text. For updates please follow the links.
BQ means Backcountry Quilt.
The Backcountry SYN 1.5 is with a synthetic fill.
---
Summary
In the conclusion of this Sierra Designs Backcountry Quilt 700 15 Degree review, this is a great and reliable option for people who feel claustrophobic in standard sleeping bags, and for the belly and side sleepers. It works equally well in a tent and in a hammock. So if you can afford it, I can fully recommend this quilt.
The Sierra Designs is known for their quality outdoor equipment and many of their items are presented in this site, they are available in my Equipment Reviews page.
If you feel that you need something different, please visit my page with sleeping bags and pads, many great items are presented there.

Thank you for reading. In the case of questions and comments, please use the comment box below. I wish you a nice day.


---