---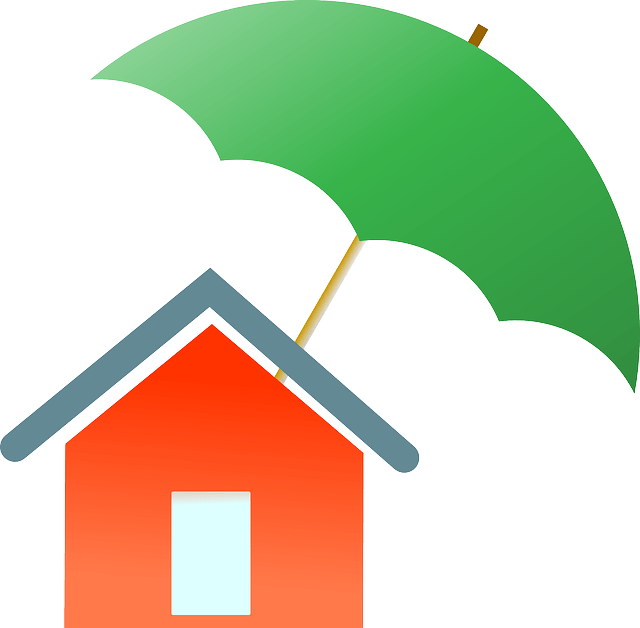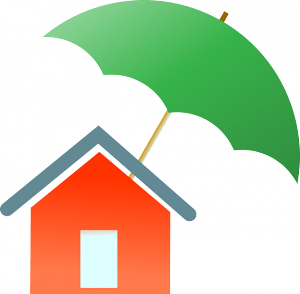 If you want to find a best breathable waterproof jacket you will see that it is not so easy, it depends on the purpose of the jacket. A lot of knowledge and experience is needed in order to find a jacket which will serve the purpose you choose it for.
In one occasion, while I was climbing Lagginhorn (4010 m) in Switzerland, I was wearing a completely waterproof jacket. It was not raining, yet it turned out I was completely wet.
Clearly, it was not breathable enough (if at all), but I knew from previous experience it was waterproof. For normal walking in any rainy situation, it would serve the purpose nicely, but it was obviously not for climbing.
In yet another situation I was in mountains with a friend from Japan, who came with a rather expensive jacket. It performed similarly when we climbed Monte Breva, he was wet, while later in Livigno when he was walking in a heavy rain, it was a perfect choice.
We then asked about this issue a person in a sport shop in Livigno and realized that not every waterproof jacket was for every rain and for any activity. This was a motivation for me to search a bit about this, as this is something that matters when I go climbing. Clothes I do not include into equipment within this site, but having appropriate clothes in mountains is essential.
---
Categorization
I. Obviously, there are many ways of categorizing jackets, and the terminology may be confusing. So you will find out that breathable waterproof jackets may be:
hard shell
rain shell (or softshell).
Both hard shell and rain shell are waterproof. The difference is in durability and breathability. Hardshell jackets are typically 2.5-layers or more.
Rain-shell jackets are treated by Durable Water Resistant (DWR) coating, and they may be breathable only when they are dry. They become wet when the coating is damaged or dirty.  In such situations the normally breathable material will not breathe; vapor coming from inside will condense into liquid.
---
II. Another way to categorize jackets is with respect to the amount of water they may withstand like:
water-resistant
waterproof
very waterproof
highly waterproof.
Water-resistant jackets are treated with some water-repellent coating, so those belong to rain-shell mentioned above. The water-repellent feature is clearly seen as the water droplets do not stay on the fabric and simply run off. Pros: less expensive than others. Cons: in many cases not very breathable. Coating technology you will see in the North Face HyVent jackets.
Jackets with the coating are best suited for: hikers, birders, anglers.
Waterproof jackets (including 'very' and 'highly') have a breathable laminate membrane; these are thus hard shell ones. Those are typically GORE-TEX®,  Marmot MemBrain, and eVent materials. Note also that such jackets are usually treated with the water-repellent coating as well.
Jackets with laminate are for mountaineers, trail runners, cyclists, paddlers, skiers.
---
III. You may then find the following categorization:
Breathable (generally suitable for users who are moving and consequently possibly sweating).
Non-breathable; suitable for anglers, sport or wildlife spectators. A good side of these: less expensive. The bad side: less flexible, and you hear it making some noise when you move.
Here is a video on the eVent membrane demonstrating the feature of breathability:
Generally speaking, breathability is achieved in two manners:
Mechanical, by hydrophobic porous lamination or coating with pores small enough that water from outside cannot pass. But the vapor water from sweat is much smaller than water droplets and it passes to the outside direction. However, this effect depends on the relative humidity.If you have a  Gore-Tex jacket you will not feel good if humidity outside is high, and you might feel much better in an eVent jacket. But a jacket should also be wind-proof, and you might feel much better in a Gore-Tex jacket in mountains, it is rather good from both points of view, as waterproof and windproof.
Yet another way is chemical by hydrophilic lamination or coating which moves moisture by diffusion. The positively charged water molecule is attracted by negatively charged lamination.The process of breathability is driven by the difference in the heat and humidity on the two sides of the material; the moisture moves towards the dry side. In other words,  warm and moist vapor moves to the cold and dry environment outside.
Breathability is expressed through so-called Ret factor R; the lower R the better breathability. For example:
Non-coated material: R= 2-4
Gore-Tex Pro 2L-3L, Marmot MemBrain: R=4-6
Gore-Tex PacLite, PreCip Plus: R=6-8
Gore-Tex Performance 3L, PreCip, MemBrain 10: R=7-10
most softshells: R=10-13.
So regarding the R factor, roughly speaking one could follow these suggestions:
for R=0-6 exceptionally  breathable and comfortable for any activity
for R=6-12 good and comfortable for moderate activity, less good for high activity
for R above 12, uncomfortable for high activity.
Here is a graph from Wikipedia, which shows how some well-known brands behave in different humidity conditions. Note the following features: a) The lower the graph the better.  b) The more flat the graph the better; this implies that the membrane behaves well in various conditions.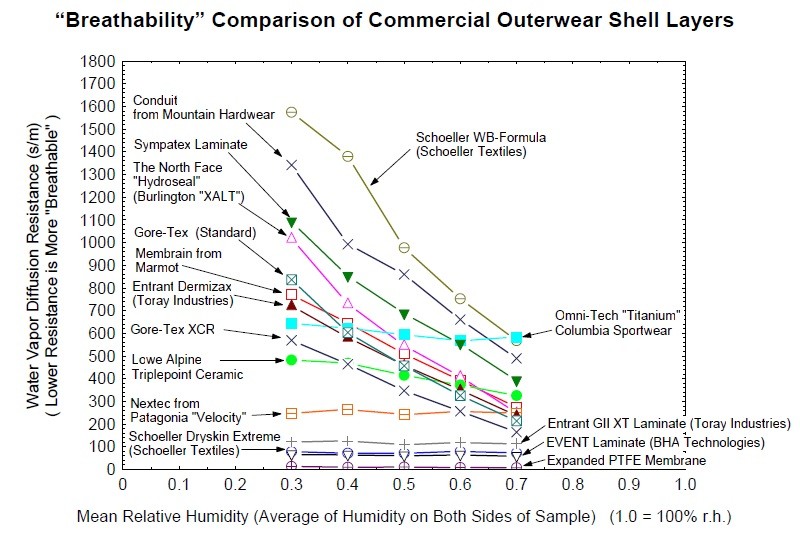 Following this graph, I would rather have a Patagonia "Velocity" jacket than Gore-Tex XCR, but the latter still performs far better than Sympatex Laminate. Titanium-Columbia also appears to be a  good choice. However, bear in mind breathability is just one of several categories which one must bear in mind. It should also be waterproof, windproof, light, etc.
IV. You will also find that waterproof jackets may be: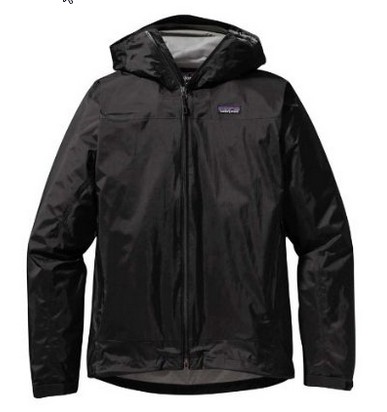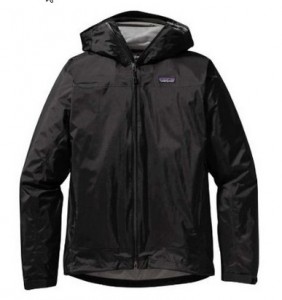 with 2 layers
with 2.5 layers
with 3 layers
with 4 layers
with 5 layers.
Jackets with two layers have a face fabric with membrane or coating from inside and those make one layer. This is accompanied with a mesh liner from inside aimed at protecting the membrane.  They are not well breathable.
---
2.5-layered jackets have a face fabric and a coating or laminate layer, and a very tiny attached protective layer from inside. As an example, I would mention Marmot PreCip jacket with a NanoPro™ coating based on a microporous technology. Another example is  Patagonia 2.5-Layer H2No.  Generally, jackets of this type provide an enhanced breathability.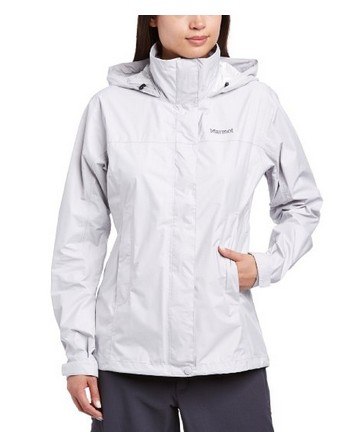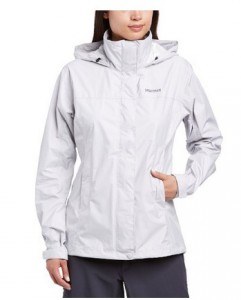 Three-layers jacket consists of a waterproof external layer, which from inside contains a breathable laminate membrane, and there is also a protective inside liner. Jackets of this type are most durable and suitable for climbers.
The breathable membrane may be Gore-Tex with pores that are 20 000 smaller than a water droplet. In fact, it contains 9 billion pores per a square inch.
Four-layers jackets, like in the case of  Patagonia have an exterior polyester fabric, with their H2No® waterproof coating applied from one side.
On the other side of the polyester fabric, there is a hydrophilic laminate. This material has such features that it pulls moisture away from the body and it is then passed out through the coating and exterior shell. This hydrophilic laminate is protected from inside with a soft polyester tricot lining.
Five-layers jackets also exist as may be seen from the picture below, courtesy of Wikimedia Commons: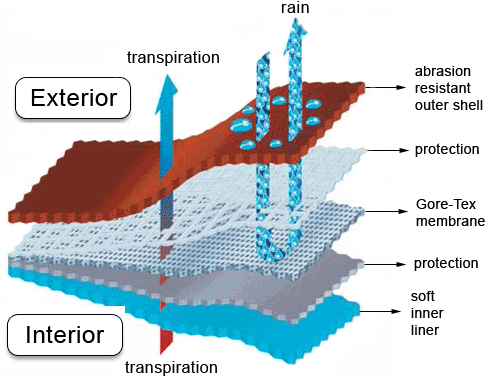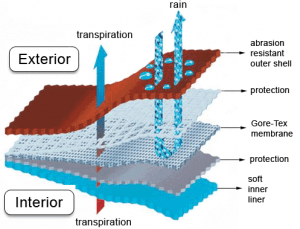 ---
About membranes 
Gore-Tex:
a) Standard Performance Shell, used in 3-layer membrane.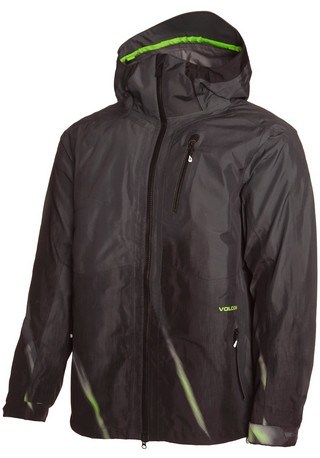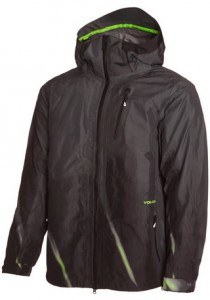 b) Pro-membrane with about 35 percent increased breathability.  This is also a 3-layer type.
c) PacLite is the 2.5-layer type, thus for less intensive outdoor activity, and with less breathability, durability, and comfort.
d) Active Shell, the lightest and most breathable, with a similar purpose as the PacLite.
H2No®:  produced as 2-layer Performance Standard shell fabrics,  according to what they claim completely waterproof, windproof and breathable. This is achieved with a water-repellent shell fabric and a waterproof/breathable membrane.
2.5-layer H2No® Performance Standard with similar properties.
3 and 4-layer H2No® Performance Standard fabrics, waterproof, windproof and breathable. A combination of a water-repellent shell fabric, a waterproof/breathable membrane, and an ultralight knit backer.
eVent
Membranes are more breathable than Gore-Tex, based on direct air flow, which allows for best evaporation, unaffected by relative humidity as in the case of Gore-Tex. But regarding windproof most likely not as good ad Gore-Tex.
Polartec NeoShell
Air-permeable sub-micron polyurethane membrane.  They claim that their NeoShell is the first truly breathable, fully waterproof, temperature regulating fabric.
What else to think about?

Seams taped: Regardless if you have a coating or laminate membrane, you will not have a reliable waterproof jacket unless its seams are taped. With such tapes, the punctures from sewing will be sealed. And do not rely on seam taping only on critical, more exposed parts of the jackets; it must be properly taped, including pockets and the hood.
Vents: These include the front zipper, chest pockets with zippers, underarm zippers, altogether they may do a great job regarding air circulation in particular with jackets that are less breathable.
Hoods: I prefer hideaway hoods to detachable, the latter you may simply loose.
---
So what to choose if you want a waterproof breathable jacket?
Obviously, there is no a simple answer to the question what a best breathable waterproof jacket is. It depends on the purpose. You will not have one that satisfies you for example for relatively short walks in the rain, and for climbing. I have experienced it myself.
Assuming that you would use it in the mountains and in everyday life (in this order), regarding breathability you might consider a three-layer jacket.  This will definitely satisfy the requirement for waterproofness, durability, and to some extent the warmth, and versatility.
Many great waterproof and breathable jackets are described in my page about clothing, so please have a look there.
Please leave some comment below, it will be great to hear your opinion and to improve the text as a result of your comments.
---