---
Outdoor Research Aspire jacket for women is an award-winning waterproof and breathable piece of outdoor garment with a completely innovative TorsoFlo ventilation design. It is fully seam-taped. The jacket packs into its own pocket so it can be easily carried in the backpack or in the luggage if you use it when traveling.
Description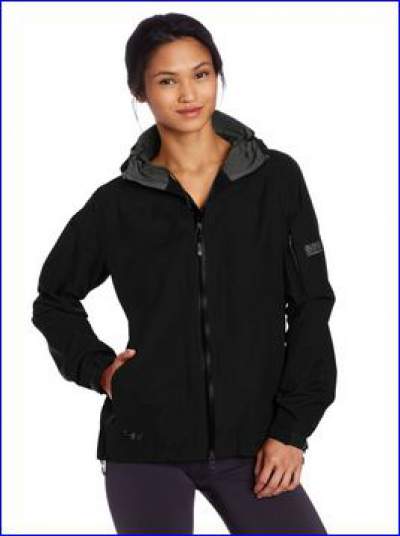 Outdoor Research Aspire rain jacket is a women's version of the series which also includes Foray jacket for men. This is a Gore-Tex Packlite jacket, so it is completely waterproof, breathable, and windproof. I cannot imagine any outdoor activity where you could not use this jacket.
But this is not only about outdoor use, it is a perfect peace to have with you in everyday life. The jacket can be packed to its own pocket, so you can always have it so nicely packed and stored somewhere in your pack and use when necessary. When packed that way, there is a small loop on the package, so you can hang it on the pack or elsewhere.
On the front, you have a two-way zipper, so you can open it in both directions. For example, you might open it from the bottom if you are climbing and need a direct access to the climbing harness, but there is more to this, see below.
The design of this jacket is such that it allows you to put extra layers under it, and you will still feel very comfortable. In the same time, you can use it with just a T-shirt under, and it will not feel too big. See below the fit statistics.
On the cuffs, you have velcro tabs.
Pockets: On the sides, you have pockets with waterproof zippers. One additional waterproof zippered pocket is on the left bicep, you can see it in the picture below. This is really useful to have for some small items which you might use when you are on the go. In most situations, the main side pockets are not accessible because of the pack's hip belt.
The hood: It has three adjustment points with drawcords and toggles, one on the back and two on the sides of the face. It is nicely designed, so when you turn your head you will still have a good visibility. Its size is such that it fits with a climbing or cycling helmet. A very good size brim is there as well to protect your face from the rain.
You also have a velcro tab behind the head, to keep the hood in place when not used. So in a sense, this is a roll away hood, as pointed out in the table below, but not the classic one which would go into the collar.
---
Ventilation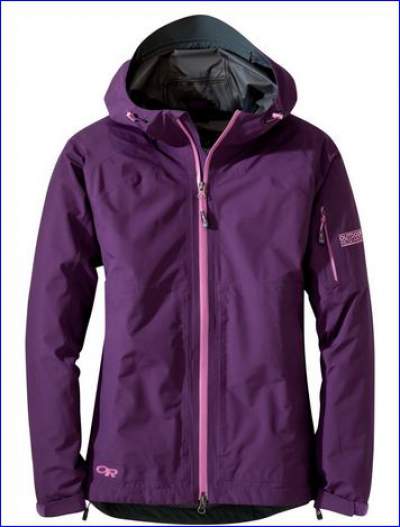 Breathability of Aspire jacket is exceptionally good, nothing less can be expected from such a top-notch Gore-Tex material. For example, pockets are made of mesh, and in theory, this is for an increased ventilation, though I would not expect much from this alone.
But they have made it even more ventilated by adding some extra and unique feature, and this is so-called TorsoFlo zippers.
Those are long zippers that run on both sides, all the way from the hem to the armpit and partly along the arm. When you open these zippers completely (by starting from the hip), you can use the jacket as a poncho. But let us be realistic, this is a short jacket and not designed to serve as a poncho, this is about ventilation only. Another option is to open them only partly by starting from the pit and use them as regular pit zips.
This system you will use to pass the hip belt of your backpack under the jacket. With this, you have the best possible ventilation from below, because the jacket is not pressed by the hip belt. You will be able to see this feature in the video below.
Here is a short promotion video about Foray and Aspire jackets:
Specifications
Weight: 13.7 oz / 388 g (M).
GORE-TEX with Paclite product technology 2L, 100% polyester 50D plain weave.
Standard fit.
Waterproof, breathable, windproof, fully seam-taped.
Laminated construction.
Fully adjustable hood.
YKK AquaGuard zippers.
Internal front storm flap.
TorsoFlo venting: hem-to-bicep.
Zip arm pocket.
Zip hand pockets.
Left-hand pocket stuff sack with a carabiner lop.
Double-separating center front zipper.
Pocket placement above harness.
Hook/loop cuff closures.
Elastic cuffs.
Elastic drawcord hem.
Sizes: 5
Colors: 4.
Infinite guarantee!

Infinite guarantee statement.
---
Pros & cons
This jacket is a bit heavier than others, but see what it offers. The weight definitely comes from the long zippers on both sides in its TorsoFlo construction. But I do not mind those extra grams in exchange for such a great ventilation design. Here is my summary:
 Cons
 Pros

Expensive.
Not lightweight.
No internal pocket(s).
Limited number of colors.

Completely waterproof.
Extremely breathable.
Great wind protection.
Ventilation without a match.
Versatile.
Very packable.
Very durable polyester material.
This jacket is highly rated by Amazon customers and its fit statistics is also really good.
---
Conclusion
Outdoor Research Aspire jacket for women is a valuable piece of equipment, it comes at a price but the value which comes with it is appropriate. I would not hesitate for a moment to recommend this jacket to anybody. It is almost perfect, you will feel great while wearing this jacket and you will look professional. Most importantly, you will feel safe and protected from elements. This jacket will not leak and it is designed to last long.
Thank you for reading, If you find the text useful, please share it with others. Have a nice day!
Before you go, here is one more (1:18) short promotion video, have a look: