These REDCAMP Cotton Flannel Sleeping Bags for Camping are built with three different temperature ratings, with a cotton insulation and a very pleasant flannel liner. The price is simply incredible.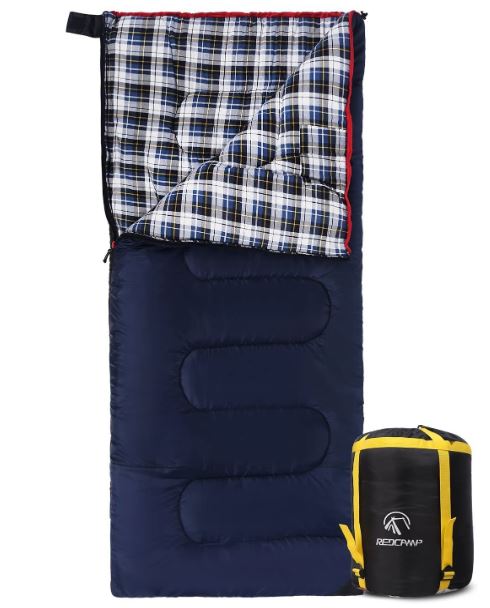 ---
Key features & benefits
Cotton fill for insulation.
Cotton flannel liner.
Compression sack included.
Incredible price.
---
What this is about
You have seen already in the title that this is about several bags, they have them 3 with different weights and different temperature ratings. This is all related to the amount of the insulating material, so you have 2, 3, and 4 pounds of fill in these three bags, all are shown below. I shall focus on the middle option as an example, i.e., the bag with 3 pounds fill, the general features in all of them are the same.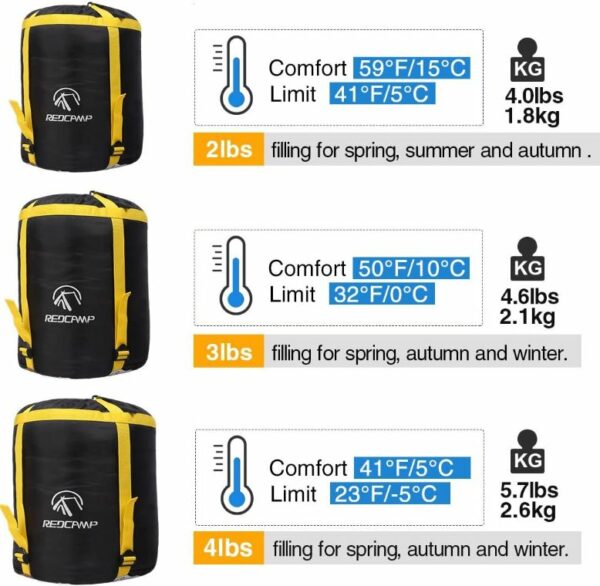 So this is a rectangular pad with a full-size zipper and you can unzip it completely and use as a blanket. Such a design is now quite standard in rectangular sleeping bags. You can see these two options in the pictures: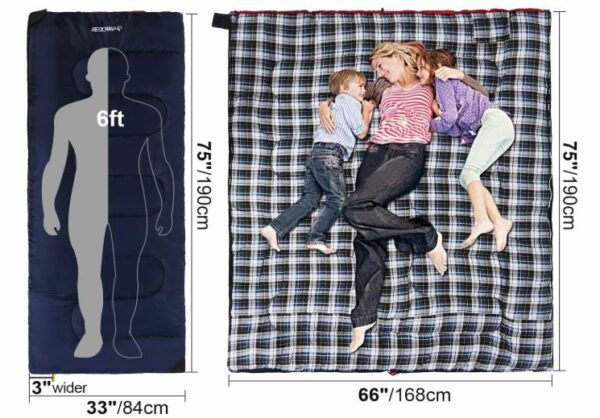 But you can also zip it together with yet another bag of this type, this will create a double-size sleeping bag to use with your partner, the picture below shows this case.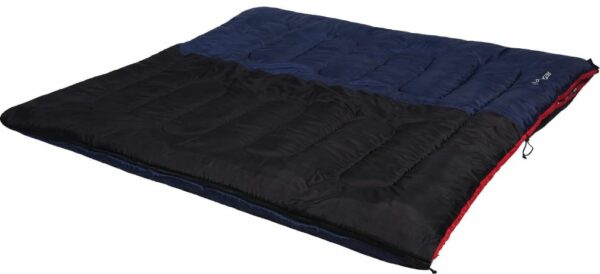 The materials
The shell is a very durable 210T nylon ripstop and this is the best material for such a purpose. I have seen many people asking about this. The inner is a very pleasant cotton flannel, again an excellent choice for such a purpose. These are quiet materials. The inner fill is a hollow cotton fiber. Note that this bag is not machine washable.
You have a two-way zipper here. Other features include built-in quick cords on the bag's bottom, this you use to tie and store, see the picture below. It comes with an oxford polyester compression sack shown below, this is a true bonus, there are so many terribly expensive bags that can be compressed to a very small volume but you have to buy such a compression sack separately.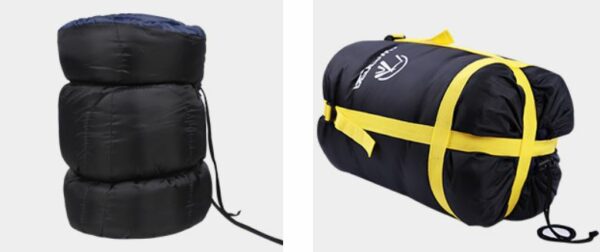 Temperature rating
So the official temperature rating for the middle bag in this series is 50 F (10 C). This would make it a 2-season bag, and I would say this is quite realistic. As always, it is best to test it close to your home to avoid unpleasant surprises later in the camp. The bag has no hood but there is a cinch cord to prevent heat loss.

---
Who is it for
Regarding the weight, in view of its 4.6 lb (2.1 kg), this is not a bag you would want to carry in the pack. But the packed size is far from bad, it compresses to (L x D) 17 x 8 inches (45 x 20 cm). So you can indeed transport it on a bicycle or on a motorbike. I have added it to my list of best car camping sleeping bags.
Regarding the dimensions, note that this REDCAMP Cotton Flannel Sleeping Bag is quite short, the dimensions are 75 x 33 inches (190 x 84 cm). So this is not for very tall people. Check this Coleman Big and Tall Sleeping Bag built in the same style if you need a bag for a tall person.
Regarding seasons & climate, you have already seen its temperature rating, so this is a bag for the warmer part of the year. I have included it in my list of best 2 season sleeping bags.
The shell is excellent for every weather conditions, but it is not waterproof. The cotton fill and the cotton flannel liner are pleasant natural materials, but they are not the best option for wet conditions.
Regarding the price, when you see it, you realize why this bag is so popular. The price is simply unbelievable.
---
Specifications
Weight: 4.6 lb (2.1 kg).
Dimensions: 75 x 33 in (190 x 84 cm).
Packed size (L x D): 17 x 8 in (45 x 20 cm).
Temperature rating: 50 F (10 C).
Warranty: 100% money-back guarantee. They also offer a 365-day limited manufacturer warranty.
---
Final thoughts, rating, pros & cons
So you have seen it, these REDCAMP Cotton Flannel Sleeping Bags for Camping are pleasant and incredibly affordable. They are best suited for the warmer part of the year, this depends on the fill, you have them three types, but I would say they are not for a cold environment. If you do not want to spend much, for such a use you will have a great bag. It is included in my list of best cotton sleeping bags for adults.
This is an incredibly popular bag and there are more than a thousand reports on Amazon alone, and the average rating is very high. I use my standard set of criteria and apply them consistently so you can easily compare various sleeping bags here in the site. See how it stands:
Please check under the category Sleeping Bags if you need more options. Check also this Coleman Sun Ridge 40°F Warm Weather Sleeping Bag which is suitable for summer camping.
Bookmark this site and visit again, we add texts here regularly so this will keep you informed. Thank you for reading and have a nice day.