---
Coleman Big and Tall Sleeping Bags include several great bags and here the focus is on the model under the name Heritage Big and Tall Sleeping Bag suitable for 3-season car camping. Keep reading.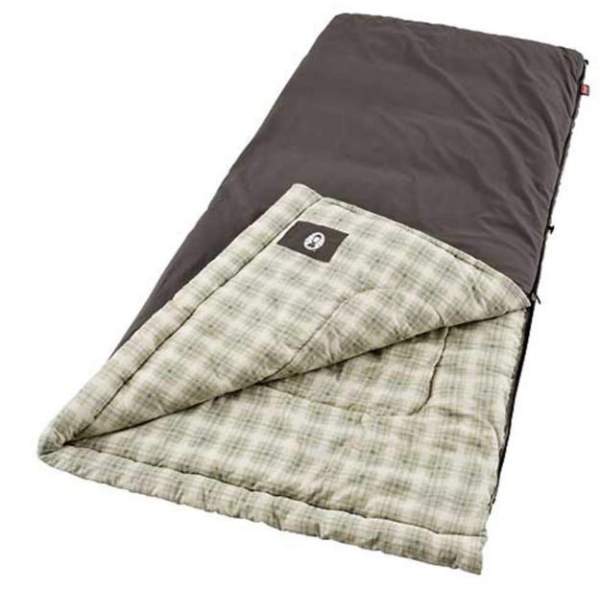 ---
Key features & benefits
Large bag.
Synthetic insulation.
Pleasant flannel liner.
Machine washable.
Great price.
---
What this is about
This Coleman Big & Tall sleeping bags series includes several bags with a variety of temperature ratings and designs. But here I shall focus on the version with the official 0°F temperature rating.
In fact, this bag is at Coleman's site under the official name Coleman Heritage Big and Tall Sleeping Bag, this is good to know to avoid any confusion. But you will not find there any information about its specifications. On Amazon, it is under the name Coleman Big & Tall Sleeping Bag.
So this is a rectangular sleeping bag and the name tells you what to expect. I would say that the length is standard but this is a very wide bag, the dimensions are 84 x 40 inches (213 x 102 cm).
The bag can be fully unzipped and you can use it as a blanket which then measures 84 x 80 inches (213 x 203 cm). In such a state, you can zip it together with another bag of this type and have exactly this size double-bag to share with your partner. I realized that such numbers cause some confusion with readers.
The bag is equipped with what they call a ZipPlow shown in the picture below, it pushes the fabric away from the zipper's teeth to avoid snagging.
Yet another detail they added is the Roll Control system shown below, this means that as you roll the bag you lock the edges to keep them in line. I find this a really useful detail.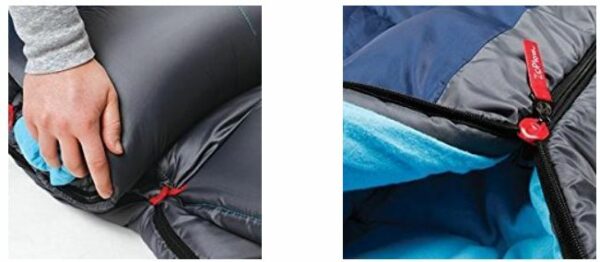 The materials
You have a synthetic cover (100% polyester) so this is not cotton as people think, but it looks like cotton. The flannel liner is 80% cotton and 20% polyester.
There is no much information about the inner fill, but this is polyester fiber and you have 5 lb (2.27 kg) of the fill alone. This all is easy to clean, machine washable and it dries fast.
Temperature rating
Officially the rating is 0 degrees F (-18 C), but you will see 10 F (-12 C) on Amazon. As usual, it is always best to test it in controlled conditions and see if this is realistic or not. But the bag is without a hood and its volume is huge, so this means less thermally efficient.
Note that this rating is the same as in this TETON Sports Polara 3-in-1 Sleeping Bag, so you might want to compare the two bags.
Though it has Comfort Cuff shown below, that is a plush material at the edge of the bag for relaxing comfort close to your face, and also what they call Thermoock, which is just a full-length draft tube close to the zipper (picture below). All in all, this is a great bag but I would not use it even remotely close to such temperatures.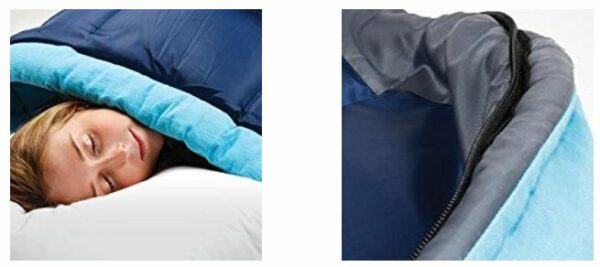 ---
Who is it for
Regarding the weight and packed size, you have a bulky item that rolls into (L x D) 20.75 x 11.5 inches (53 x 29 cm). and it weighs 9.19 lb (4.17 kg). So this is a car camping pad and you would not want to carry it anywhere. I have included it in my list of best car camping sleeping bags.
Regarding the dimensions, you have seen it already, so this is a big bag and they build it in one size only. Note that they also have Coleman Big-N-Tall Cot that would match such a bag both by the name and size.
Regarding seasons & climate, this is a 3-season bag but not more than that, I would not take the official temperature rating seriously. It is included in my list of best 3 season sleeping bags.
Regarding the price, this bag looks like a gift, I find the price simply incredible. It is not surprising that this is one of the best-selling sleeping bags on Amazon, with hundreds of reports by customers.

---
Specifications
Weight: 9.19 lb (4.17 kg).
Dimensions: 84 x 40 in (213 x 102 cm).
Packed size (L x D): 20.75 x 11.5 in (53 x 29 cm).
Official temperature rating: 0/10 F (-18/- 12 C).
Warranty: 5-years limited warranty.
---
Final thoughts, rating, pros & cons
When you see those Coleman Big and Tall Sleeping Bags side by side, and in particular this Heritage Big and Tall Sleeping Bag presented here, you realize that they are pleasant and large. They are built for comfort and protection and they are not for the trail.
It is best to disregard the official temperature rating and test it yourself, only then you will know how far you can go with such a bag with respect to the cold. In any case, fully recommended, just see the price and what you get for this and you will agree. I have included it in my list of best rectangle sleeping bags.
I have my standard set of criteria applied consistently to all the bags here in the site, and you see below that it does not score well in some of them. So the overall rating is badly affected by its weight and packed size. You can ignore them because this is a camping bag and they are not particularly important.
Normally, for temperature rating I must rely on what the manufacturer provides, but in this case I think the rating is far from accurate and it is not realistic, otherwise the bag would get a maximum rating for the declared temperature rating.
Please check under the category Sleeping Bags if you need more options. See in particular this REDCAMP Cotton Flannel Sleeping Bags for Camping built in the same style and also this impressive ALPS OutdoorZ Redwood -25 Degree Flannel Sleeping Bag.
Bookmark this site and visit again, this will keep you informed because we add texts here regularly. Thank you for reading and have a nice day.