---
This ALPS OutdoorZ Redwood -25 Degree Flannel Sleeping Bag is a very pleasant and heavy-duty oversized cotton bag with synthetic insulation, built to last and to protect you in any weather conditions.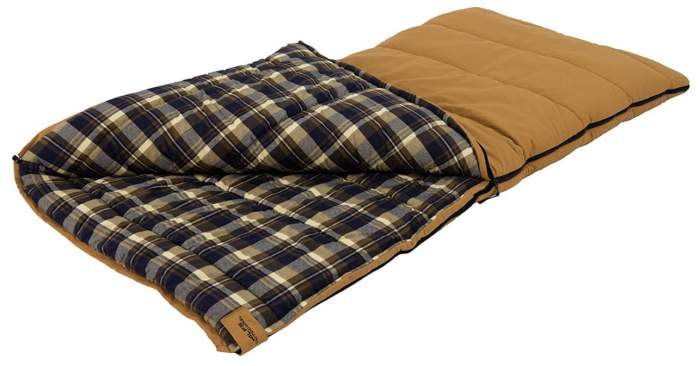 ---
Key features & benefits
Pleasant cotton & flannel bag.
Great temperature rating.
Rectangular & oversized.
Very reasonable price.
---
What this is about
Here you have a very typical rectangular but oversized sleeping bag, and everything in its construction looks really heavy-duty and reliable. This applies to its fabric and the number 10 zipper, but note that the zipper is indeed plastic. The shell is pleasant cotton, they use a 10 oz cotton canvas here, and the inner is cotton flannel, see the picture.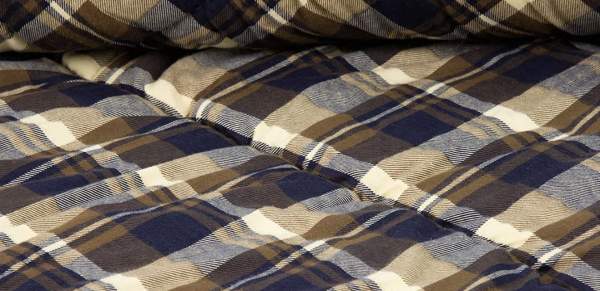 The zipper (shown below) you can undo all the way, and you can spread the bag and use it as a blanket that will be close to two meters wide. You can also use the zipper on any side, left or right, this does not matter because the bag is the same on both sides. Yet another detail here is that you can zip this bag with yet another and create a huge double bag with your partner. The zipper is with two pulls, so you can open it from inside as well.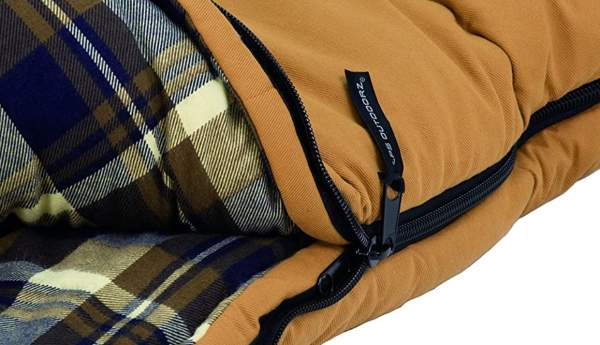 The stitching all over the bag looks high quality. Note that they write about '2-layer offset construction to eliminate cold spots' but when you inspect the stitching from outside and inside, they look to be at the same place, so I am not sure what they mean by that statement.
The natural cotton flannel inside and the cotton shell are quiet and feel much more comfortable than any synthetic that you have in those expensive modern and ultralight sleeping bags.
This sleeping bag comes without a stuff bag, you have webbing straps that keep it rolled. So this is a pity because it can get dirty and dusty if you keep it for a long time at home or in the car trunk for emergency situations when you are on the road.
Can you wash it? The answer is yes, all these materials are machine washable, but you will need a big washing machine for such a bag.
Temperature rating
You have already seen the number -25 in the name so this is its temperature rating in degrees F, this is equivalent to -32 C. Now, is this realistic? They do not provide information about independent temperature testing, but even with this, you would have to test it yourself in controlled conditions to be sure. 
This is always so with sleeping bags, the ratings imply some average person, at a certain age, etc., and we are all different. Note that this is a large bag without a hood, so its thermal efficiency cannot compare with some narrow (and uncomfortable) and hooded mummy-style bags. Though it has a drawstring so you can cinch it around the neck and preserve the body warmth.
This Redwood -25 bag has two thick draft tubes, on both sides of the zipper, so this prevents heat loss through the zipper which is hard to avoid in general. All in all, the bag looks incredibly thick and warm, but it is always best to add at least 10 (positive) F degrees up to the official rating.
---
Who is it for
Regarding seasons & climate, no doubt this is a bag suitable for cold weather but you have seen my comment above related to its temperature rating. If you need something for such extreme conditions, better check my separate list. You can use this bag in almost any season, this is because you can open it and use it as an ordinary blanket so you can have as much ventilation as you want, but it is designed to be used in the colder part of the year.
It is added to my list of best car camping sleeping bags and also to the list of best 3 season sleeping bags. I did not include it in my list of bags for extreme cold mainly because of its hoodless construction and its size (which is great of course but this also means that your body heat is dispersed in a larger volume).
Regarding the size, the bag is wide as you would expect from such a type, but with its length, it may not be the best option for extremely tall people, it measures 80 x 38 inches (203 x 97 cm). It is shorter and a bit narrower than this Coleman Big and Tall Sleeping Bags built in the same style. 
Regarding the weight and packed size, it is both heavy and bulky. The weight is 13 lb (5.9 kg) so you would not carry this item anywhere. But in a cold environment, you will learn to appreciate this weight that gives a feeling of comfort and warmth.
The packed size depends on how you roll the bag, you can fold it and roll, or just roll it without folding. The first way is probably better and this will give you a bag that is half of its width and around 16 inches (38 cm) in diameter.
Regarding the price of this bag, in view of all its features and protection you have, it looks like a bargain to me.

---
Specifications
Type: rectangular sleeping bag.
Weight: 13 lb (5.9 kg).
Temperature rating: -25 F (-32 C).
Dimensions: 80 x 38 in (203 x 97 cm).
Packed size: 19 x 16 in (48 x 41 cm).
Warranty: lifetime warranty against defects in materials or workmanship.
---
Final thoughts, rating, pros & cons
In summary of this ALPS OutdoorZ Redwood -25 Degree Flannel Sleeping Bag review, I would stress again that this is a nicely built outdoor sleeping item that has been on the market for almost two decades already. When you buy such a product you can be sure it will last for many years and you will forget when you purchased it.
After so many years on the market, it has been tested by many so you know what you are buying, there are a lot of reports around and its rating is everywhere incredibly high. This sleeping bag has no weak points, it is soft and pleasant with its natural flannel liner, but it is also rugged and durable. Fully recommended. It is included in my list of best cotton sleeping bags for adults and also in my list of best rectangle sleeping bags. 
Please see how I rate this sleeping bag, it does not score well in some criteria but you can ignore them, I use them for consistency here so that you can compare with other bags here in the site:
For more options please check under the category Sleeping Bags here in the site. Thank you for reading. Bookmark this site and stay informed we add texts here regularly. Use the comment box below in the case of comments or questions. Have a nice day.