---
This Guide Gear Canvas Hunter Extreme Sleeping Bag -30 with its large dimensions and pleasant cotton and flannel fabric combines great comfort and an impressive thermal rating. Read more here.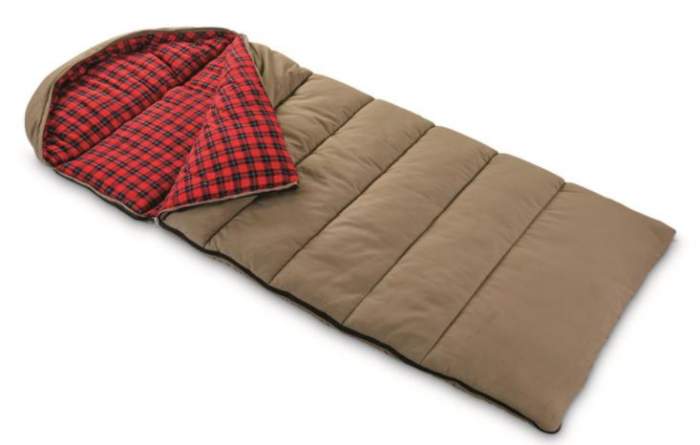 ---
Key features & benefits
Cotton canvas & flannel.
Great temperature rating.
Hood included.
Great price.
---
What is in the name
Here you have a large and very pleasant rectangular outdoor sleeping bag built from great materials. So the shell is an 8 oz. cotton duck canvas, a strong and tightly woven type of cotton canvas, and the liner is a warm brushed cotton flannel. The picture below shows how it looks from outside and from inside, and as you realize it looks so pleasant and comfortable.
This is also a hooded sleeping bag with a drawstring, so this adds to its comfort and protection in a cold environment, see below how the hood looks. Having a hood is essential in a cold climate because lots of body warmth is lost through the head, so insulating it properly is a must.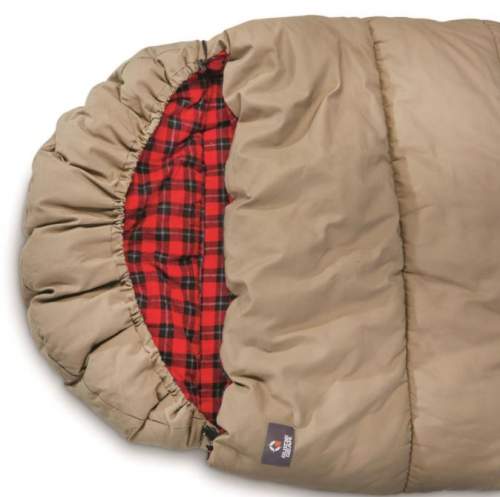 Cotton is a very pleasant material in general, but you know well that this is not a good option in a wet environment. So it is important to keep the bag dry. 
The bag is with a full-length anti-snag zipper on the right side.
Temperature rating
You have an impressive rating here, -30 °F (-34 °C), but I must add that they do not provide any information about independent testing. On the other hand, even if you add up 10 degrees to this, this is still great.
You have a synthetic insulation, a 6D blended siliconized hollow fiber fill that should perform well in any conditions, and you have 9 lb (4.1 kg) of the insulation alone. As mentioned, it is hollow so there is air trapped inside of each fiber piece, as well as in between the fibers. It is the air trapped in the insulation that plays the most important role and protects you from the cold. So the bag is very thick and fluffy because of such a fill.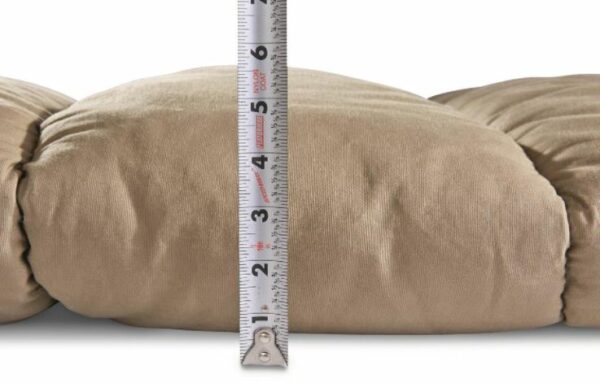 ---
Who is it for
Regarding the weight, the bag weighs 13.4 lb (6.08 kg), they use the word Hunter in the name but the bag is for any outdoor activity in a cold environment assuming that you would not have to carry it long distances. You might want to compare it with this Browning Camping Klondike -30 Degree Flannel Sleeping Bag built in the same style which is a bit heavier.
The packed size will depend on how you roll it up, officially this is 20.5 x 18 inches (51 x 46 cm). You can achieve this if you fold it to half its width and then roll it up. There are polyester straps that keep it rolled as shown in the picture: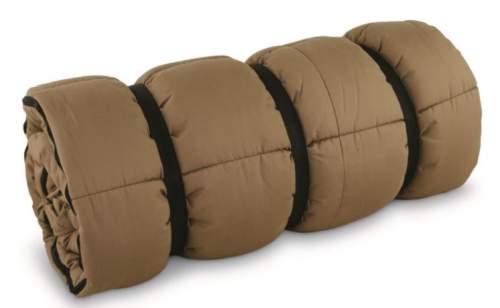 Regarding the dimensions, the bag is wide and long, so the size is quite impressive 90 x 39 in (229 x 99 cm), but note that the length includes the hood as well.
---
Specifications
Type: rectangular.
Weight: 13.4 lb (6.08 kg).
Fill weight: 9 lb (4.1 kg).
Temperature rating: -30 °F (-34 °C).
Dimensions: 90 x 39 in (229 x 99 cm).
Packed size (L x D): 20.5 x 18 in (51 x 46 cm).
Insulation: synthetic.
Fabric: 100% cotton duck canvas & flannel.
---
Final thoughts & rating
In the summary of this Guide Gear Canvas Hunter Extreme Sleeping Bag -30 review, I would point out again its pleasant materials and its impressive temperature rating. But this has some downside, the bag is heavy and bulky, and cotton must be kept dry. The price is a true bargain. Fully recommended. I have included it in my list of best extreme cold sleeping bags and best car camping sleeping bags.
Please see how this sleeping bag scores against my standard set of rating criteria:
For more options please check under the category Sleeping Bags. See also my list of best cold weather sleeping pads. Let me know if you have questions or comments, there is a comment box below. Thank you for reading and have a nice day.