---
The Klymit Big Cottonwood Sleeping Bag includes two cold weather options with two temperature ratings, and you have a unique removable hood design.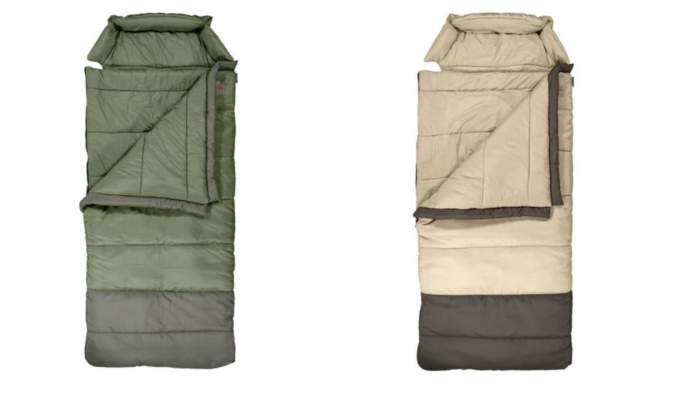 ---
Key features & benefits
Rectangular type.
Two options regarding temperature rating.
Removable hood.
Cold weather sleeping bags.
Very warm and high loft.
Unique carry system.
Can be zipped to another bag.
---
What this is about
So here you have two sleeping bags, with temperature ratings of 0 F (-18 C) and -20 F (-29 C). As you see both are designed for cold weather. On the other hand, the name is hard to understand, I mean the word Cottonwood.
Namely, this is an all-synthetic sleeping bag. This means that insulation is synthetic and the shell is an extremely strong 420D polyester. The inner liner is a soft-touch polyester liner. In other words, there is nothing cotton here. I this this is good, synthetic is far less sensitive to moisture and damp conditions in the camp.
Note that the colors are different for the two versions, the green bag is the 0 F (-18 C). The bags have all features needed for cold weather. So you have a unique removable hood, plus a drawstring shoulder baffle that seals in warmth and eliminates cold drafts.
You can zip two bags together to create a double sleeping bag. The carry system is not a classic stuff sack, you will see a bit more in the video below. See hoe it looks: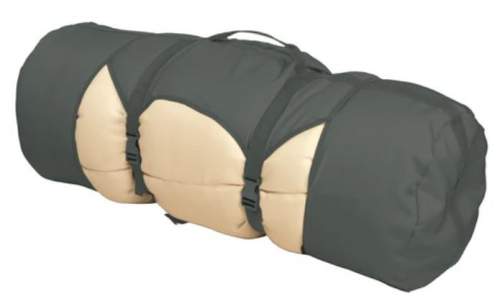 Please see more in this video:
---
Who is it for
Regarding the best use & climate, they describe it as a 4-season sleeping bag. But you have already seen the temperature ratings for both versions, so these are cold weather sleeping bags. Using them in all seasons would not make much sense to me. 
Regarding the size, the bags have the word Big in the name, so they are wide but the length is just average. The total dimensions are 86.6 x 38 inches (220 x 96 cm), and this includes the hood. You can compare this to Teton Sports Deer Hunter Sleeping Bag which is slightly bigger. The length without the hood is 79.9 inches (203 cm).
Regarding the weight, it is enormous, you will see the numbers for both bags in the specifications below. The same holds for their packed size, the numbers are below, but see also the picture. The volume of the smaller bag is around 104 liters. The bigger bag's rolled volume is around 140 liters. This size is because of its high loft insulation. So this is a heavy and bulky item and it needs lots of space in the car.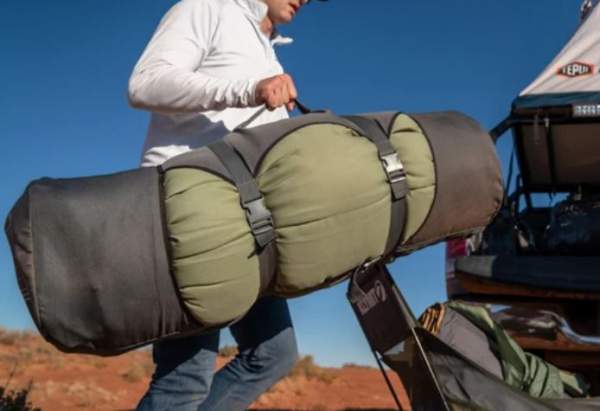 ---
Specifications
Type: rectangular.
Temperature rating:
0 F (-18 C).
-20 F (- 29 C).
Weight:
0 Degrees: 15.8 lb (7.1 kg).
-20 Degrees: 18 lb (8.1 kg).
Dimensions (L x W) with the hood: 86.6 x 38 in (220 x 96 cm).
Shoulder girth: 76 in (193 cm).
Packed size (L x D):
0 Degrees: 40 x 14 in (102 x 36 cm).
-20 Degrees: 40 x 16 in (102 x 41 cm).
Warranty: 2 years. 
---
Final thoughts & rating
So you have seen it, this Klymit Big Cottonwood Sleeping Bag looks great and it is indeed great, but it has a bit misleading name. It is wide but not really long and big, and there is nothing cotton here. The bag is built in two versions, and both are suitable for cold weather camping.
The hood design is unique and the same holds for its "carry bag" which is not a bag really. This is a quality sleeping bag, but it is incredibly bulky and also very heavy. I see it suitable for hunters, for trailers, vans, and cabins. It can be used anywhere where you would not have to carry it yourself. I have added it to my list of best rectangle sleeping bags.
Below you can see how I rate this sleeping bag against my usual rating criteria so that you can easily compare it with other similar products here in the site. Obviously, the weight and packed size are not its best features.
BEST PLACE TO BUY
For more options, please check under the category Sleeping Bags. Bookmark this site and come again, this will keep you informed because I add texts here regularly. Let me know if you have questions or comments, there is a comment box below. Have a nice day.