---
The Coleman Big Bay 20 Big & Tall Contour Sleeping Bag is synthetic, hooded, reliable, with a great footbox design, and suitable for 3 seasons camping.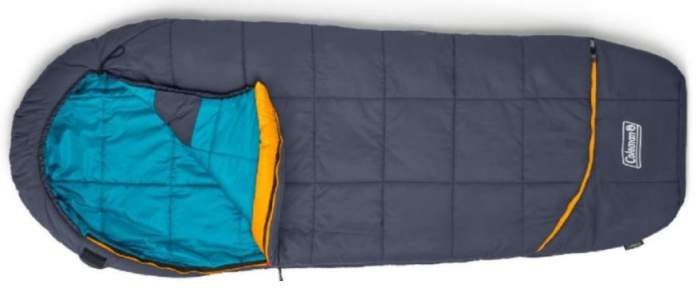 ---
Key features & benefits
Semi-rectangular sleeping bag.
Synthetic insulation.
Hooded.
Cozy Foot soft fleece footbox.
ZipPlow patented zipper.
---
What this Coleman Big Bay 20 bag is about
So here you have a sleeping bag from a series of 4 bags shown in the picture below. As you realize there are two very different shapes in the group so I am not sure why they call it a Collection.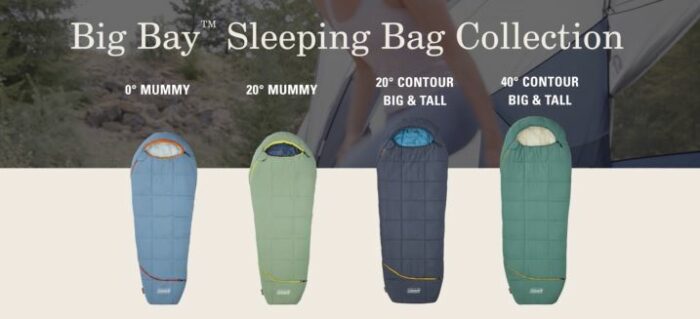 In any case, this is a synthetic sleeping bag with their Coletherm Max synthetic fibers insulation. According to what they say, it offers superior heat retention for cold-weather camping. The shell fabric is a polyester.
The bag is hooded and the hood has a dual use as a headrest and as an extra source of warmth if you camp in a cold place. You have a cinch cord to prevent cold drafts.
It comes with several features that are typical for Coleman and they are now standard in their sleeping bags. These include their Comfort Cuff material that adds softness and protection around your face. It also has their Thermolock draft tube that helps preventing heat loss through the zipper. This is the orange part in the picture below.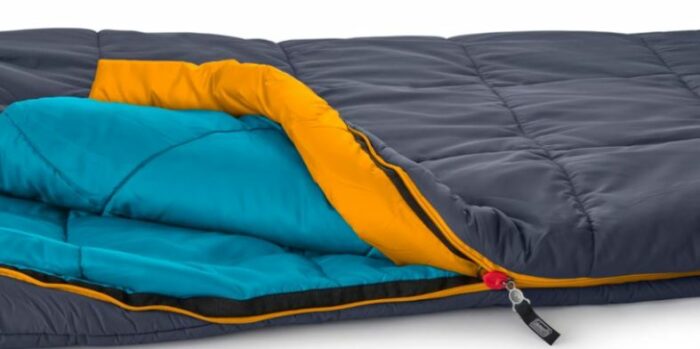 The picture also shows their ZipPlow patented zipper design that prevents snags so the bag is easy to open and close.
One extra feature here is the Cozy Foot soft fleece footbox, you can see it in the pictures below. There is a J-zipper that lets you ventilate the footbox so you'll never feel stuffy.

Below you can see how the draft collar goes all the way along the zipper even in the footbox.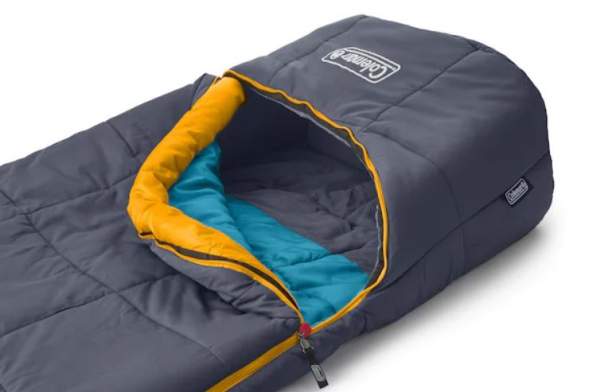 Temperature rating
The number 20 in the name is its temperature rating so this is 20 F (-7 C). From what I have found the bag is is with ISO rating, so this should be reliable. In the specifications below you will see the ISO lower limit and ISO comfort rating.
But this does not mean that you should take the numbers as granted. We are all differently built and it is best to test the bag in controlled conditions and see how it works for you.
Namely, from what I have seen, such ratings are based on sleeping on a sleeping pad with a minimum R-value of 5.38, and for a person wearing one long underwear layer and a pair of socks.
Note also that feeling of comfort may depend on current weather conditions, your body situation and shape, etc. So such ratings are just a guideline for comparison and little more than that.
---
Who is it for
Regarding the best use & climate, you have already seen its temperature rating and features, so the bag is good for a 3-season use. In a cold environment you can cinch the hood and prevent heat loss, and in a warm climate you can vent your feet. Being synthetic, this bag will perform well in all weather conditions.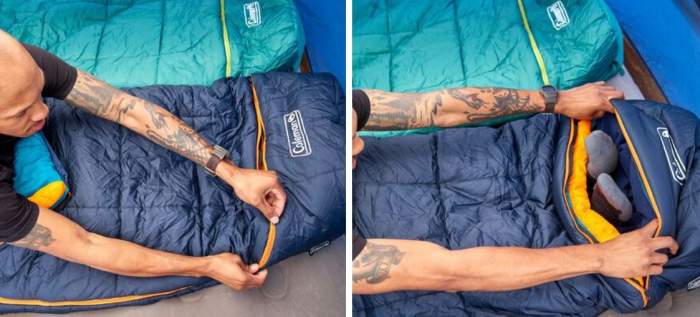 Regarding the size, this Coleman Big Bay 20 has the words Big & Tall in the name. So it is suitable for users of up to 77 inches (196 cm).
The packed size is not its best feature, it comes with a compressible stuff sack that makes packing and carrying easy, but it is quite bulky. The compressed volume is 27.5 liters, see how this looks: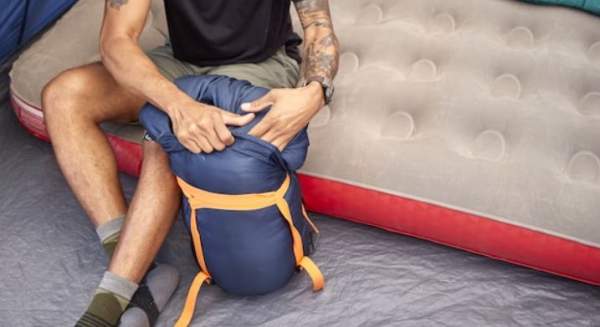 Regarding the weight, the bag weighs 4 lb 14.4 oz (2.2 kg) so this is a camping item and you would not want to carry it in the pack.
Regarding the price, it is reasonable for such a nicely designed sleeping bag. There a links below so check from your side and compare.
---
Specifications
Type: semi-rectangular.
Weight: 4 lb 14.4 oz (2.2 kg).
Dimensions (L x W): 85 x 36 in (216 x 91 cm).
Fits Up To: 77 in (196 cm).
Shoulder/hip girth: 72/72 in (183/183 cm).
Temperature rating:
– Tested lower limit ISO: 21 F (-6 C).
– Tested comfort ISO: 31 F (-1 C).
– Temperature rating: 20 F (-7 C)
Compressed volume: 27.5 liters.
Packed size (L x D): 15 x 10.5 in (38 x 27 cm).
What is ISO lower limit?
The ISO lower limit is defined as the temperature at which a standard male can sleep for eight hours in a curled position without waking. Knowing myself, this would mean that there is no bag that would satisfy such a limit for me as I wake up many times even in a comfortable bed at home.
What is ISO comfort rating?
This is the lowest temperature at which the bag will keep the average sleeper comfortable. So this is based on an 'average' sleeper and this has no meaning really.
You can read more about this terminology in a nice article available at Therm-a-Rest site. At REI, they use the mentioned ISO (the International Organization for Standardization) 23537 protocol. In their statement they write that it improves on the older European Norm (EN) 13537 standard.
---
Final thoughts & rating
In summary, this Coleman Big Bay 20 Big & Tall Contour Sleeping Bag looks great, it is wide and comfortable, and it comes with a set of great features. The footbox design is particularly cool.
This is a sleeping bag for car camping, and the price is reasonable. Fully recommended. I have included it in my list of best 3 season sleeping bags.
Below you can see how I rate it against my usual rating criteria so that you can easily compare it with other items of this type:
BEST PLACEs TO BUY
For more options, please check under my list Coleman Sleeping Bags for Adults.
Bookmark this site and come again, this will keep you informed because I add texts here regularly. Let me know if you have questions or comments, there is a comment box below. Have a nice day.