This Sierra Designs Frontcountry Bed 20 Duo Queen Size is a huge zipperless 3-season sleeping bag with synthetic insulation and a great price tag. Keep reading.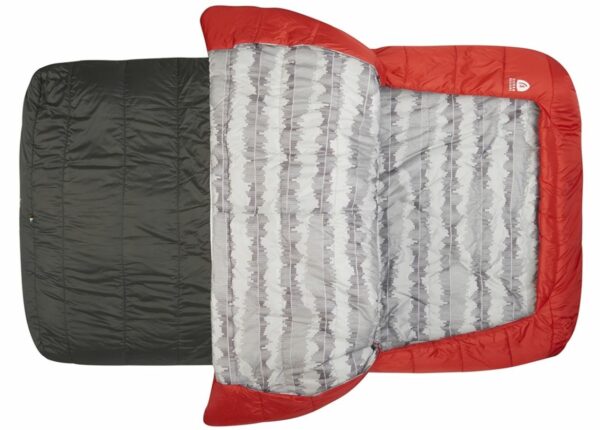 ---
Key features & benefits
Synthetic insulation.
Zipperless design.
Foot vent.
Sleeping pad sleeve.
ISO Rated.
Huge size.
Fair price.
---
So what this Frontcountry Bed 20 Duo Queen Size is about
This is a part of their new series launched for the coming season, and they have them in several sizes. The series includes also a double size which is a bit narrower. As you probably know, they have been developing this design for several years already, and this is the latest they have now.
So this is a sleeping bag for two people or for solo use if you want lots of space to sprawl and feel claustrophobic in a standard sleeping bag. The picture below shows how large this item is.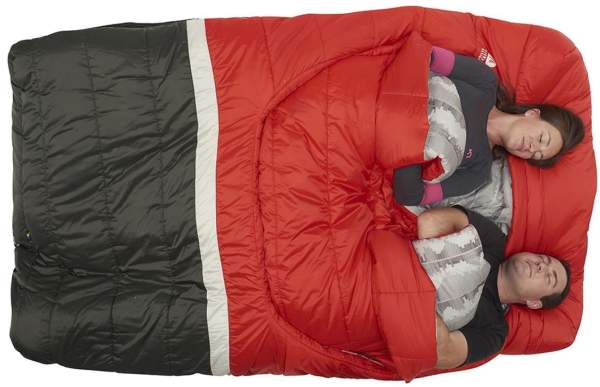 What you have here is a patent-pending design of Sierra Designs brand, a zipperless structure with a comforter that acts as a blanket. The comforter has arm sleeves on the sides, they are visible in the top picture above, so you can wrap it around your body and feel warm.
Observe also that this is a design with a hood-shaped top area and this also adds to its comfort and preserves the warmth and it keeps it inside the bag. This makes it quite different from some other hood-less bags like this Browning Camping Side-by-Side 0 Degree Double Sleeping Bag.
Pad sleeve: So this is yet another nice detail, a sleeve is added that keeps the bag in place when you turn around during the night. It is designed so that you can use it even on a very thick queen size inflatable bed as the picture shows.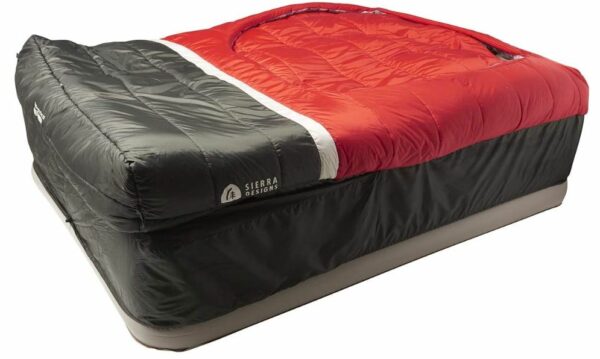 Feet vents: The bag comes with a patented self-sealing foot vent system that provides fast and easy ventilation, the picture below shows how it can be used in practice when you feel warm.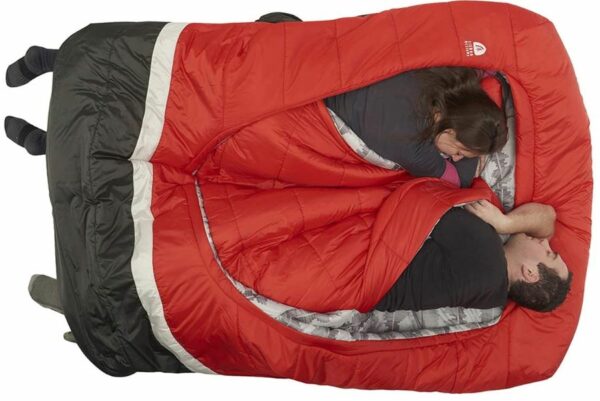 Temperature rating & materials
The official rating is 20 F (-7 C) and the bag is ISO rated. This gives some guarantee that it will deliver what is promised. This is a reliable brand in any case and you can trust what they claim. But in any case it is best to test it yourself before going to the backcountry.
The insulation is synthetic and this should perform well in all weather conditions. The outer shell is a 30D polyester ripstop and the liner is a 68D polyester taffeta. All in all, these are great materials.

---
Who is it for
Size-wise, obviously this is for two people and you will have lots of space. Note that its circumference is 122 inches (310 cm), so you have around 150 cm width here. You might want to compare it with their standard Double version with 106 inches (269 cm) circumference. So you have around 15 cm wider structure in the Queen size version. The length is 84 inches (213 cm) and this holds for both versions.
Weight-wise, this is a car camping item, a bit heavy to be carried around with its 8 lb 5.5 oz (3.8 kg). But as you realize it is huge even for two users so the weight is completely justified. To realize what I mean, it is enough to compare it with the mentioned Browning Camping Side-by-Side 0 Degree Double Sleeping Bag that weighs 12 lb 14 oz (5.84 kg).
The packed size is (L x D) 23 x 14 inches (58 x 36 cm), so you can transport it even on a bicycle or on a motorbike.
Seasons-wise, you have seen its temperature rating. So this is is better than their Sierra Designs Frontcountry Bed 35 Degree Duo Sleeping Bag, and this is a true 3-season sleeping bag.
In a warm climate you have plenty of options to ventilate. In a cooler environment you have the hood, then those arm sleeves to keep the comforter around your body, and there are also toggles that they have added to keep the comforter in place.
---
Specifications
Weight: 8 lb 5.5 oz (3.8 kg).
Fill weight: 72.5 oz (2.05 kg).
Temperature rating: 20 F (-7 C).
Length: 84 in (213 cm).
Circumference: 122 in (310 cm).
Stuff sack size (L x D): 23 x 14 in (58 x 36 cm).
---
Final thoughts, rating, pros & cons
In summary, this Sierra Designs Frontcountry Bed 20 Duo Queen Size is indeed nicely designed and with features that make it suitable for 3 seasons use. The price is fair for such a great product and I can fully recommend it. It is included in my list of best double sleeping bags for adults.
Please see how I rate this sleeping bag against my standard set of criteria so you can easily compare with other bags:
If you need more options please check under the category Sleeping Bags here in the site, and you will find many items from the top brands in this industry. You might want to compare it with this Big Agnes Sleepy Bear 35 Doublewide Sleeping Bag. Check also our page with Sleeping Pads, you might need something appropriate for such a large bag.
Note that we add new texts on a regular basis, so bookmark this site and check occasionally. There is a subscription form below for our weekly newsletter, so subscribe and stay informed. Have a nice day.