---
This Browning Camping Side-by-Side 0 Degree Double Sleeping Bag is a versatile sleeping system that can be used in various ways, as a double, single bag, and as a blanket. Such a quality/price combination is hard to match.
---
Key features & benefits
Rectangular type.
Five-in-one system.
Synthetic insulation.
Very durable.
Very pleasant.
Good price.
---
What this is about
As you see in the title, this is officially a double-size rectangular sleeping bag. But there is more to this. The top picture above shows the bag from above, so this is one side, but the other side is the same. There is a long zipper that goes on its 3 sides, and you can split them completely.
So the phrase five-in-one that I used above implies the following.
When you are with your partner, or just want to have more space to sprawl in the bag, you will use it as it is.
If any of you two, or a family member needs a solo sleeping bag, just unzip one side and zip it to itself, and you have a great solo sleeping bag.
Kids need two sleeping bags? No problem, do the same as above, unzip the two halves and zip each of them to itself and you have two sleeping bags as the picture below shows.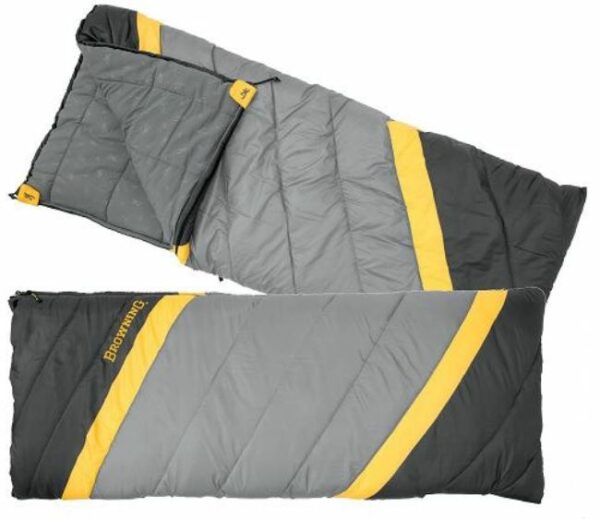 But there is more, both halves can be used separately as ordinary blankets with the size 80 x 68 inches (203 xx 173 cm).
So these are the reasons for describing it as 5-in-1. This is a versatile system that can be used by several family members in various situations, and an excellent option if you have sudden guests at home.

---
Thermal rating
The official thermal rating for this bag is 0 Degree F (-18 C). This is supported by no less than 4 kg of TechLoft Silver insulation. This is a synthetic material that consists of multiple denier staple-length fibers.
Such materials normally have a siliconized finish for maximum insulation, loft, and compactness. They are supposed to maintain its insulating properties even if they get wet.
You also have a two-layer offset construction to avoid cold spots, and there is a baffle all along the perimeter and it prevents cold spots when the zipper is closed.
Now, is this really for such a low temperature? I would test it to avoid troubles. Note that there is no hood here, and this means that some body warmth can escape. Such rectangular bags have a lower thermal efficiency than mummy bags, but they are far more comfortable.
---
Materials
You have already seen what the insulation is. The outer fabric is a very durable but pleasant 210T polyester ripstop outer fabric, so this is a very durable material designed to last for many years. Inside you have a brushed polyester liner, very soft and pleasant and it feels like canvas.
The zipper is #8.
There are 2 inner pockets to keep small items at hand.
A compression stuff sack is included. Pity they did not add two separate sacks for solo use.
The dimensions of the double bag are 80 x 68 inches (203 x 173 cm). So for solo bags, you will have the size 80 x 34 inches (203 x 86 cm).
---
Who is it for
Regarding the weight & packed size, this is a heavy and bulky item no matter how you use it, as a double bag or as a single bag. So the total weight is 12 lb 14 oz (5.84 kg), and 68% of it is the mentioned insulation.
When packed, you have a bundle (L x D) 29 x 14 inches (74 x 36 cm). So the bag is not built to be carried on the trail, this is for places with car access.
Regarding the size, you have seen its dimensions, the length should be fine for most of the users. This is a rectangular design and the bag is wide no matter how you use it, so comfort is guaranteed.
Regarding the seasons & climate, you have seen its temperature rating and all the features. So this is indeed a true 3-season sleeping bag, but I would not use it for such low temperatures.
Nevertheless, I have plenty of reasons to include it in my list of best 3 season sleeping bags. Check their Browning Camping McKinley -30 Degree bag if you need something for really low temperatures.
---
Specifications
Bag weight: 12 lb 14 oz (5.84 kg).
Fill weight: 140 oz (4 kg).
Temperature rating: 0 F (-18 C).
Dimensions: 80 x 68 in (203 x 173 cm).
Packed size: 29 x 14 in (74 x 36 cm).
---
Final thoughts, rating, pros & cons
So to summarize this Browning Camping Side-by-Side 0 Degree Double Sleeping Bag review, this brand is known for its robust and reliable outdoor equipment, and one great example you have here.
The materials are very strong but pleasant, the bag is built for protection and comfort and in view of this, it is best to ignore its weight and packed size. The fabric and the insulation do not require special care, all are machine washable. See also its incredible price. Fully recommended. I have included it in my list of best sleeping bags for car camping.
Please see how I rate this sleeping bag, the same criteria are used for all of them here in the site so you can easily compare:
BEST PLACEs TO BUY
You might want to check also this zipperless Sierra Designs Frontcountry Bed 20 Duo Queen Size with lots of space for two users.
If you need something lightweight but for extreme conditions, check our separate list with some impressive low-temperature sleeping bags. With such a sleeping bag you need a reliable sleeping pad, so if you do not have it, check our list with self-inflatable camping pads.
Note that we add new texts on a regular basis, so bookmark this site and check occasionally. There is a subscription form below for our weekly newsletter, so subscribe and stay informed. Have a nice day.